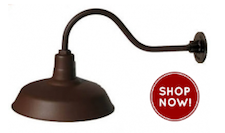 The Original Barn Light Warehouse Shade
If you're a frequent follower of our blogs (yes, we're talking to you), then you've probably noted that we like to write about our extremely popular, and always in style, Warehouse Shades. We often note they've been popular since the 1920's and that they were commonly used around warehouses, factories, and agricultural areas such as sheds, farmhouses, and barns – hence our very own term, Barn Lights. These larger shades were originally designed to reduce the glare and eliminate sharp shadows around wide, flat surfaces – ultimately speeding up the manufacturing and assembling process. These newly redesigned light fixtures replaced small, cloth cord cage pendants. Although once discarded, cloth cord pendants are widely popular again today and have been incorporated into many industrial farmhouse homes.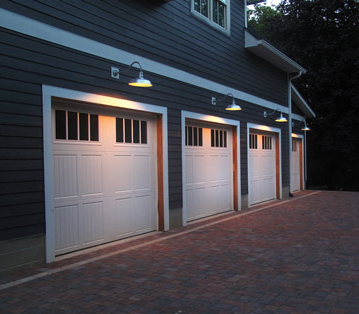 Taking inspiration from early barn lights, The Original™ Barn Light from Barn Light Electric got its basic structural design from vintage porcelain RLM warehouse shades that were first manufactured in the 1930′s by companies like Goodrich®, Ivanhoe® and Benjamin®.
Today, Barn Light Electric is a proud manufacturer of hundreds of RLM light fixtures, including The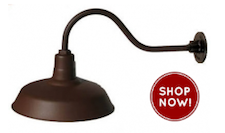 Original™ Barn Light and other American made porcelain enamel goosenecks and ceiling pendants. Regardless of which model you choose, all of Barn Light Electric's warehouse lights can be customized from a variety of finishes, sizes, and optional additions including wire cages or cast guards.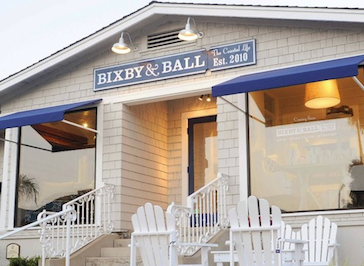 Vintage inspired warehouse shades like The Original™ have become very popular in historic and modern homes as well as storefronts. A great example of The Original™ Barn Light warehouse shade in a contemporary setting is Bixby & Ball in Solana Beach, California. To match its coastal setting and theme, Bixby & Ball selected a simple, galvanized metal finish and placed each just above the store front sign, allowing the two shades to highlight the building throughout the night.
The reliable strength and classic style of The Original™ Barn Light makes it one of our best selling gooseneck lights. Whether mounted in a traditional barn setting, placed on your front porch, or utilized as storefront lighting, The Original™ Barn Light will withstand years of use, just like the originals.