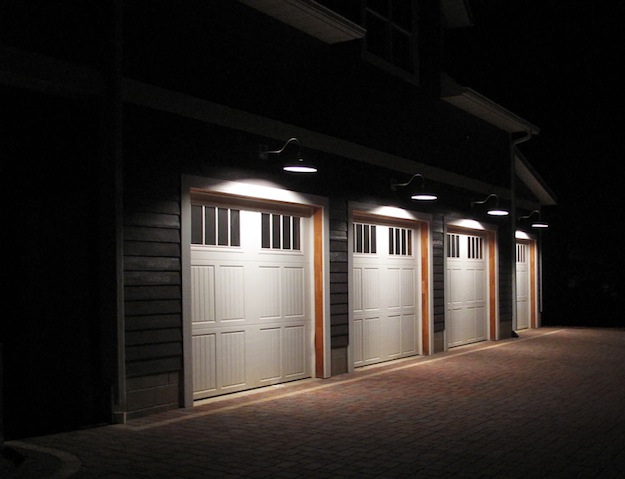 Customer Submission: Garage Lighting That Leaves A Lasting Impression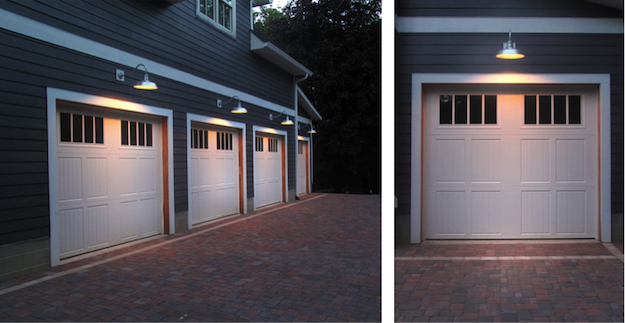 Customer Submission Shown Above: 16″ Original Warehouse Shades, HL-A Gooseneck, 96-Galvanized. Prices start at $208 each.
Located just West of Minneapolis, Minnesota is the suburban community of Minnetonka. An abundant amount of outdoor activities including lakes, parks, and trails make up this growing community. After returning from the weekend, we were excited to see we had new customer submission photos in our email! The Arneson family has been undergoing a home renovation since February 2009 and has blogged about their story online at The "L" Shaped House. They decided early on that they wanted a 'farmhouse style' home and over the past year and a half, the family has combined simple country elements to create a home that serves each and every one of their needs – including adding great Barn Light Electric lighting to the exterior!
The Arneson's selected four 16″ Galvanized Original Warehouse Shades on HL-A gooseneck arms. Originally used on farms and barns, the Original Warehouse Shade was an excellent choice as each acts as a perfect accent piece to bring a touch of authentic country style to the home. The multiple gray tones of the Galvanized finish perfectly accents against the blue-gray siding and stark white doors, and over time, will weather nicely without fading or rusting – even with those harsh Minnesota winters!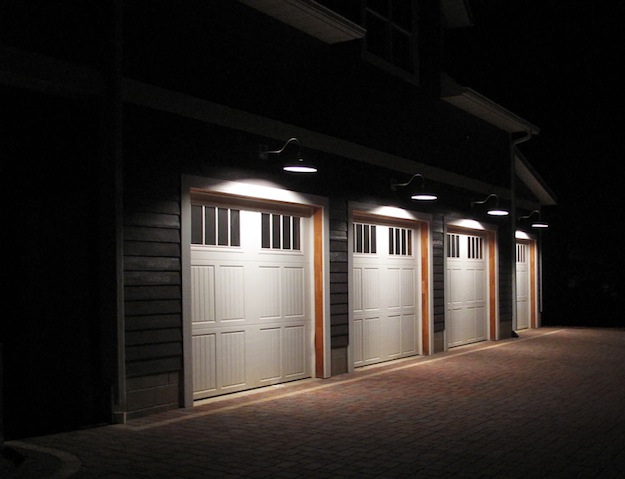 At night, the galvanized fixtures seem to disappear into the dark, leaving only their glowing shadows to light up the night. Their illuminated shades cast a spotlight down upon each beautifully crafted garage door.
Night time lighting serves multiple purposes for homeowners – function, security, and aesthetic. Naturally, light allows you to see when entering and exiting the garage and driveway, but can also assist guests or visitors who may or may not have been to your home. When dark, or less used areas of the home are well lit, lighting at night serves as a deterrent to ward off burglars and even some wildlife. And with this home's case, evening lighting serves as a beautiful accent to show off your hard work and dedication to creating a lifelong family home!