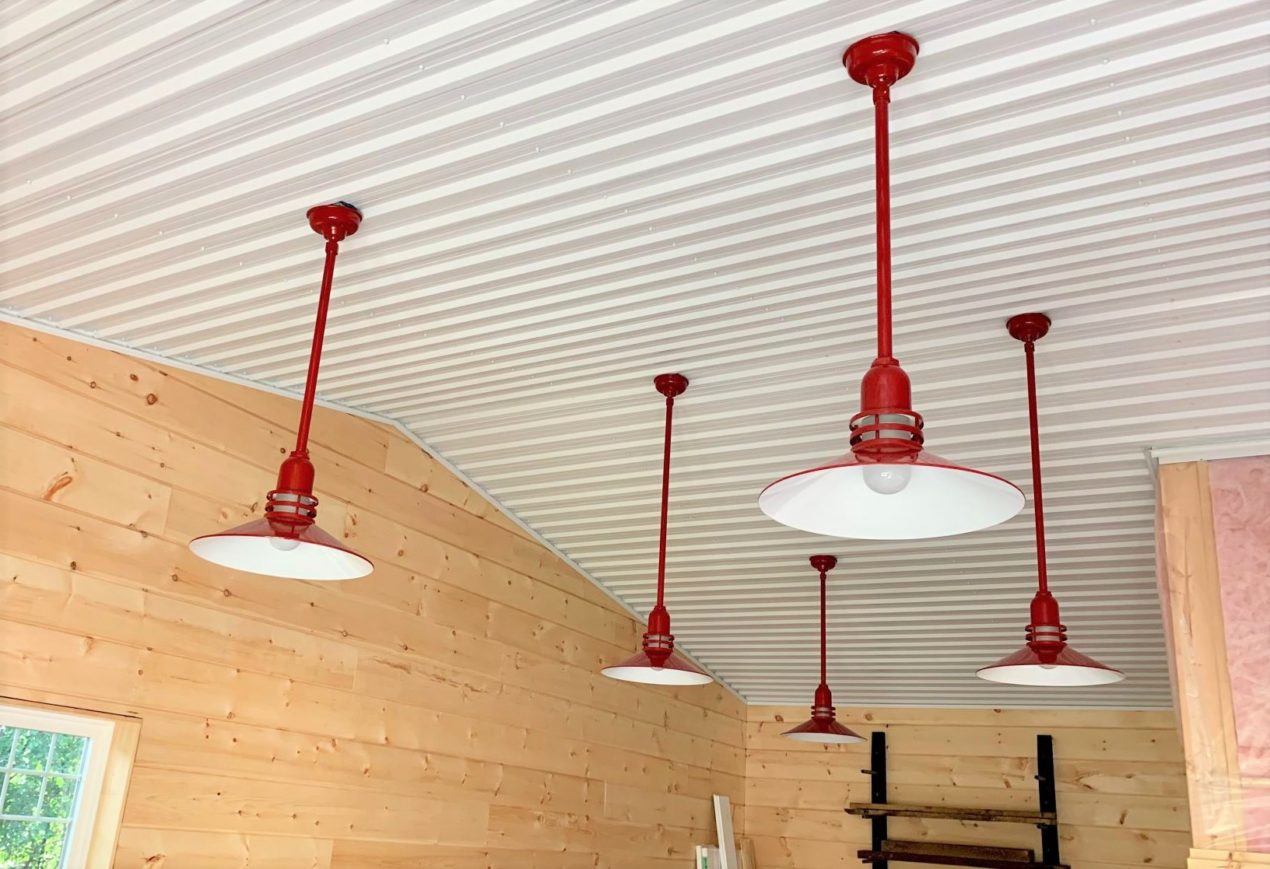 Stylish Workshop Lighting? That's No Fish Story!
When you have spent the past 30 years fishing almost every day, what do you do when you retire? Henry Waszczuk, star angler and producer of Fins & Skins Classic Adventures and Fishing the Flats TV, is contemplating his options now that retirement is on the horizon.
While the former Canadian Football League-star-turned-sport fisherman still plans to drop a line now and then, he's also planning for a new hobby — woodworking. Henry recently completed construction on a new workshop/boathouse at his home in Hamilton, Ontario, Canada.
The 1,600-square-foot building includes space for boat and trailer storage along with a woodworking shop in the rear. The large, main area will be used for televised special events.
"I wanted to make it look sexy for TV and multimedia events," Henry explains. "That's the reason we have windows facing the pond and the back 100 acres where I see deer and coyotes."
Henry used natural pine shiplap and a clean, simple design for the interior. He added a pop of color with handcrafted lighting from Barn Light Electric.
"I wanted the light fixtures to make a statement when people entered the building," Henry explains. "I wanted them to look great and be as efficient as possible for each area of the building."
Henry chose the Cherokee Uplight Stem Mount Pendant Light for the interior of the space. He customized these ceiling lights with 18″ shades, frosted glass, and a Barn Red finish to provide the splash of color he envisioned. He also used a hang-straight canopy to accommodate the sloped ceiling.
"I wanted an antique flavor with modern technology," Henry notes. "I used 200 watt LED bulbs for the workshop area for plenty of light. Everyone who comes into the building loves the lights and asks where I got them."
For the building's exterior, Henry chose a classic gooseneck light to welcome visitors and friends. The Bomber Gooseneck Light has roots in early 20th century lighting styles that were often found on barns and in warehouses.
"We invested in classic garage doors with glass so we wanted gooseneck lights to complement those doors and the design elements of the double door kick-out," Henry says.
He customized the two handspun lights with 17″ shades, a Black porcelain enamel finish, and G2 gooseneck arms. The porcelain enamel is not only attractive with its high-gloss finish but will stand strong against harsh Canadian winters.
"This building is large and the G2 arm on these allowed me to go with the 17″ shade," Henry adds. "I have the lights on a timer between 7pm and 11pm which looks awesome!"
The building's man door is highlighted by the nautical look of a Streamline Industrial Guard Sconce. This cast-guard-and-glass fixture features a Black finish, flared shade, and frosted glass.
"I chose Black to contrast the Chocolate Brown of the metal siding which I think looks fantastic," he notes. "The frosted glass helps subdue the light given off at night." Like many customers, Henry found Barn Light during an online search for high-quality, American-made lighting.
"These lights are exactly what I wanted," he says. "A classic, vintage design in our modern world with quality you can see and feel."
Photos courtesy of Henry Waszczuk