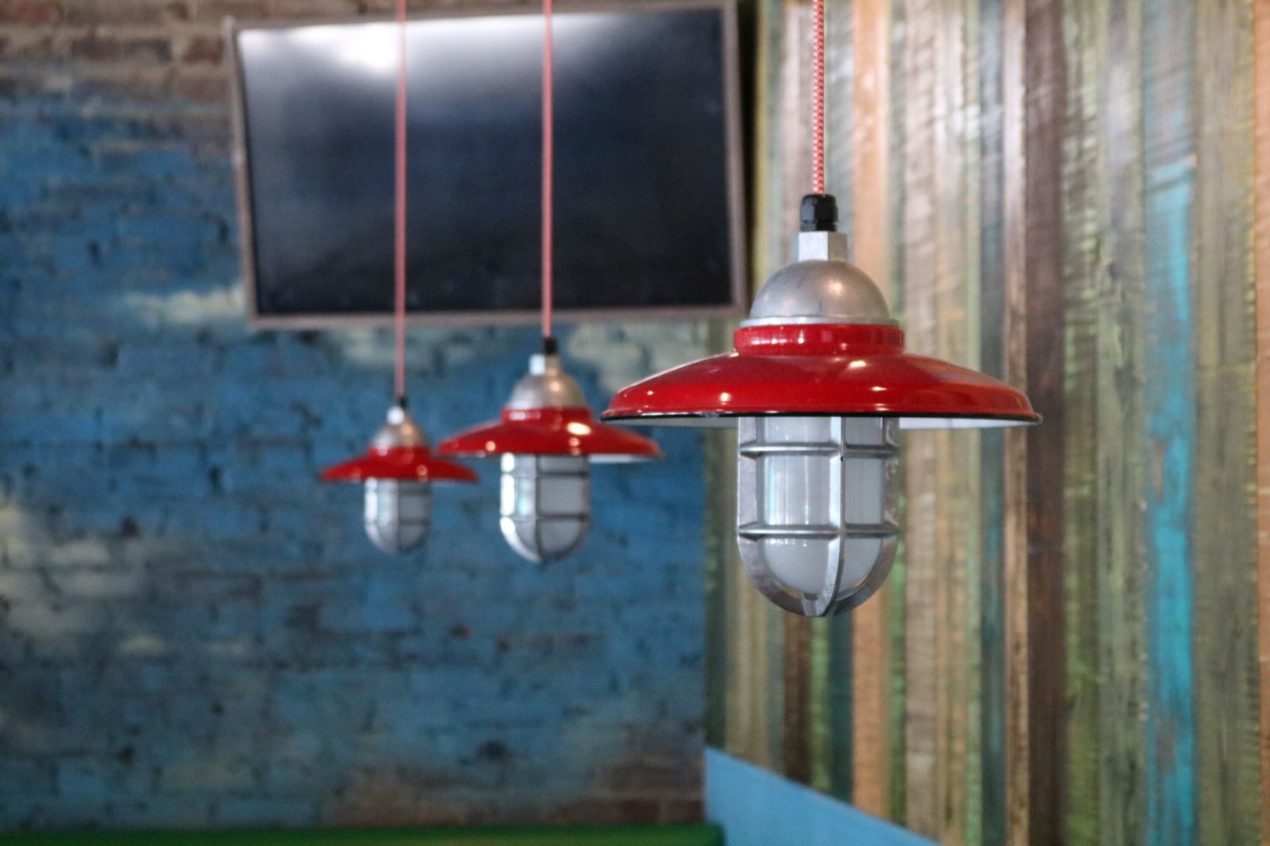 Colorful, Vintage-Inspired Restaurant Lighting Adds Fun Vibe to SC Eatery
Although people visit a restaurant to eat, the atmosphere plays a critical role in whether patrons become repeat customers. No one understands that more than an interior designer whose job is to create a welcoming space with great colors, comfortable seating, and, of course, stylish and efficient lighting.
When Michele Merritt, lead designer with Nandina Home & Design, recently tackled the remodel of a Mellow Mushroom location in Aiken, South Carolina, her goal was to add more color, elements of fun, and an inviting vibe to the eatery.
"The sky was the limit so I wanted to create a space that drew people to it. Like a party was going on inside," Michele says. "I wanted it to have a 'come-on-in-and-have-some-fun' kind of atmosphere."
Aiken is an equestrian community so Michele took that element as inspiration for the remodel. She included reclaimed, aged wood on the walls, exposed brick, and wildly colorful artwork throughout. There's even a giant horse statue on the back patio crafted from recycled metal.
In choosing pendant lighting for the tables, Michele turned to Barn Light Electric because a former client had recommended the company for quality, barn-style lighting.
"American-made quality is always a plus to me and my clients," she notes. "And the ability to completely customize the pendants was also a feature that attracted me to Barn Light."
Michele selected the Bridgeport Vintage Industrial Cord Hung Pendant Light to highlight the tables and booths. She customized these handspun ceiling lights with a porcelain enamel Cherry Red finish and red-and-white cloth cords. Twelve-inch shades were used over the smaller tables while larger 16″ shades highlight the booths. The pendants were further customized with a heavy-duty cast guard in a Galvanized finish as a contrast to the Cherry Red shade. Frosted glass offers plenty of light without harsh glare.
"I really wanted something that would stand out among the other colors," Michele explains. "The style and shape of the fixtures are perfect and resemble something found in a barn or old work shed. Love it!"
The Bridgeport sports a style straight from early 20th-century factory and warehouse lighting. Handcrafted in our Florida manufacturing facility from commercial-grade materials with more than 30 color options, these fixtures are built to last even in high-traffic settings.
"We love the color of these lights," Michele says. "It was a perfect match for this project!"
Photos courtesy of Nandina Home & Design