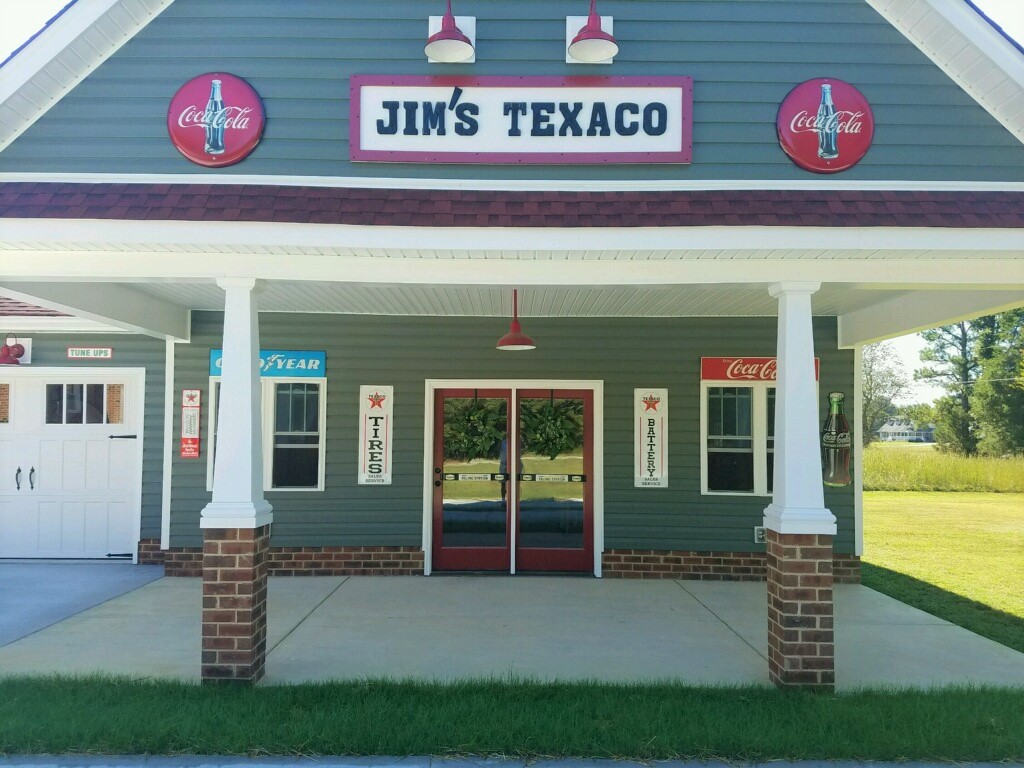 Porcelain Lights Add Authenticity to 1950s-Style Garage
Kids growing up in the 1950s enjoyed an idyllic era. Although there were no cell phones or video games, a kid could always find friends ready to play outside or enjoy a trip in the open bed of a pickup truck to get an ice cream.
Jim, today's featured customer from Prince George, Virginia, recalls hanging out at the old gas stations where he would sit on top of the Coke box and have a pop.
"Being a 1950s kid left me with so many great memories," Jim says. "When my wife gave me a canvas painting of an old filling station as a retirement gift, we decided to build a garage that is a recreation of a Texaco station from that era."
Jim started searching for the perfect lighting for his new garage which features vintage signage, old-fashioned pumps, and a 50s-style soda shop for friends and family gatherings.
"We wanted American-made lighting with colors that fit the Texaco theme of green, white, and red," Jim explains. His search landed him on the Barn Light Electric website where he was thrilled to find RLM-style lights with design roots in the gas station lights of the mid 20th century.
Jim chose the Dino Stem Mount Pendant Light for the drive through. He customized this handcrafted ceiling pendant with a 14″ shade, Cherry Red porcelain enamel finish, and 24″ stem.
"The Dino Pendant had the look we wanted, and the Cherry Red finish best matched the Texaco red color," he notes. "The optional stem sizes allowed us to have the right height even with the door."
Highlighting Jim's new signage and garage doors are matching Dino Wall Sconces also in the Cherry Red finish but with slightly smaller 12″ shades.
"These have the perfect look and size to light the sign and garage doors," Jim says. "We love the support bar, and the quality is obvious." Jim adds that many people stop by to see the station, some who just happen to be passing by. The authentic lighting is always a topic of conversation.
"Barn Light had the look and quality we wanted," he says. "We love everything about the lights. They're just perfect!"
Photos courtesy of the homeowner