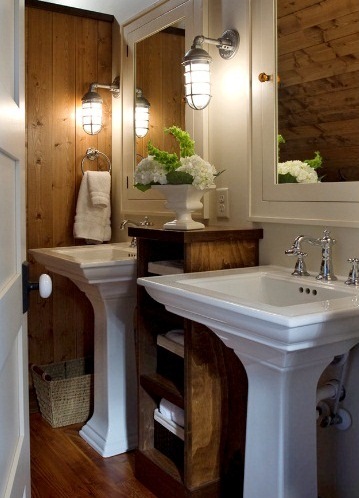 Rustic Sconces Delightful Touch in Tight Bathroom Space
Just because you may happen to live in, or with, a small space doesn't mean you have to compromise on style. For example, apartment dwellers everywhere are rejoicing over our new line of eclectic Apartment Lighting that can plug right in with no electrician required. This collection includes basket lights, wire lights, and glass and metal shades all with plug-in convenience although they can be hardwired if desired.

Other small spaces have their own issues such as this bathroom which is a great example of elegance on a small scale. There's no room for a box-style vanity here but the homeowner obviously wanted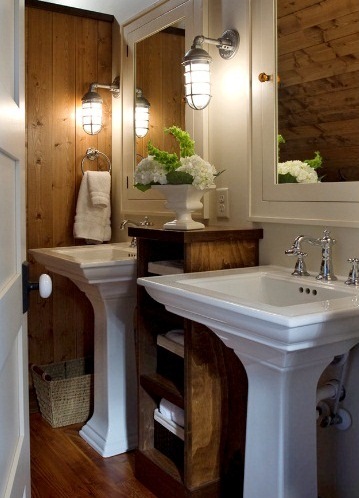 two sinks so the designer opted for the space-saving pedestal sinks instead with a small shelving unit between the two for storage. The mirror-fronted cabinets above the sinks offer more storage while two rustic wall sconces light the entire space. To get this look, check out our Barn Light Atomic Topless Wire Guard WGU Sconce which offers loads of industrial style.
This Topless Wire Guard Sconce comes in two sizes, small and large, to accommodate most any space. While perfect for this tiny bathroom, it would also work well in laundry or utility rooms, and because it's rated for wet locations, would add plenty of visual appeal to your deck or front porch. More than 30 finish colors are available for this fixture so it can take on any number of looks from traditional to retro to contemporary. The glass can also be customized with texture or color. Don't forget we have coordinating pendants such as the Atomic Topless CGU Pendant, a very affordable way to create a family of lighting in your space!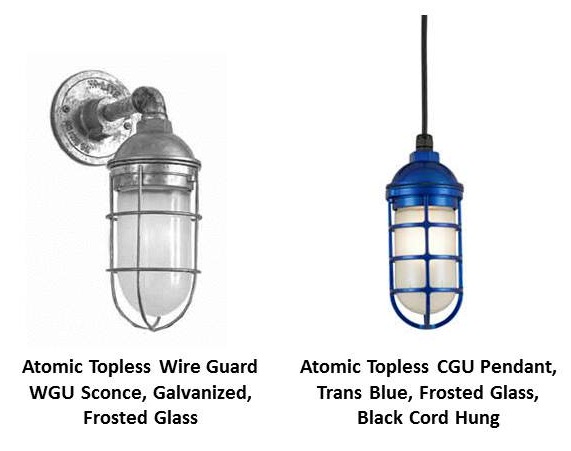 And don't forget! Our Graniteware Sale-a-bration ends Sunday, July 29th! This is your last weekend to save 20% on our NEW vintage-inspired Graniteware Porcelain Barn Lights!
Top photo courtesy of Lands End Development and BeDe Design