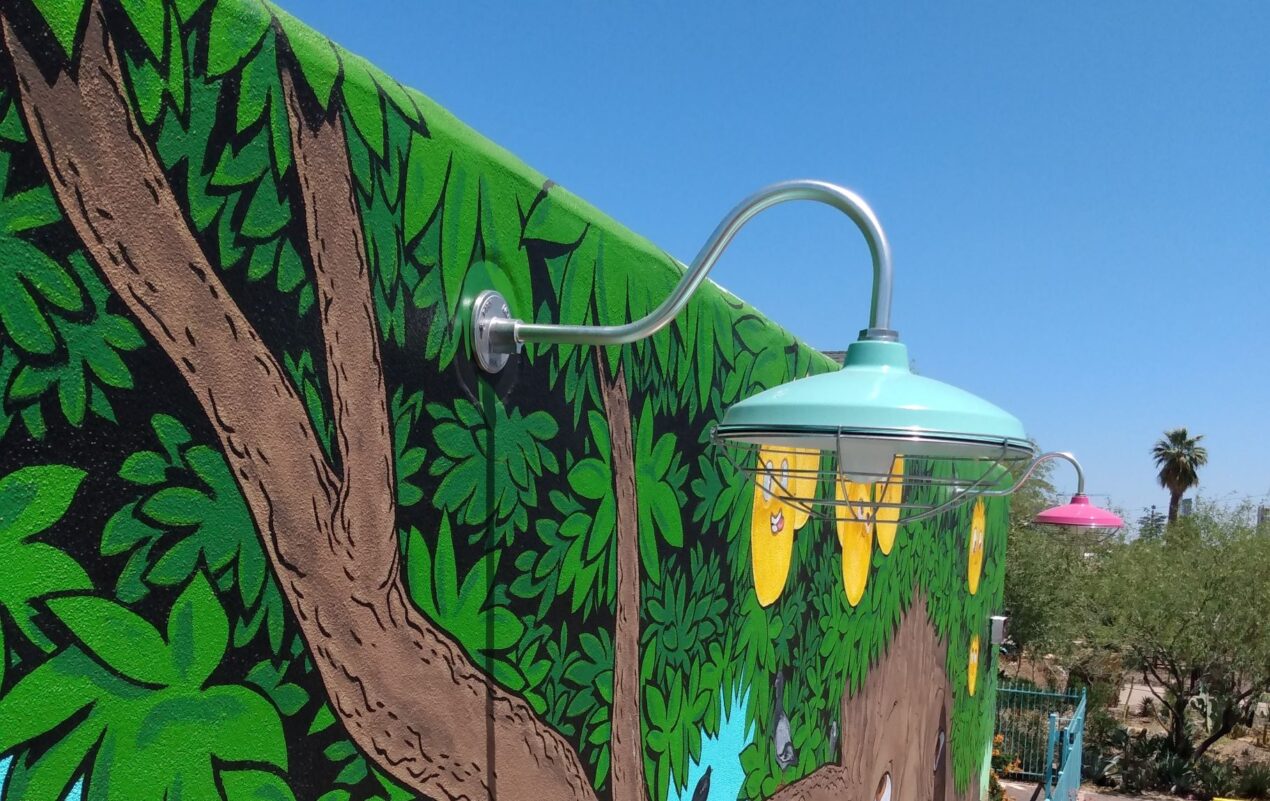 Colorful Gooseneck Lights Add Whimsical Touch to Artist Studios
The building sits just off historic Grand Avenue in the Oakland neighborhood of Phoenix, Arizona. Built almost 100 years ago, it housed many small businesses through the years. When Tony and Beatrice bought the building back in 1998, they completed a functional renovation dividing the building into six units.
"It's called Citywide Studios, and we rent the units as artist studios," Tony says. "We are currently improving the appearance of the building with new windows and security grills in the works." The couple recently commissioned a new mural by local cartoonist/muralist Luster Kaboom to brighten the 112-foot façade. With the painting completed, the search was on for the perfect lighting to highlight the colorful wall.
"We wanted a playful look that would accent, but not necessarily coordinate with, whatever was painted on the façade," Tony explains. "This is the second mural we've commissioned and will be replaced eventually. We also wanted a vintage feel to honor the historical timeframe of the building."
Already familiar with Barn Light Electric, the couple went to the website and selected the Marathon Gooseneck Light. They customized the fixtures with nine different finish colors — Jadite, Blush Pink, Teal, Magenta, Buttery Yellow, Watermelon, Lavender, Delphite Blue, and Sherbet Orange. All of these handcrafted lights feature 16″ shades, G22 gooseneck arms, and a wire cage accessory.
"The Marathon fixtures look like they belong on a storefront from the 1930s," Tony notes. "The wire cages are a practical element, but they add to the overall vintage appearance. We chose the 16″ shades to cast a wide halo of light and because the scale fit the long façade."
The G22 gooseneck arms provide the perfect combination of extension and height for these American-made lights. The arms are finished in Brushed Aluminum which works well with the variety of finish colors and lends a timeless, somewhat industrial feel to the fixtures.
"They just look really cool. I love how they're both whimsical and mechanical at the same time," Tony says. "We have used Barn Light fixtures in the past and love the selection of styles, finish colors, and especially the quality of the workmanship."
Photos courtesy of Citywide Studios