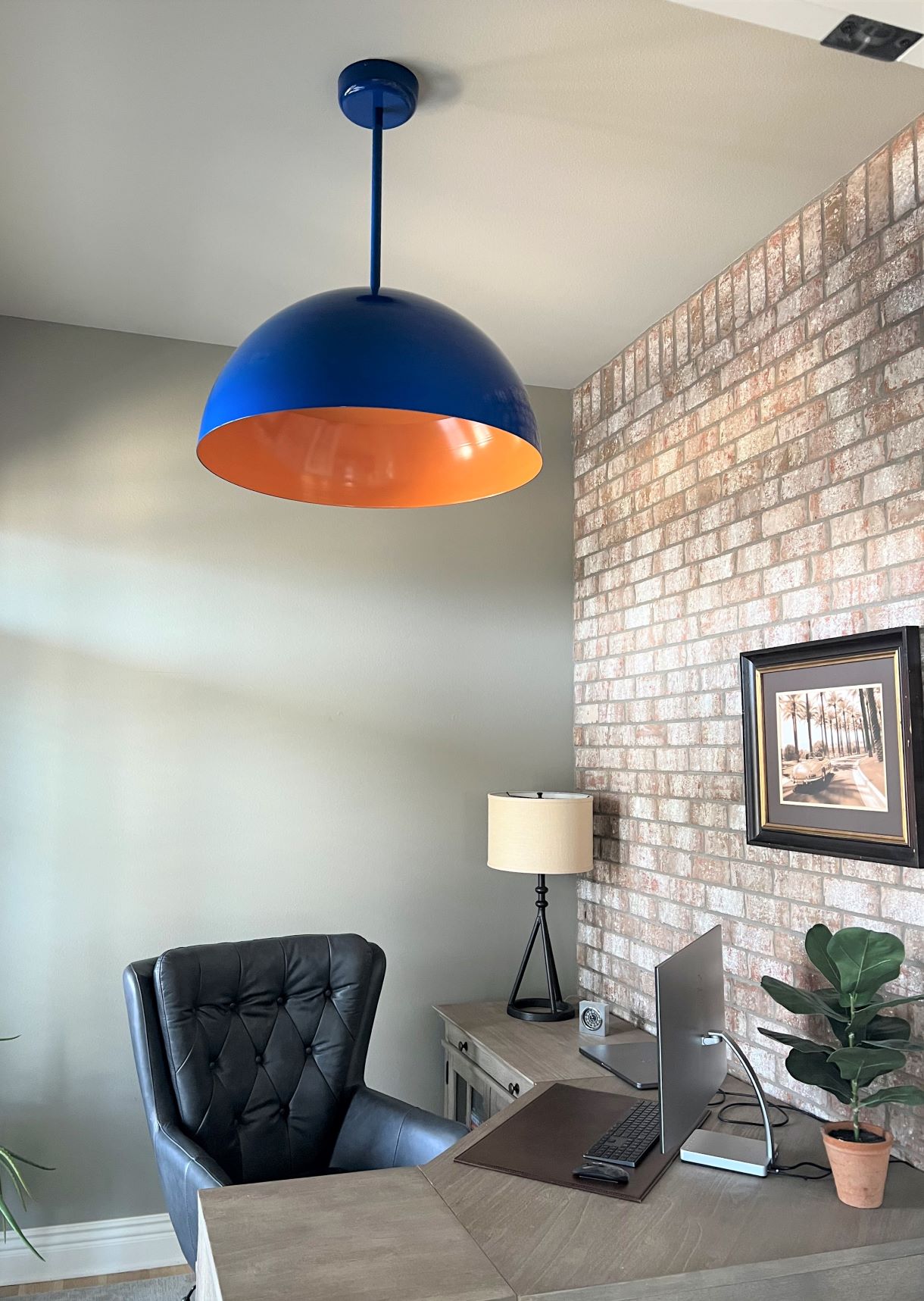 Colorful, Oversized Pendant Light Makes Statement in Home Office
If you could change one thing in your home office, what would it be? Tyler, from Cave Springs, Arkansas, decided to replace the overhead fan/light combo in his home office space. Here's the before photo…
"I wanted an American-made, LED light," Tyler says. "And I have always loved blue and orange." Tyler searched the internet for LED lights made in the USA that are available in a variety of colors. He checked all the boxes when he discovered Barn Light Electric. In the LED Collection, he landed upon the Loma LED Stem Mount Pendant. What a difference this made in Tyler's office!
Tyler customized his new handcrafted fixture with a generous 28″ shade featuring his favorite colors — a Royal Blue exterior finish and a Sherbet Orange interior finish. The shade is mounted on a sturdy 18″ stem also finished in Royal Blue. As all of Barn Light's LED lighting is completely customizable, Tyler chose a 2700K color temperature for his new light along with 2000 lumens and a flat lens.
"I love the wide dome look of this light," Tyler explains. "And being customized with my favorite colors makes it unique."
The Loma partners cutting-edge LED technology with eye-catching contemporary style. This easy-to-customize fixture is available in shade sizes ranging from 12″ to 36″ with a rainbow of finish colors to choose from including porcelain enamel, powder coat, and natural metals.
The stem mounting Tyler chose for his office light offers a more formal look, but other mounting options are available. A chain-hung mount lends an industrial vibe while the cord-hung version is more casual. More than 20 cord colors are available to lend even more personality to the fixture. The newest member of the Loma Collection is the Loma Adjustable Wall Sconce which also comes in a plug-in version.
"I love that it is unique and different," Tyler says. "It's not too bright but just right. It's a statement piece."
Photos courtesy of the homeowner