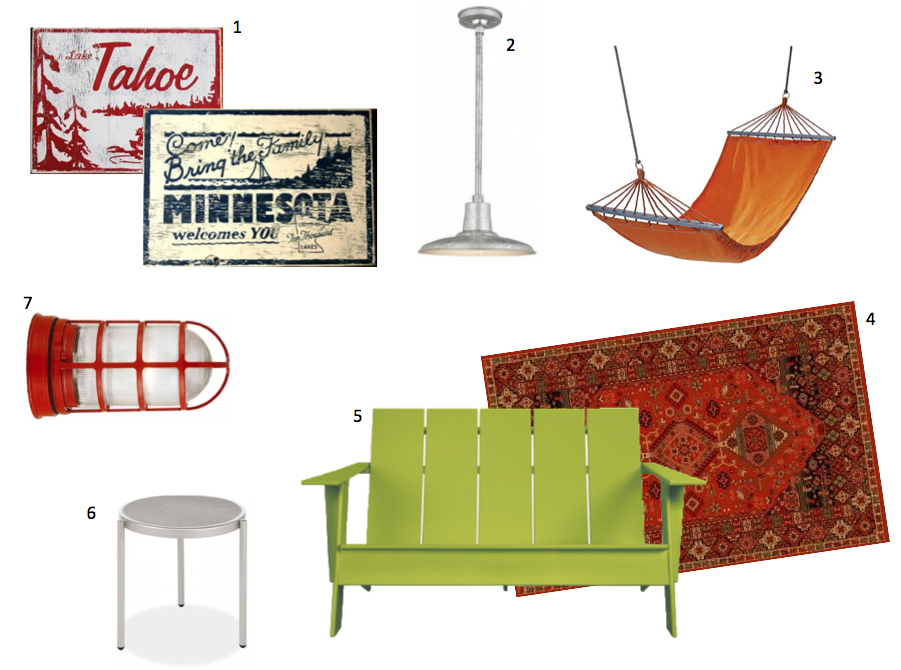 Rustic Lighting And Modern Cabin Style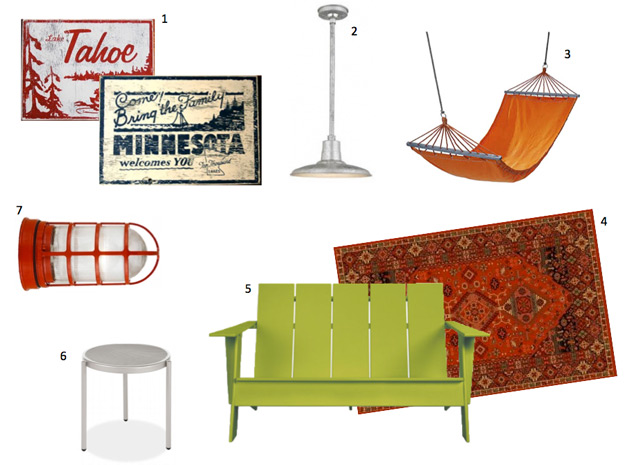 1.) Etsy Rustic Wooden Signs: $30.00 each
2.) Barn Light Electric 12″ Shallow Bowl Pendant: $174.00
3.) Hammock: $Prices Vary
4.) Ace Hardware Outdoor Rug: $69.99
5.) Room & Board Emmet Sofa: $649.00

6.) Room & Board Seaside Table: $99.00
7.) Barn Light Electric Industrial Bullet Wall Sconce: $141.00
Owning a traditional rustic cabin might appeal to some, but what about those who have a little more modern taste? Your husband might not care so much, but while he's off fishing, and you're relaxing on the porch, consider today's Style Guide that puts a slight twist on traditional cabin findings. Your retreat doesn't have to be filled with log furniture, plaids, or even mounted animals. Room & Board offers a variety of high quality, outdoor furniture that is durable, comfortable, and easy to care for. Each lounge is a modern take on the symbol of rustic, American relaxation – and each is made from 100% post- industrial and post- consumer recycled plastic! Accent exterior walls and provide some eclectic flair with custom cabin signs found on Etsy. These vintage wooden signs are each custom made to order and can be personalized to your lake home. Even though they are new, each has been hand weathered to give the appearance of years of outdoor use and will contrast perfectly with the colorful, modern furniture. Tie in your surrounding colors by laying down an outdoor rug, which can provide ample style and character to your contemporary cabin. We found a great one at Ace Hardware that has both vintage qualities, yet utilizes our colorful color scheme.
For lighting we chose both vintage and modern – a Barn Light Electric stem mount Shallow Bowl Pendant in galvanized coordinates perfectly with our Seaside side table and the natural earth tones surrounding your cabin. Although each can be hung via cord, stem mounting a shade allows for outdoor use in any climate – hot, cold, wet, or dry. Multiple pendants can be hung around your porch for outdoor entertaining and barbecues. Galvanized is a finish that will coordinate with almost any decor or setting, which can act as both a rustic or industrial finish due to the multiple silver tones incorporated in the different shades of metal flakes. As with all of our finish options, it is also one that won't rust or change appearance over the course of many years.
To highlight the front door or steps, consider a Barn Light Electric Industrial Bullet. Although this fixture has over 50 finish options to select from, we chose the powerful color of Red. Guests eyes will immediately be drawn to the color and unique guard that boasts both vintage and modern characteristics.