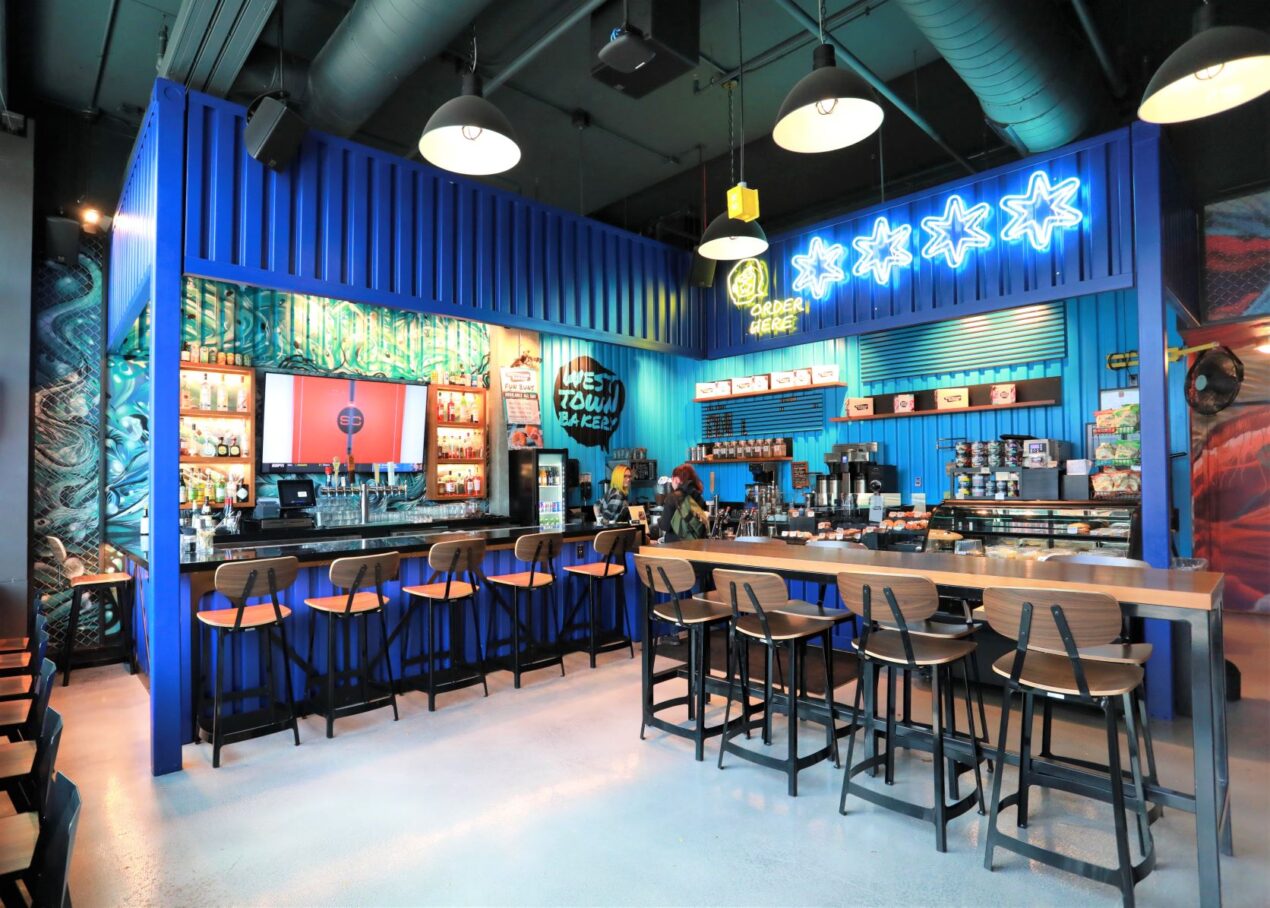 Bold Chain Pendants Complement Industrial Décor in Chicago Coffee Shop
If the coffee doesn't wake you up at West Town Bakery, the décor definitely will! This small, but bold, space features a Chicago-centric, industrial aesthetic including work from local graffiti artists to bring a one-of-a-kind feel to the bakery.
Located in the Hotel Zachary in Chicago's Wrigleyville neighborhood, the bakery was designed with help from the talented team at fcStudio.
"We contracted with local artists focused on muraling and illustrations then combined this with a 'shed scale' to make sense of the small space," says designer Rachel Crowl. "We used a shipping container as our 'shed' inspiration which allowed bold colors and simple forms to capture the operational and visual elements." The design team specifies American-made products whenever possible which led them to Barn Light Electric and Chicago Lightworks, Barn Light's commercial rep in the Chicago area.
"We find that lighting is one of the most important details in a space and getting it right is a high priority," Rachel explains. "The lighting for the bakery needed to be bold, but simple, with strong forms."
The team selected the Wilcox Deep Bowl Chain Hung Pendant for the space. They customized these ceiling lights with generous 20″ shades and a Textured Black finish. The additional options of cast-guard-and-glass plus black-and-white cloth cords bring even more visual interest.
"The Wilcox has a deep curved form that sets it apart from other 'warehouse style' fixtures," Rachel notes. "The chain furthers the details that create a custom aspect to the fixture. We like that bit of differentiation."
While the space is small, the ceilings are high, thus the designers needed to fill some of the ceiling space with a substantial fixture. The 20″ Wilcox serves not so much as a focal point of the space but rather as a layer to the overall space.
"The industrial form and materials of these lights align well with the design of the space. The color options, cords, cages, and other add-ons helped us create fixtures that do not feel off-the-shelf," Rachel says. "We are all very happy with the ease of maintaining these fixtures and are pleased with the effect they have in the space."
Photos courtesy of Katrina Wittcamp and fcStudio