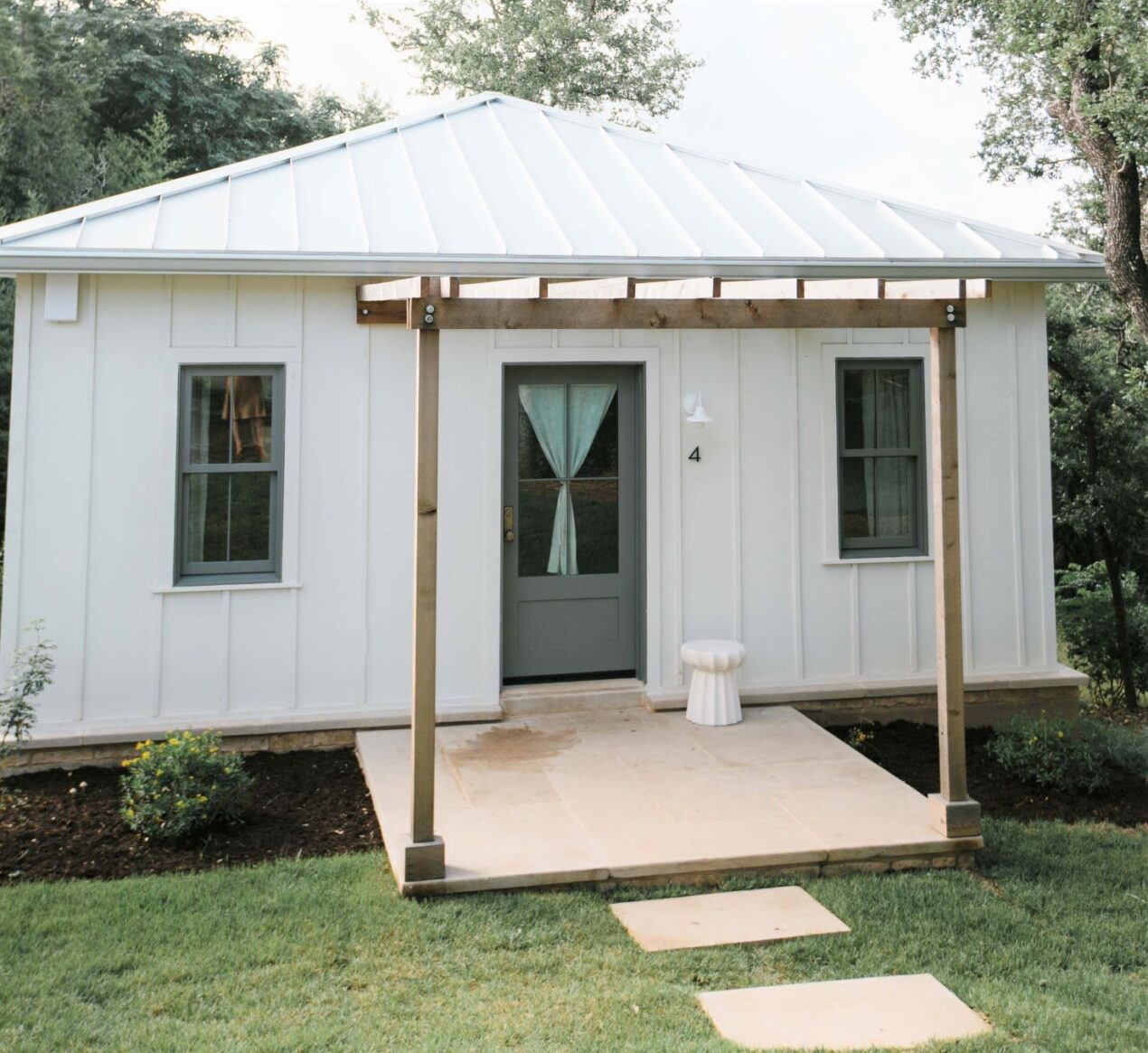 Compact, Curvy Wall Sconces Add Just the Right Touch to Texas Cottages
Austin, Texas offers just about everything you could want in a vacation destination — from museums and sporting events to outdoor adventuring and a legendary music scene. But if you want to escape to a quiet place where the air is fresh and time seems to slow way down, head 15 minutes west of town and discover an idyllic setting nestled in the heart of the Texas Hill Country.
The Wayback is a casual, boutique hotel close enough to enjoy all of urban Austin but still a world away. Created by the mother/daughter duo of Vicki Bly and Sydney Sue, the Wayback offers eight cottages, a saltwater pool, cabana, and a café offering farm-to-table meals.
While the buildings are all brand new, Vicki and Sydney Sue used a vintage Texas, farmhouse style to create a timeless look.
"We get asked all the time about how old the buildings are and how long this property has been here," Vicki says. "I think we nailed the architectural design of fitting in with nature and the landscape of the Texas Hill Country." The cozy, white cottages are tucked amongst the trees and invite guests to slow down, relax, and enjoy the surroundings.
"We were going for a light, airy, timeless, and classic feel," Vicki notes. "We chose barn lights for the cottages because they fit so perfectly with the architecture." Vicki and Sydney Sue looked for lighting that was easy to customize since the cottages are small and required smaller fixtures. A Pinterest search led them to Barn Light Electric.
They chose the Barn Light Mini Eclipse Wall Sconce to adorn the entry of each cottage. These compact wall sconces are customized with a White finish and G38 mini gooseneck arm.
"These are the perfect size!" Vicki says. "They have soft lines and a beautiful curve. We knew the style would last a lifetime." The Mini Eclipse shade is hand spun and can be customized with one of 30 finish colors. Four gooseneck arm styles are also available for this wall light.
"We wanted each cottage to fit into the landscape and remain casual. The lights allow guests to notice their cottage but are not overwhelming or obtrusive to the space," Vicki says. "I love how they blend right in with the architecture. They are not a statement piece but are the perfect fit for our cottages."
Photos courtesy of The Wayback and Carley Page Summers