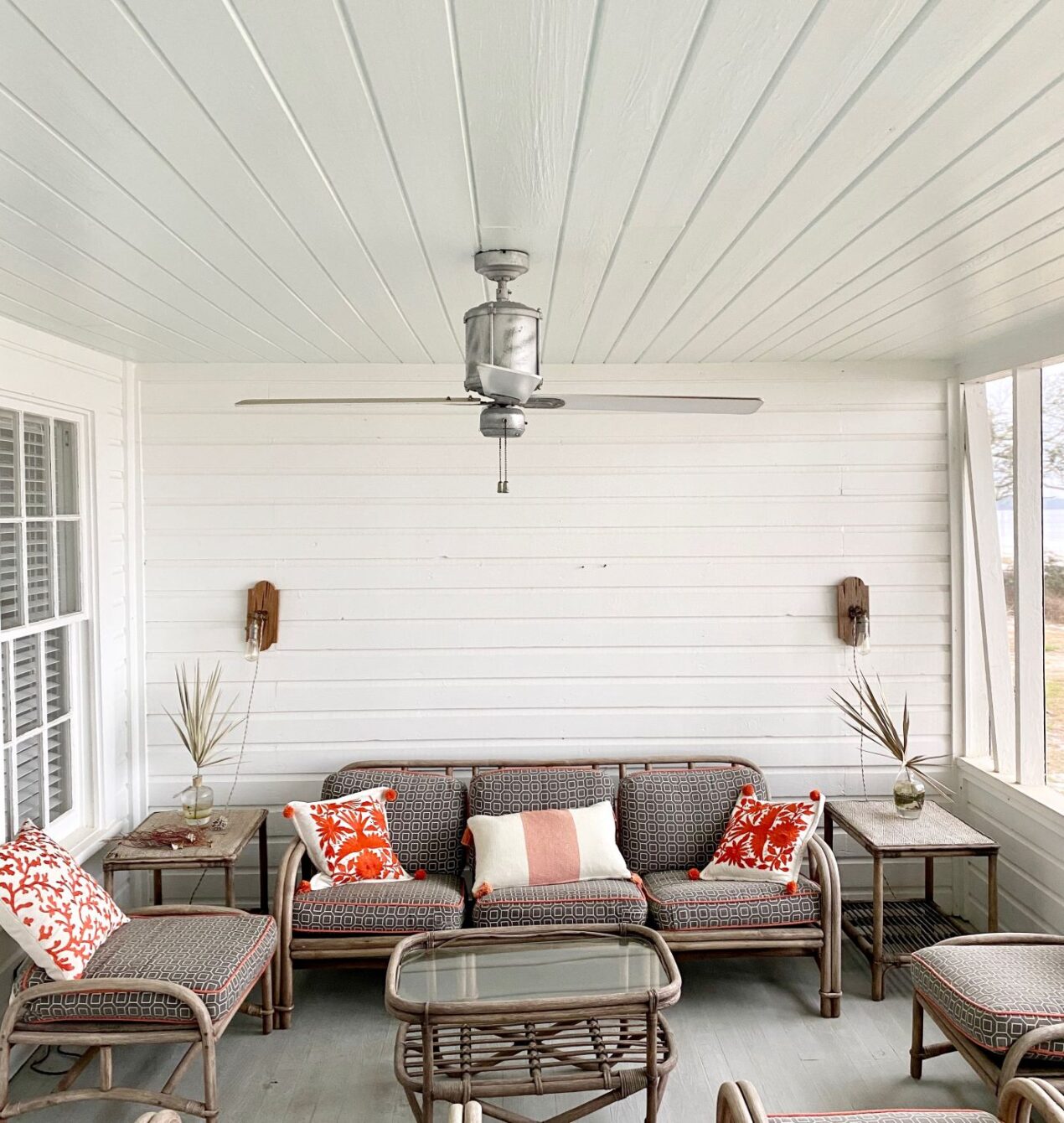 Galvanized Barn Lights Lend Informal Style to Beach Cottage Renovation
The beach cottage — described as a "tear down" by the realtor — had seen better days since being built in 1939. But the waterfront location in St. Teresa on Florida's panhandle was exactly what Haile and Ben wanted. The couple had already restored an 1850s-era home less than two hours away in Thomasville, Georgia, so renovating this vacation cottage seemed like a breeze.
"The moment I walked through the door, I knew it was special and perfect for us!" Haile says. "We re-wired, re-plumbed, re-roofed, re-sided, and put in all new mechanicals. All of the walls are made of wood — there's not one piece of sheetrock!"
All of that wood was stained dark, so Haile painted everything white to add an airy, casual feel. With two young boys and two dogs, she wanted a low-key, low-maintenance, and durable beach house that was comfortable, not too fancy, and not too nautical.
"Barn Light Electric was a great find," Haile notes. "I'm always looking for American-made products that I know will last. I wanted to order from a business that had what I needed in one place, with fixtures that looked like they belonged together but with different features and feels." For her low-ceilinged kitchen, Haile chose two Primary Schoolhouse Flush Mount Lights. She customized these vintage-inspired fixtures with large, clear glass and Galvanized fitters.
"I coordinated the galvanized fitter with other fixtures as I wanted to keep materials consistent and look put together but still casual," she explains. "I like the large glass, but they feel light and airy, not heavy on the low ceiling."
On the back porch, a fish cleaning sink sees plenty of use and is well lit by an Original™ Warehouse Pendant Light. This classic barn light features a 14″ shade with a Galvanized finish, standard black cord, and a wire cage.
"I love the wire guard; it gives it a utilitarian feel which is what a fish cleaning sink is all about!" Haile says. "The 14″ shade gives it enough heft and the right visual balance above the big sink."
The entryway from the porch into the home presented a problem due to the bulkhead over the door and the low ceiling. A pendant light wouldn't fit so Haile opted for a gooseneck barn light instead.
She chose the Union Gooseneck Light customized with a slightly smaller 10″ shade than the nearby Original™ Pendant, but with the same Galvanized finish and a straight G1 gooseneck arm.
"The straight arm worked well with the low ceiling, and the shade is smaller to match the scale of the door," she notes. "It is very welcoming above the door; the gooseneck was a great choice."
The family loves the laid-back vibe of their vacation cottage and the view from the porch that never gets old. Two Machine Age Galvanized Ceiling Fans stir the tropical breezes and add an industrial touch to the space. These are customized with 52″ White blades.
"I HAD to have these Machine Age Fans!" Haile says. "I wanted these to feel like they'd been there for a very long time. They give the porch a nostalgic feel which plays well with the age of the cottage. I like the crisp, clean white on the blades in contrast to the Galvanized finish."
Haile and Ben relied on Pinterest to pull together the countless details for their cottage renovation. Southern Living took note and featured their efforts in this article which includes some impressive before-and-after photos. The family enjoys having a vacation spot less than two hours from home so they can pop in easily for weekends away. All of the furnishings and fixtures they chose add to the relaxed, casual feel Haile envisioned.
"Ordering from Barn Light Electric was beyond easy. Everything shipped as expected and arrived in perfect condition, she says. "I love the little bit of nostalgia and the casual vibe that the lights and fans add to the house."
Photos courtesy of the homeowner