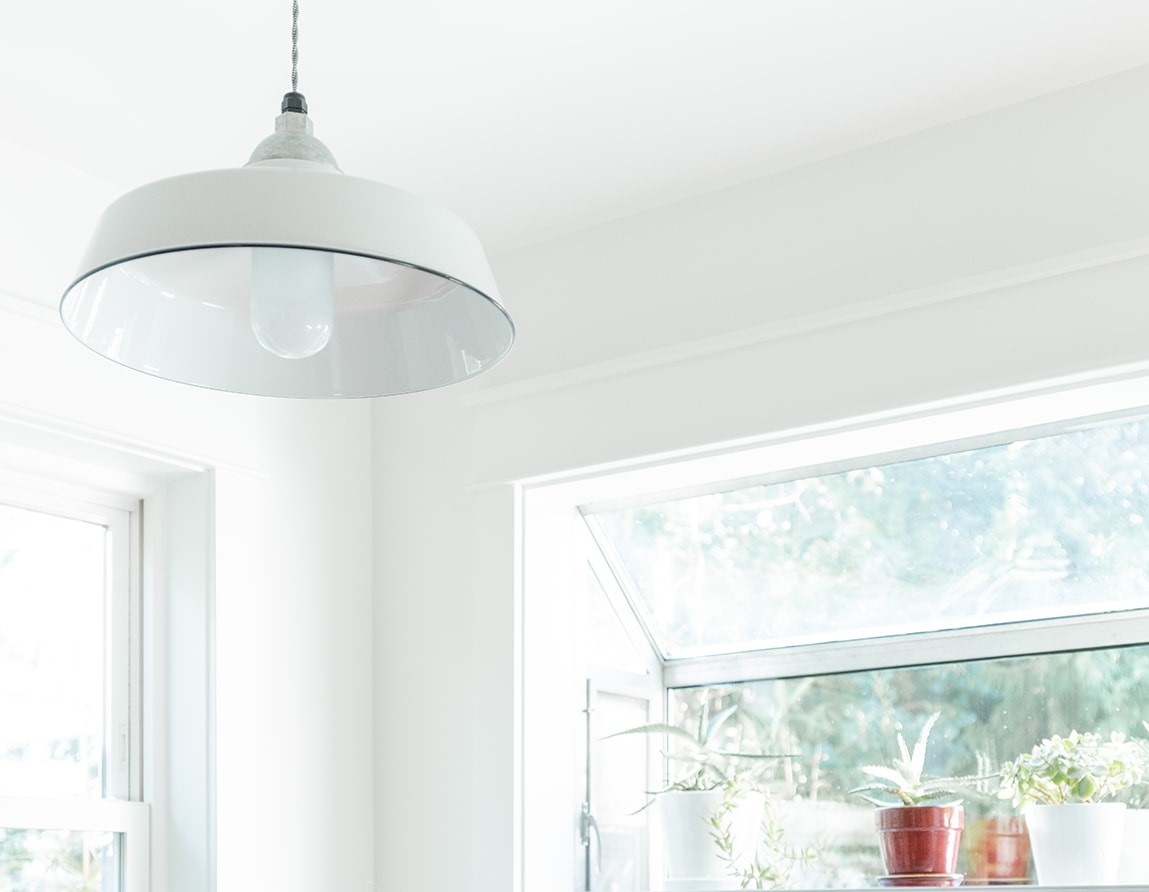 Vintage-Inspired Lighting Helps Tell Story of 1930s Tudor
Remodeling an older home requires a special touch especially when the homeowner wants to blend the old with new. A talented interior designer can often help preserve the history of the home while introducing updated fixtures and finishes.
Keri Petersen, of KP Spaces, took on the remodel of a 1930s tudor last fall in the quaint neighborhood of Sunset Hills in Seattle, Washington. The project included the kitchen, living and dining rooms plus three bedrooms and three baths.
"My clients have a beautiful collection of vintage art and collectibles," Keri says. "My intention was to create a space where those unique items could feel at home. In choosing materials, colors, and fixtures, my goal was the blur the line between old and new, and create a look that felt cohesive but far from matchy-matchy."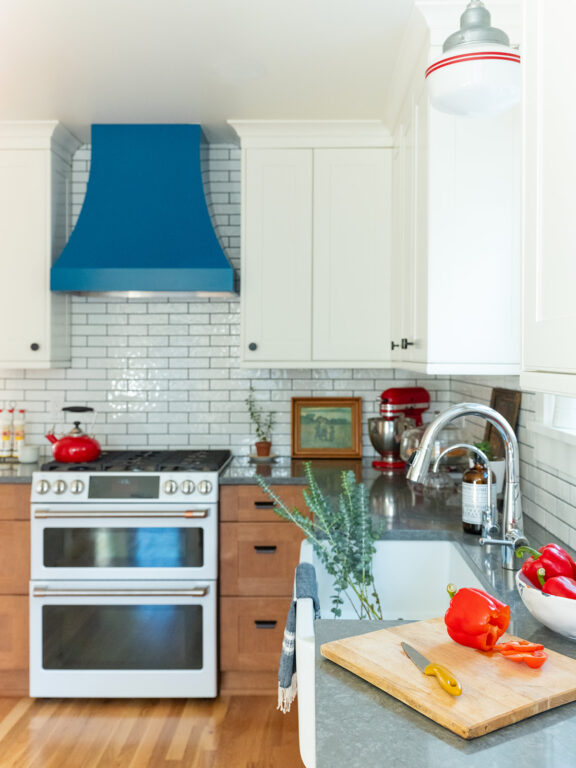 In choosing lighting for the remodeled kitchen and dining spaces, Keri searched for fixtures that felt both nostalgic and eclectic but with a high level of customization. As a long-time fan of Barn Light Electric, Keri knew where to find easy-to-customize, American-made lighting.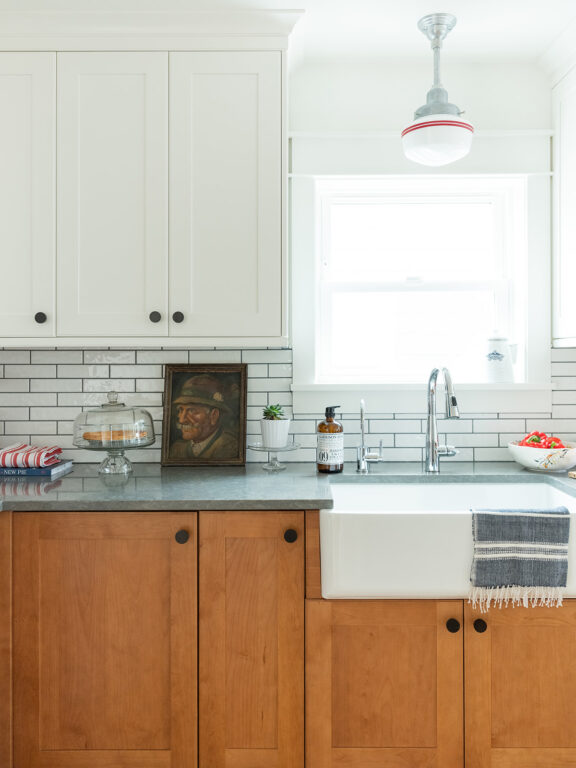 "The design definitely had a schoolhouse feel, so I wanted fixtures that could reflect that," she notes. For the kitchen, Keri chose the Primary Schoolhouse Stem Mount Pendant Light. She customized this vintage-style pendant with small opaque glass and a Galvanized fitter and stem. She also added double painted bands of Barn Red for a splash of color.
"The pendant over the sink feels charming and vintage without being too precious," Keri explains. "The bold Barn Red stripes tie in with other accents and the Galvanized finish adds an industrial element."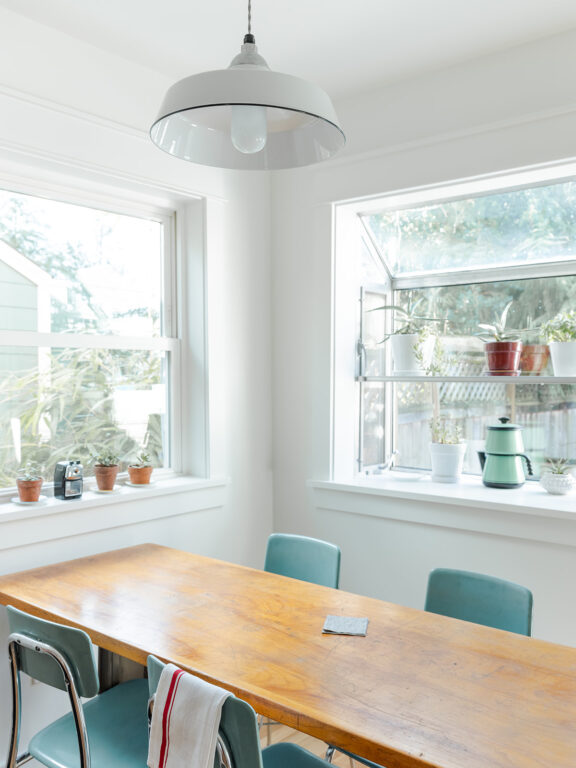 In the nearby dining nook, she chose the Rochester Vintage Industrial Cord Hung Pendant Light to highlight the table. Keri customized this handcrafted pendant with an 18″ shade, porcelain enamel White finish, frosted glass, and a black-and-white chevron twist cord.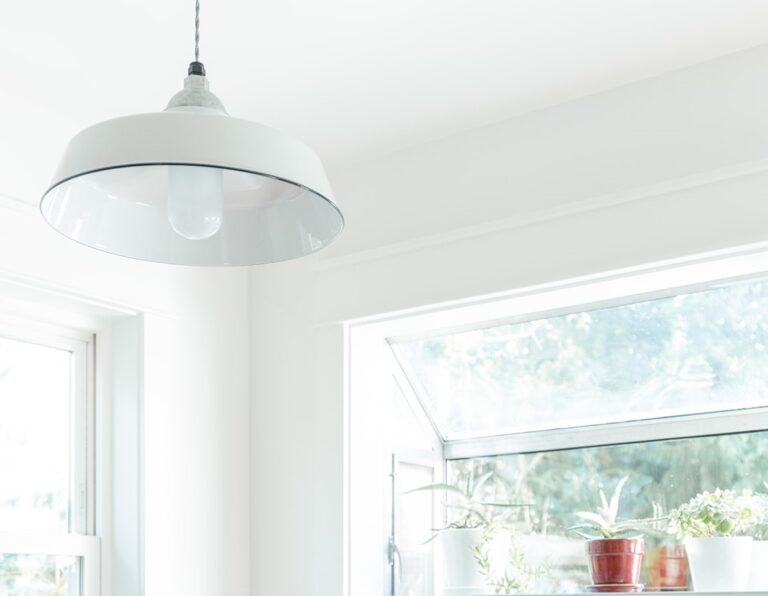 "This fixture is crisp and clean with its white enamel finish which plays well against the weathered, distressed finish of the dining table," Keri notes. "The black-and-white cord is a fun retro detail while the frosted glass helps diffuse the light."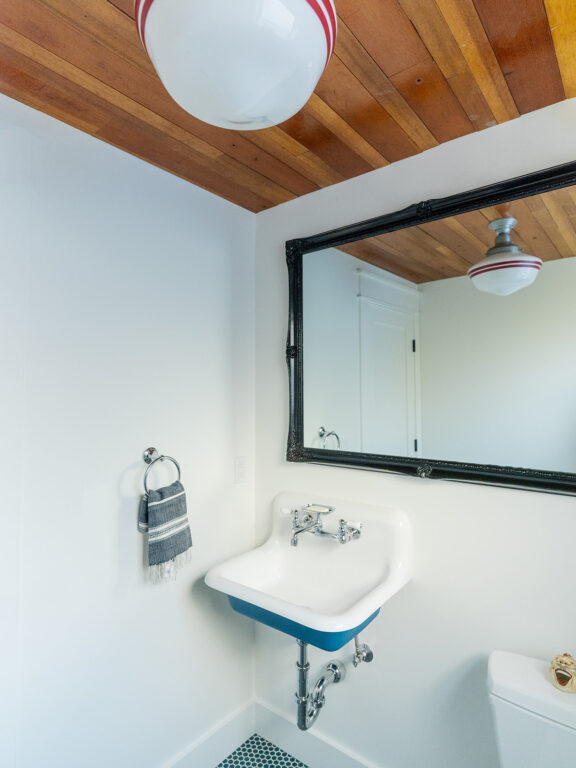 Directly adjacent to the kitchen is a small powder room. Because of the close proximity, Keri wanted to make sure the colors and materials in the two spaces paired nicely together. She chose the Primary Schoolhouse Semi-Flush Mount Light to tuck neatly into the powder room.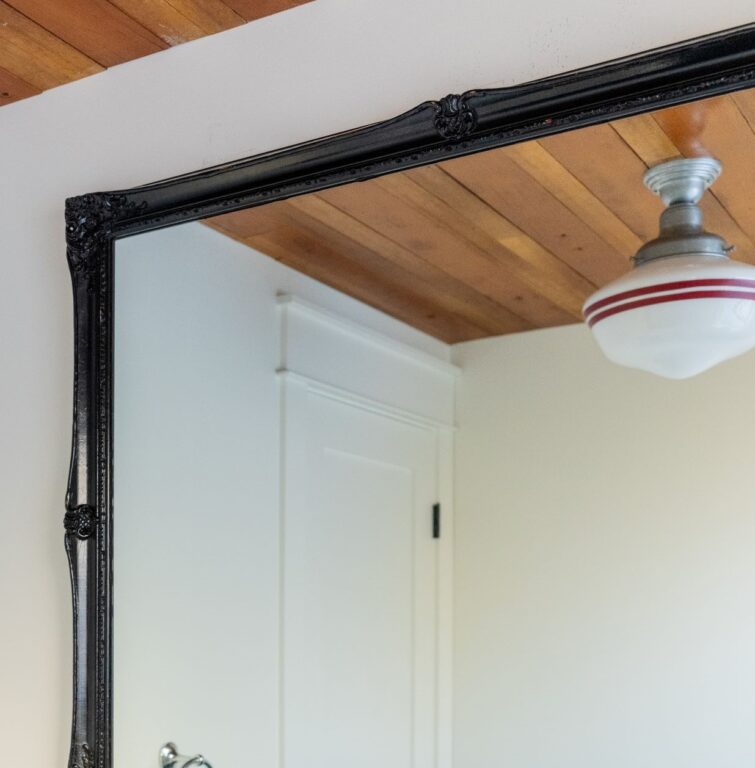 She customized this fixture to match the kitchen pendant with opaque glass, Galvanized fitter, and double painted bands of Barn Red. The fixture pops beautifully against the wood ceiling which is constructed from old, high school bleacher seats.
"My clients and I are thrilled with the end results and feel like the light fixtures help tell a story of this home and the people who live here," Keri says. "I've loved Barn Light Electric for years and it's been a pleasure recommending their products to my clients time and time again."
Photos courtesy of KP Spaces