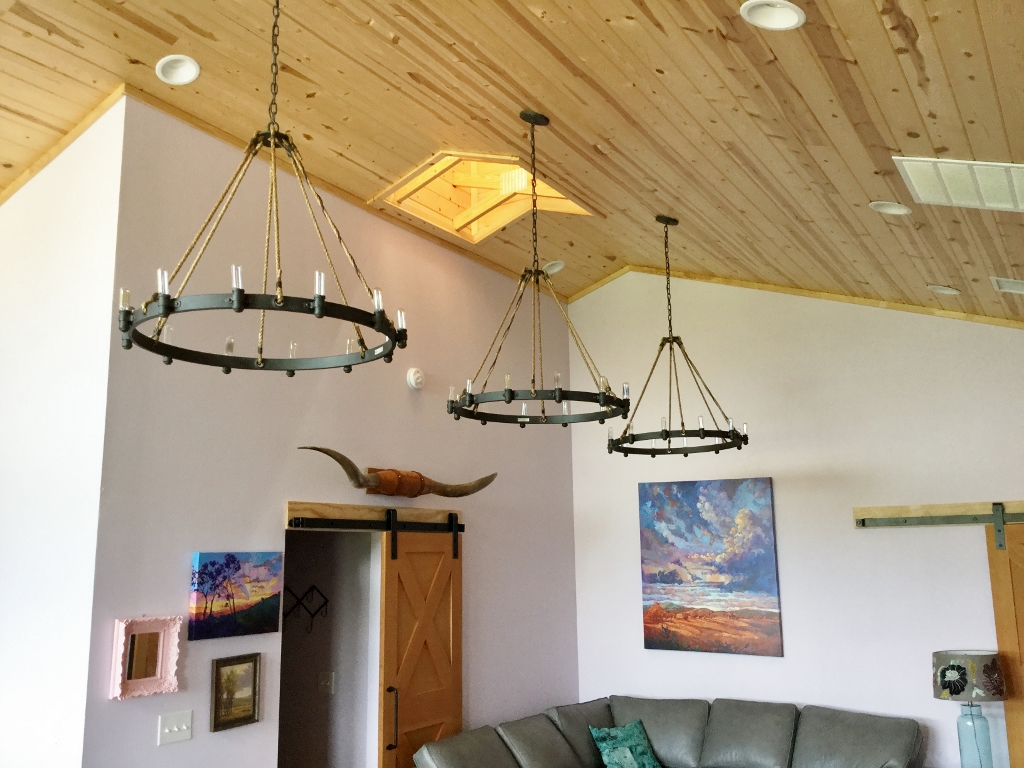 Rustic Chandeliers Take Center Stage in Barn Loft
We've been down home on a Texas ranch this week checking out how custom barn lights create a cohesive look between Renee's home and barn. Monday's post featured the exterior of both spaces and Wednesday's post included the working part of the barn. Today we discover how rustic chandeliers take center stage in a surprising loft space in the barn.
"The tack room in the barn leads upstairs to the gathering room which has a kitchen along one wall," Renee explains. "The space is really multi-functional. It serves as overflow guest space, a space for farm meetings, and the kitchen serves as extra space for holiday preparations."
Starting in the tack room, Renee wanted to continue the rustic barn feel she had going on the exterior and in the barn proper. For the stairway leading up to the loft, she chose a Bomber Wall Sconce. This American-made wall light is customized with an 11″ shade and glossy, porcelain enamel Black finish that will never fade.
"This sconce has a pretty compact footprint up against the wall," Renee explains. "Unlike outside, where those long arms are perfect for throwing light far and wide, here we needed to keep the fixtures close to the wall to use as spot and accent lighting."
Renee chose the Black finish for the tack room and stairwell as the barn has a rugged feel with plenty of black accents. Once upstairs, she switched things up with a more colorful and playful decor. Grateful for the varied color palette offered by Barn Light Electric, Renee stayed with the Bomber Wall Sconce but customized the upstairs fixtures with a creamy Jadite finish.
These wall-hugging porcelain enamel sconces are perfect for accenting Renee's art — this piece created by long-time family friend Sara Drescher. The shiny Jadite finish also complements many of the kitchen items and other decor on the walls.
But the star attraction in this space is definitely the trio of rustic chandeliers that draw your eye to the vaulted ceiling. Each Outer Banks Chandelier is crafted in a 32″ size with 12 sockets finished in Shipyard Bronze. Chain hung with natural rope detailing, these rustic chandeliers exude all the farmhouse feels.
"We really wanted to highlight the wood ceilings and exposed cupola," Renee notes. "We wrestled with how many to use, but we took a leap of faith and put all three up. We're really glad we did especially for the light they provide. The space is large and, with all three fixtures on at night, they light the space beautifully without being glaring."
With both her home and barn outfitted with finely crafted barn lights, Renee is most happy that the lights look great even when they're turned off.
"We've managed to decorate and make the spaces really visually appealing with the fixtures and, at the same time, they work really well," she says. "We've been able to light lots of different areas appropriately with different yet complementary fixtures thanks to the customizing options offered by Barn Light Electric."
Photos courtesy of the homeowner