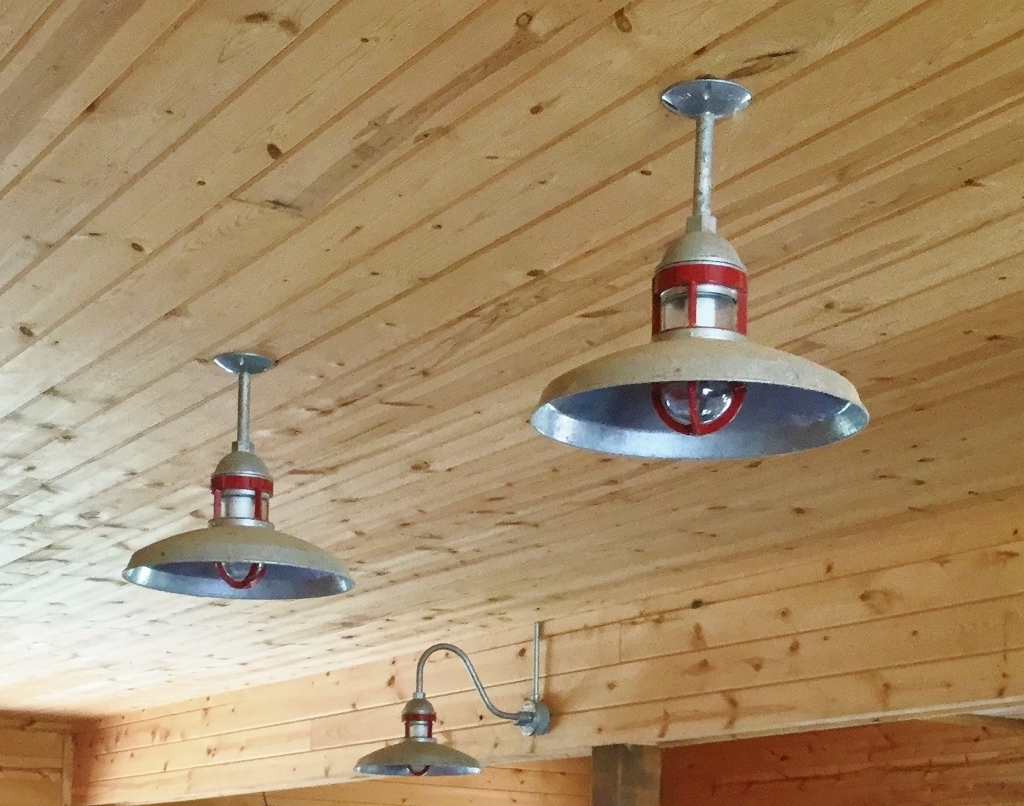 Barn Lights Combine Up & Down Lighting for Perfect Blend in Work Spaces
In Monday's post, we introduced you to Renee who recently built both a home and a barn on her Texas ranch. Renee fell head over heels in love with our custom barn lights which enabled her to create a consistent look in her lighting in both spaces.
"Although the barn and our home have wildly different functions, we wanted them to have complementary features, because you see both buildings as you arrive," Renee says. "The barn lights were the perfect opportunity to tie the two together."
Renee loves the classic look of The Original™ Warehouse Gooseneck Light that she chose for the exterior of the barn. She wanted similar barn lights for the interior but needed uplighting to highlight the gorgeous tongue-and-groove ceiling. Renee chose the Brisbane Stem Mount Pendant to combine the best of both down and uplighting in one fixture.
Featuring a warehouse shade affixed to a cast guard-and-glass fixture, the Brisbane spreads light throughout the space while still focusing it downward. Renee customized these American-made barn lights with 16″ shades, a Galvanized finish, a Barn Red cast guard, and clear glass.
"These are 12-foot ceilings so we needed those 16″ shades for scale," Renee says. "The Galvanized finish was chosen for continuity and ease of care. A black finish would have really popped and matched our stall fronts, but this is a barn and we didn't want to highlight the dust!"
To complement the ceiling lights and to highlight the work spaces along the walls, Renee chose the Brisbane Industrial Gooseneck Light. She customized these rugged barn lights with the same 16″ shade and finish colors as the pendants, and she opted for the G11 gooseneck arm in a Galvanized finish.
"We wanted to continue the theme from the exterior lights," Renee notes. "Some of the goosenecks are over switch bays and hose faucets so they serve as task lighting." The Brisbane family of lighting also includes a cord hung pendant and a flush mount pendant for even more options.
The barn critters, which include goats, pigs, horses, cows, and Thelma the mini-donkey, seem to approve of their new digs. Join us on Friday as we venture upstairs to the loft. You won't believe the creative artwork, creamy Jadite touches, and rustic chandeliers that take center stage!
Photos courtesy of the homeowner