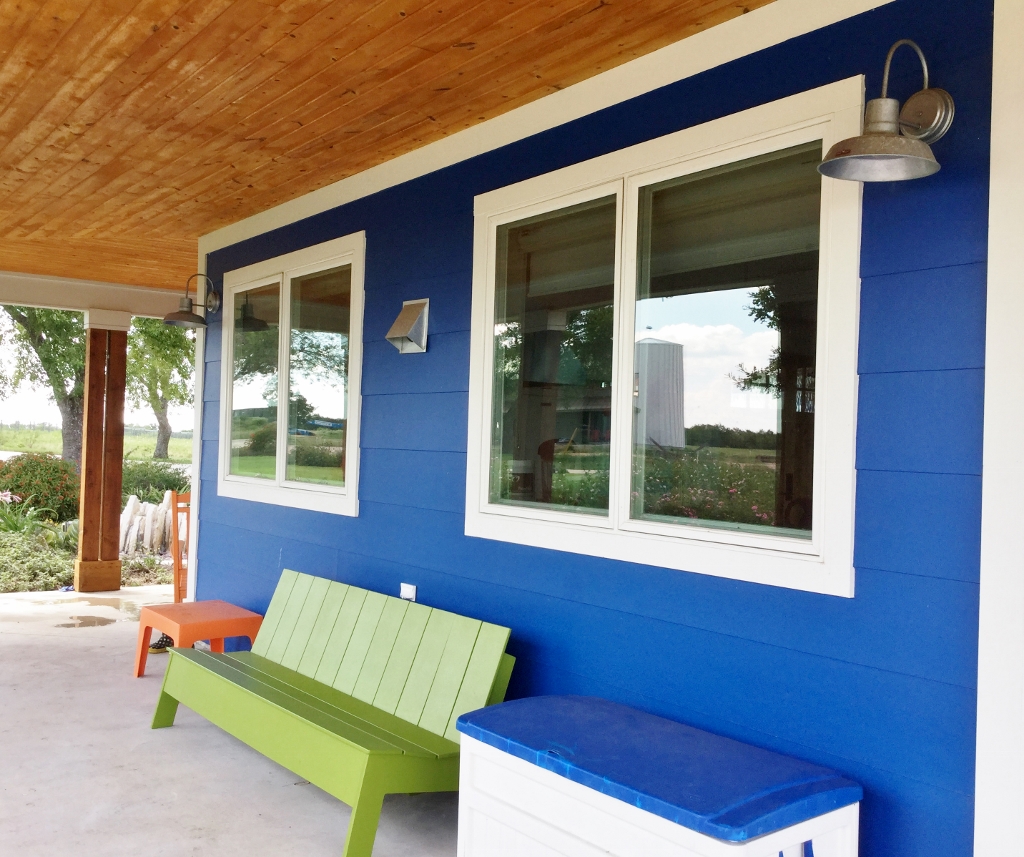 Custom Barn Lights Offer Consistent Look, Adaptable Features
Choosing one light is pretty straightforward. Choosing multiple lights for an entire house — and a barn — gets a little trickier. How do you create a consistent or complementary look when you see only one or two options sitting on the shelves at the big box store? Custom barn lights to the rescue!
Out in the Lone Star State of Texas, Renee built both a new home and a barn on her working ranch. The first set of lights she chose for the house lasted less than a year which prompted a search for better quality barn lights.
"We definitely wanted an old-fashioned, farm house feel but with updated twists," Renee says. "The lights we initially had on the house were cheap and they just didn't pop against the blue."
Renee loved the look of the Barn Light Electric product but was most interested in the customizing options that let her choose different colors, sizes, and options.
"The customization allowed us to carry a theme through both buildings but change the details for different applications, such as wall vs ceiling mounts, interior vs exterior, and finally for scale," she explains. "It is great to have a small light on our back porch by the rocking chair that matches the huge lights outside by the 12-foot-tall barn doors."
For both the garage and the porch, Renee chose the Original™, a classic RLM warehouse shade customized with a Galvanized finish. The garage, in the first photo, sports Original™ Warehouse Gooseneck Lights while the porches have The Original™ Wall Sconce. The Galvanized finish matches the standing seam roof and pops perfectly against the brilliant blue siding.
While the barn and home are unique structures with wildly different functions, they are located close together. Renee initially wanted to paint the barn, shown above, a classic red.
"We love, love the Barn Red color, but we were worried it would look like Lego buildings next to each other" she notes. "So we chose red as the accent color and the custom barn lights tie the two structures together." Renee chose The Original™ Warehouse Gooseneck Light, this time in a Barn Red finish, to accent the dark gray exterior of the barn. These generous 20″ shades sport G6 gooseneck arms for plenty of downward directed light.
Over the stall doors, she customized these American-made, custom barn lights with 16″ shades and G11 gooseneck arms.
"Buying American made was important to us as we looked for lighting," Renee says. "We try to provide and consume local food so we have a mindset towards local production." That being said, they were not opposed to imported products as long as they were created in safe and ethical conditions — a parameter that is difficult to track.
"Reading about Barn Light Electric gave us the reassurance that we were purchasing a quality product produced in respectable conditions right here in America," she says.
Join us on Wednesday when we continue our tour through Renee's beautiful new barn. We'll also take a peek in the loft on Friday. You'll have to see it to believe it!
Photos courtesy of the homeowner