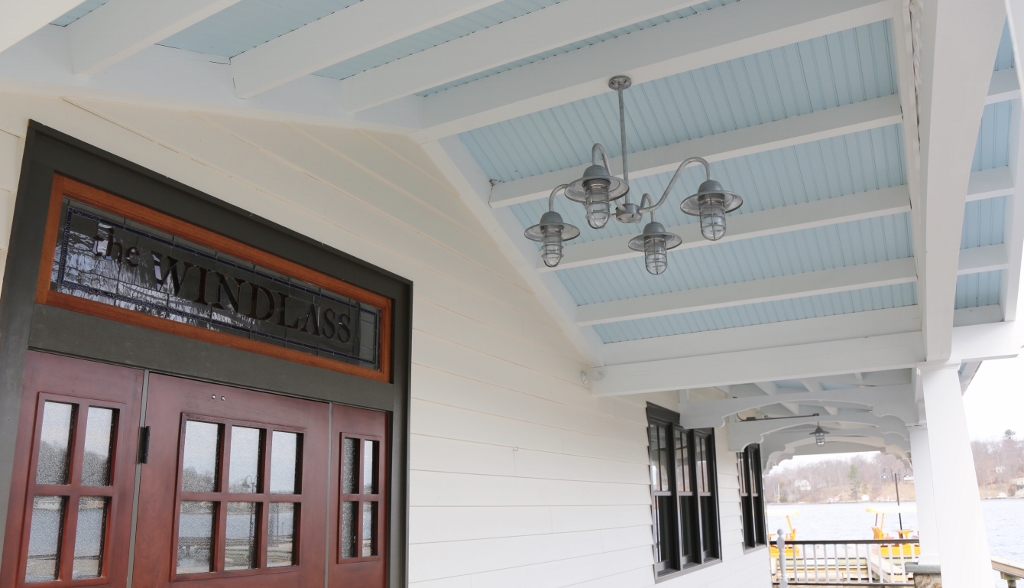 Rustic Ceiling Lights Add Old World Feel to Historic Lakefront Resort
In last Friday's post, we visited Lake Hopatcong, New Jersey, where a vintage ceiling fan is turning heads at the Main Lake Market. When Alice Szigethy and her husband purchased the property in 2014, it was in dire need of help.
"This site has a rich history beginning in the 1880s when there was a dance hall, restaurant, picnic grounds, and hotel," Alice explains." Although closed during the Depression, the site was reopened and, at different times, featured an amusement part, roller rink, and later, a tavern. In the 1960s, a luncheonette called the Windlass opened which grew into a full-service Italian restaurant.
Alice paid homage to the Windlass of old when she began renovating the property with fresh paint, new tile work, sailcloth curtains, and rustic ceiling lights.
"The idea was to make it look like the old dance hall with windows that open to let the fresh air in and a big wide porch to enjoy the lake views," Alice says. "It has an Old World feel from the heyday of Lake Hopatcong. The colors and fixtures were chosen to be the backdrop and not detract from the beauty of the lake. We wanted to let the building and the light play do the work."
To highlight the wide porch where visitors relax and take in the sights of the lake, Alice chose Industrial Guard Stem Mount Pendant Lights. These rustic ceiling lights have plenty of industrial styling with their rugged cast guard-and-glass design. Alice customized these pendants with a Galvanized finish, 6″ stem, standard cast guard, and ribbed glass.
"I wanted lights that had both an Old World and nautical feel. This site once served as a train depot where arriving guests would board ferry boats taking them to their hotel destinations," she says. "I wanted something that reflected both of those industries and these pendants made the most sense." She adds that the Galvanized finish felt "light" and authentic and the ribbed glass offers an invisible, but totally appreciated, texture that provides a glow, not a glare.
In the eating area just off the porch, Alice wanted to keep the nautical pendant theme going, but expanded the size and scale of the lighting with Rustic Chandeliers.
"We were lucky because the larger chandeliers totally reflect that same simple look of handcrafted lighting of the time period," she says. Alice chose both the Merger 2-Light Chandelier and the Polaris 4-Light Chandelier for this dining space. These American-made chandeliers feature sturdy, industrial piping topped by cast-guard-and-glass fixtures and barn-style gooseneck arms.
"The larger fixtures fill the ceiling area very well and create an even disbursement of light filling the airspace perfectly," Alice adds. "The galvanized piping…we just love." Even though these rustic ceiling lights are out of reach to their customers, Alice notes that you can tell they are solid, quality lights.
"That means a lot to me," she says. "These fixtures are incredibly well made and durable. I like the style because it doesn't just complement but instead completes our design vision. When we started this project, my husband said to me, 'Well, if the business, fails, the worst case scenario is that you will have a beautiful building.' And the lights are a big part of that."
Photos courtesy of Alice Szigethy and Windlass