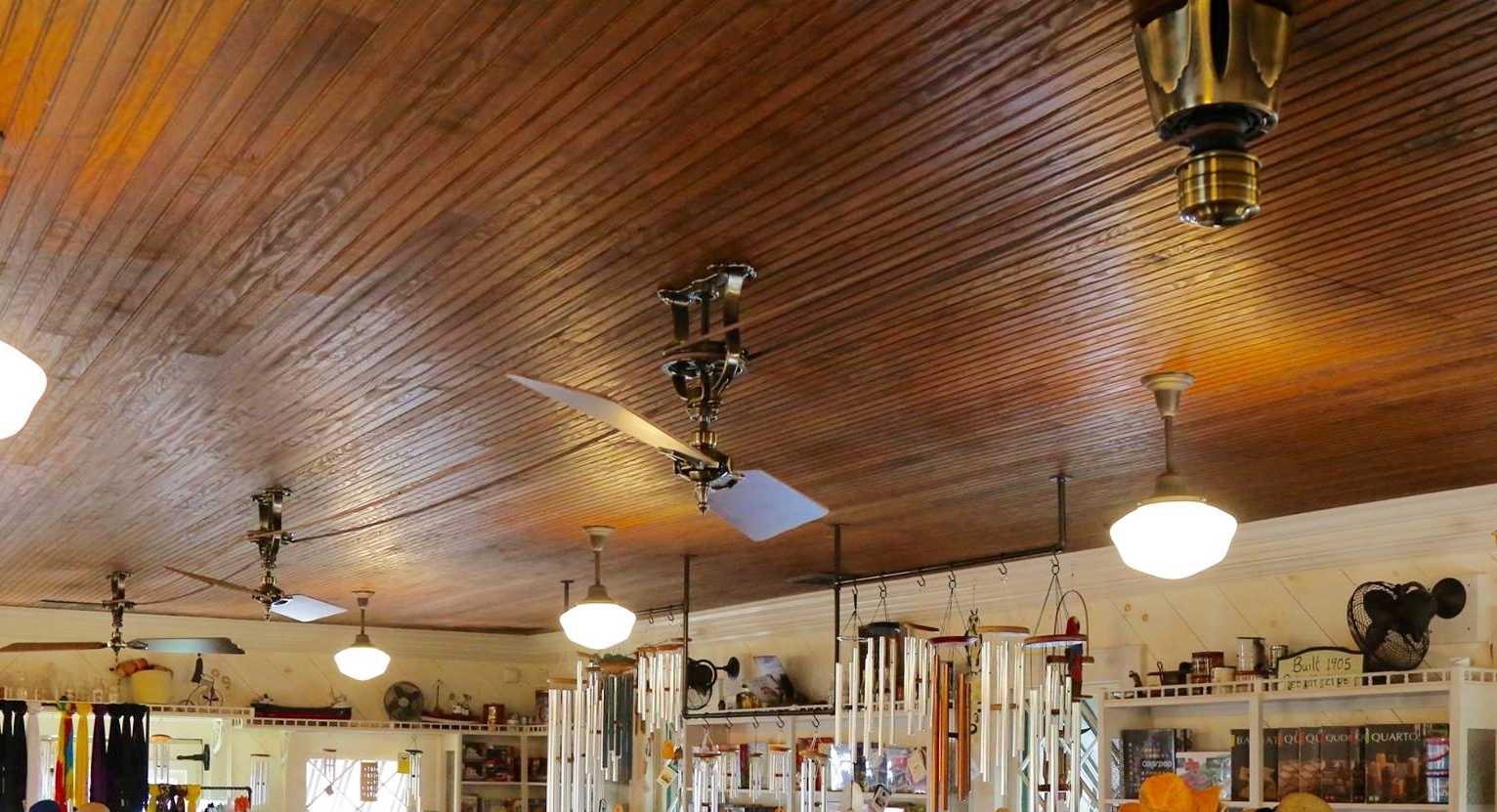 Vintage Ceiling Fan for Lakeside Historic Building
School's out and it's time to hit the lake! If you're near Lake Hopatcong, New Jersey, and you dash into the Main Lake Market for the sunscreen you left behind, you might think you've run through a time warp instead.
This market is not a generic convenience store found on every street corner, but one with a rich history and loaded with everything else you may have forgotten for a day on the lake. The rich color of the wood ceiling, the well-worn floors, and the old-fashioned schoolhouse lights invite you to slow down, browse a bit, and maybe even take time out for an ice cream cone.
"This building has been around since 1905," says Alice Szigethy, owner of the market. "We remodeled it initially in 2005, then we renovated again to add an ice cream parlor and gift area four years ago." During the latest renovation, Alice added the Brewmaster Belt Driven Ceiling Fan which she discovered when browsing our collection of Vintage Ceiling Fans.
"I thought the look of the fan was exciting. I like fixtures that delight people with a little bit of fancy and wonder," she says. "I also liked very much the old look of the fan because that lended itself to our semi-authentic renovation to the original building."
The Brewmaster incorporates a pulley-like system to help rotate the blades which not only helps cut down on some electricity cost, but also offers a unique and stylish solution to builder-basic ceiling fans. In the photo above, the motor is on the right with the three fans to the left.
This vintage ceiling fan is available in three finish colors — Alice chose Antique Brass — and five blade options including Cherry Wood, Bamboo, and Palm Leaf. Alice chose the Reversible Oak/Walnut blade set for her fan noting that she wanted something to look like it had been there all along. 
"I love the look of the fan and it fits perfectly in our location," she notes. "The fan itself is quiet, works well, and I love the fact that one motor drives three fans. Customers are quick to point it out. They think it is clever and something they have never seen before."
Be sure to check back next week when our tour of the lovely Lake Hopatcong region continues!
Photos courtesy of Main Lake Market