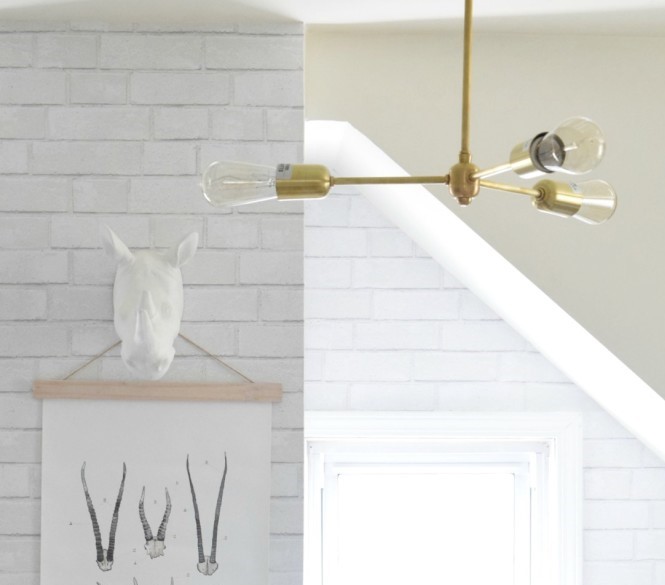 Modern Brass Chandelier Adds Warmth to Neutral Guest Room
When Brooke Christen first moved into her new home, she was amazed at the size of the master bedroom. But unlike most people who would have happily started planning where to position the bed and other furniture, Brooke saw the potential for a different use of the space.
"I knew I couldn't take a large room like this for our master bedroom," Brooke explained in a post on her blog Nesting with Grace. With some odd angles and wall space that didn't really lend itself well to a bedroom, Brooke decided to transform this space into a guest room and play room for her kids. She chose a neutral palette but added a touch of bling to the ceiling with a Downtown Minimalist 3-Light Chandelier.
"I wanted a simple and transitional space that would be comfortable for any guest who comes," Brooke explains. "We hang out in this area a lot and my daughters play here with friends. We needed a lot of seating and accessories that could be moved around. And I wanted the lighting to be soft, not harsh."
Brooke customized this modern chandelier with a Raw Brass finish, an 18″ stem, and three 40-watt Edison Light Bulbs. The chandelier replaced an outdated fan that, in Brooke's opinion, was too large for the room.
"I felt it hung too low and was obnoxious to have on," she notes. "I liked the Downtown Minimalist Chandelier because I could customize the length and create the right scale for the room. I also really like the simplicity of it. It is dramatic without being too big."
Brass has long been a favorite of designers for the warmth it can bring to a space, and this modern brass chandelier is the perfect complement to Brooke's neutral decor.
"I wanted to add some contrast to all the gray and neutral tones," she says. "I love using brass and gold as accents to add some warmth to a room. I also feel like brass goes more with the 1950s era our home was built in. When I look at lighting, I always look for timeless qualities. And I love it when I find a light that I can customize to fit a space."
Photos courtesy of Nesting with Grace