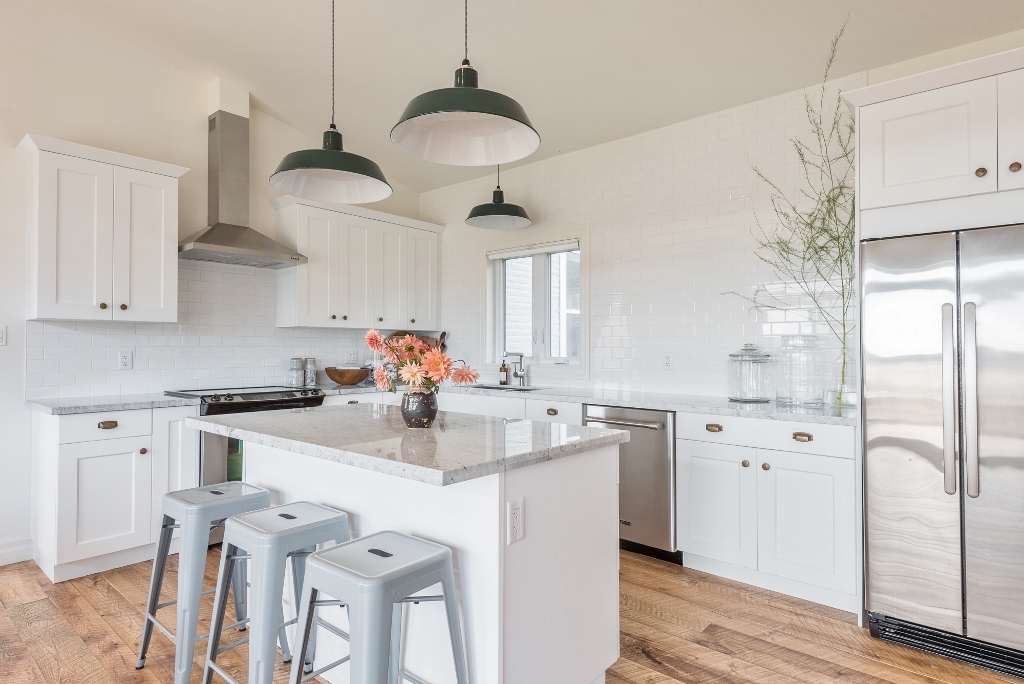 Lighting Serves as Designer's Best Trick
Interior designers thrive on creating beautiful and functional spaces for their clients. They tackle remodels and renovations in every room of the house. But what is a designer's dream project?
For Cynthia Zamaria, an interior designer, farmer-florist, and blogger, the dream project is restoring her very own country property complete with a small flower farm.
"We bought this 113-acre recreation property seven years ago as a weekend getaway," she says. "The original house came with four bedrooms, a bathroom, a tiny kitchen, and a dark living room that didn't take advantage of the sweeping views." The property is located less than two hours outside of Cynthia's Toronto home base and is a lovely rural setting overlooking a popular fishing lake. She describes it as private, yet not isolated.
"When it came time to renovate, our primary goal was to take in the magical ever-changing vista," Cynthia explains. "We kept the original farmhouse and added a large wing with a great room and master bedroom suite — far away from our noisy kids!"
Cynthia wanted a casual, organic feel that mirrored and respected the natural environment outside. She incorporated rough-hewn wood, simple cabinetry, marble, linen, and a palette of white with a little grey and green as accents.
"We've done many home renovations and one of my best design tricks is lighting. For me, it's the icing on the cake," she notes. "You can use standard, big-box elements in your décor and instantly elevate your look by selecting beautiful lighting. I particularly love oversized, stripped-down fixtures in unexpected finishes." Cynthia, whose work has been featured on HGTV, Apartment Therapy, and Country Living, chose barn lighting for her new kitchen and dining space.
"We wanted to evoke a farmhouse feel in a modern way, and not be too cutesy," she says. "The clean lines and industrial feel keep it sleek, fresh, and not too obvious. The Original™ Warehouse Pendant Light, inspired by early RLM lighting, was her choice for the new space.
"They are such a classic barn-like shape," she notes. "And because they are above the island and seen from below, it was important that the fixture look as good from underneath as from above." These generous 20″ shades feature a Dark Green finish and black-and-white cotton twist cord.
"We like big lights in big rooms and being able to customize the size of the shade to complement the scale of the space was amazing," she explains. "The cord is such a fabulous throwback look. A nod to the farmhouse origin, but still sophisticated in black and white."
On the porch, Cynthia connected the indoor and outdoor spaces visually with design details. She chose matching Original™ Warehouse Gooseneck Lights to flank the doorway. These gooseneck lights are customized with 16″ shades, the matching Dark Green finish color, and G22 Galvanized gooseneck arms.
"When you come to the front door, we want to give you a little taste of what you are going to see inside," she notes. George, the family's black lab, is obviously impressed! Cynthia is thrilled with how her new space allows them to enjoy the beautiful views with plenty of light from both inside and out.
"We love how the lights shine over the kitchen island like beacons," she says. "It's almost like our island is a stage for family gatherings, and we have these lovely spotlights shining down on all the magic and memories we make there together." You can follow more of Cynthia's work on the farm on her website or her Instagram feed.
Photos courtesy of Cynthia Zamaria