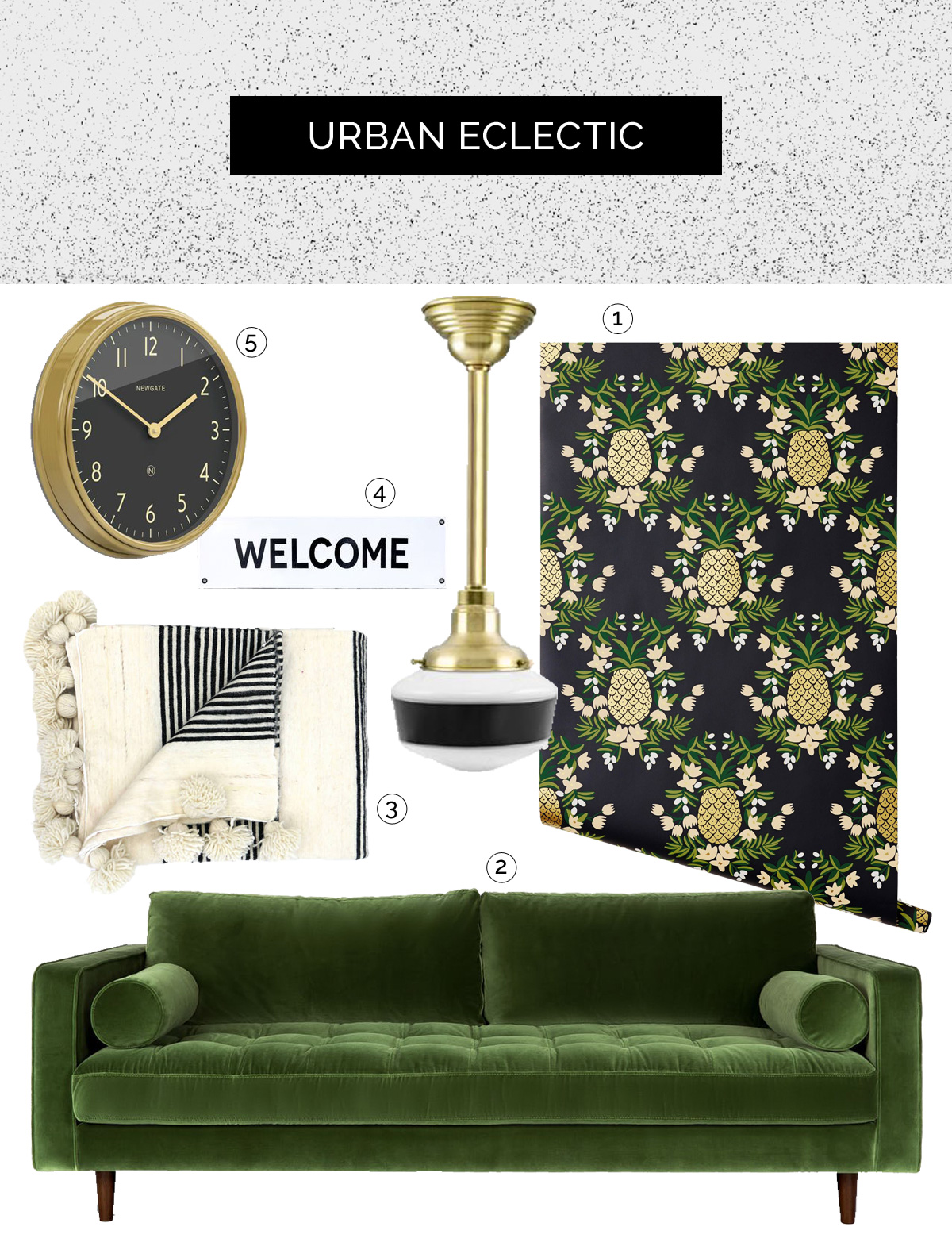 Guest Blogger | One Schoolhouse Light, Three Different Styles
One of the things I love most about interior design is how open it is for interpretation – colors, accessories, moods, and even settings can all affect the way the beholder experiences a room.
Like many other aspects of décor, when it comes to lighting there are very few (arguably, if any) rules that are hard and fast. A simple swap of a chair, wallpaper, or even just a few throw pillows can make a light fixture that felt unequivocally one style suddenly feel entirely opposite. How cool is that?!
To prove the point, I've taken one Barn Light fixture – the Primary Schoolhouse Stem Mount Light in a Raw Brass finish – and styled it three different ways for three completely different aesthetics. Take your pick or invent your own – the possibilities are endless!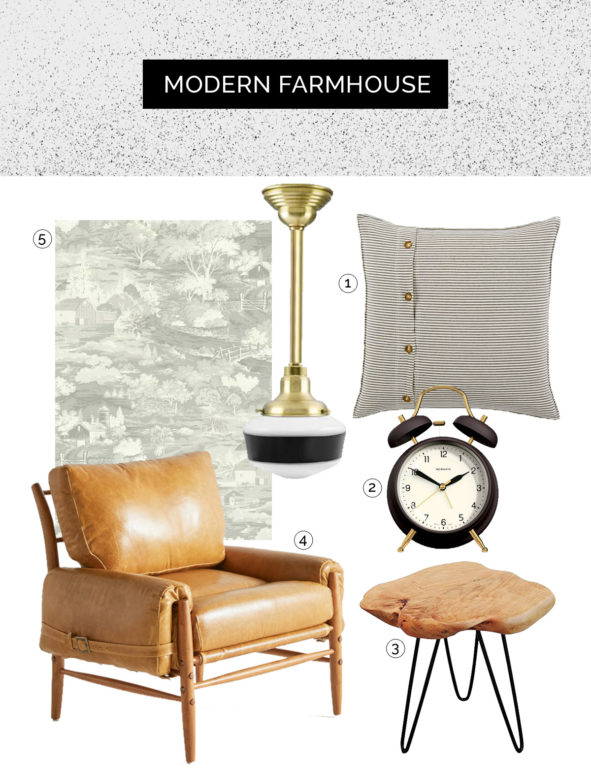 One of the trendiest and most accessible styles – farmhouse – gets a modern update with this versatile fixture and just a few thoughtful touches. A raw edge end table is made fresh with the addition of hairpin legs and provides the perfect resting place for an old-made-new-again, brass and black knocker clock (which also mirrors the colors of the light). Balance the shiny leather of this leggy, yet weighty, chair with this soft striped pillow (a farmhouse staple!) and set it all against a homestead toile wallpaper.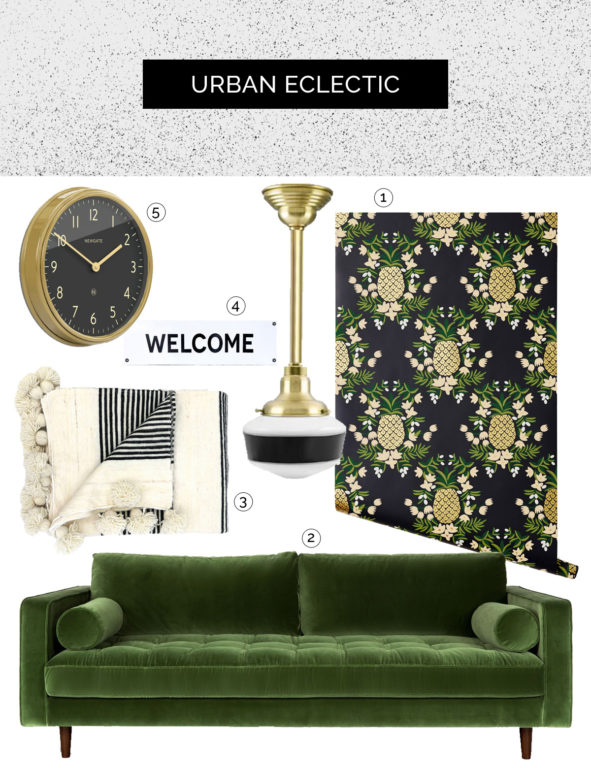 City meets its free-spirited bohemian sister in this inviting space. A sleek-lined sofa gets a facelift from plush velvet in the same green found in this playful pineapple wallpaper. Did you know pineapples were traditionally a sign of hospitality and welcoming? Reinforce that notion with a less subtle porcelain sign. The modern color scheme of this traditional wall clock ties back to both the paper and the light fixture, while a textural pom pom blanket softens the entire look.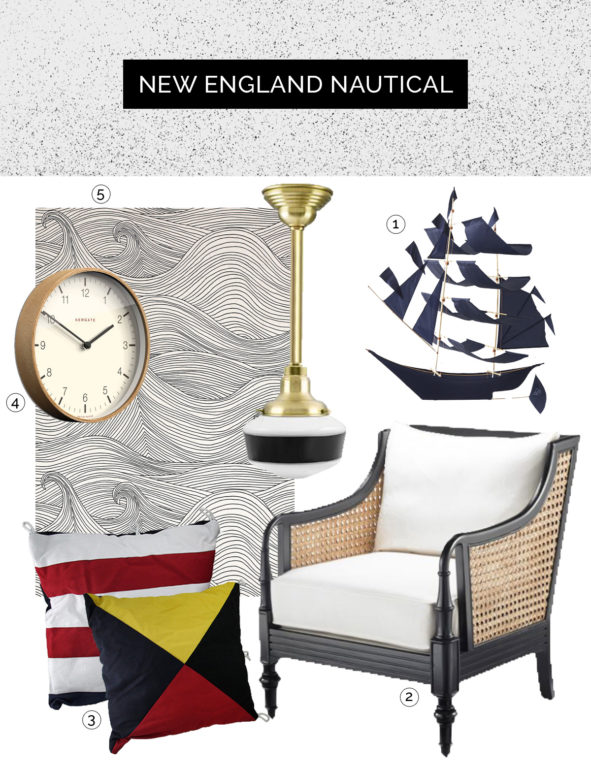 Get carried away to the New England coast wherever you live with this nautical-inspired look. A roiling seascape wallpaper sets the scene for this Flying Dutchman sailboat to pull anchor. The pale wood of this wall clock is echoed in the honey-toned caning of this comfy-yet-sophisticated chair, while these nautical flag pillows invite daydreams of the ship-sailing kind.
Guest blogger Melissa Andersen is a writer, editor, blogger, and social media manager/consultant for clients such as And North, Kaufmann Mercantile, and The Cousins from HGTV