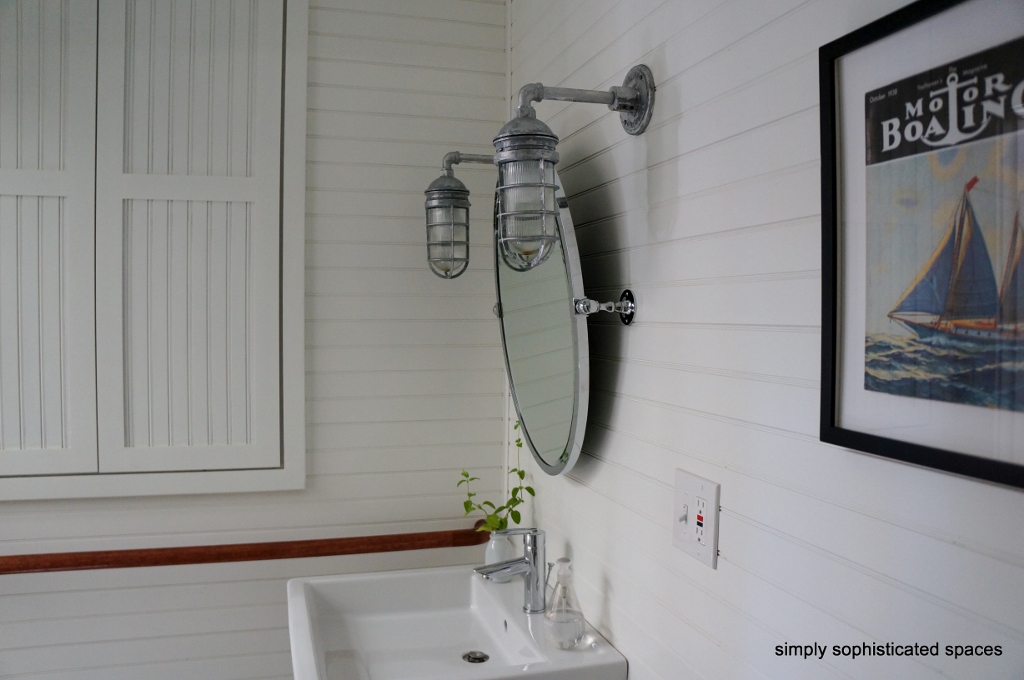 Versatile Industrial Lighting Adds Retro Chic to NY Boatshop
Jeri Cerutti describes herself as "a one-woman shop focusing on world design domination one room at a time." Working out of the Greater Boston area, Jeri offers interior consulting and one-day redecorating services through Simply Sophisticated Spaces  to a variety of clients. Occasionally, a larger project comes her way which was the case when she met Reuben and Cynde Smith.
"Reuben had his eye on a former truck maintenance facility to become the home for his Tumblehome Boatshop," Jeri says. Reuben grew up in the boat building business, working alongside his father and uncle, learning the time-honored craft of building and restoring wooden boats. In addition to having more room for plying his trade, Reuben wanted space for a lobby, office, galley/break room, restrooms, and a conference room/library. Jeri called on Jim Kelly, of JPK Construction in Albany, New York, to lend a hand.
"We wanted to create a building that was attractive, inviting, and created interest," Jeri notes. "A fresh paint palette, new signage and doors, clerestory windows and lovely garden design worked the curb appeal magic." For lighting the exterior, Jeri turned to the classic design of an RLM warehouse shade. She specified Barn Light Electric's Original™ Warehouse Gooseneck Light and customized this American-made fixture with a 14″ shade, traditional Black finish, and G22 gooseneck arm.
"I think of the exterior as 'retro service station chic' and the gooseneck lighting is an integral part of that," Jeri says. "The black finish works to incorporate a little sophistication into a utilitarian element. Like black patent leather Mary Janes or a little black dress, those goosenecks have long-lasting style." To light up the side entrances, Jeri used Industrial Guard Sconces, also in a Black finish.
"I was looking for consistency of fixtures with the interior but again wanted a dressier finish for the exterior," she explains.
Stepping inside, the space has an industrial look and feel with exposed wood beams, metal trusses, and boats scattered about in half-finished stages. Jeri wanted to echo the sense of history and tradition that Reuben brings to his craft but also create a vintage/loft/industrial chic as a backdrop to the refined woods and craftsmanship of the business. Jeri used a galvanized finish on all of the interior lighting fixtures which she describes as the "denim" of metal finish.
"You can dress it up or down and it goes with everything," she says. "I love the contrast of raw and refined. They play well together and add a layer of  interest to the space." In the bathroom, Industrial Guard Sconces illustrate this perfectly with the raw galvanized finish playing against the polished chrome mirror frame.
These nautical wall sconces were also used outside the conference room on the mezzanine. Like all of the lights Jeri chose, these are hand crafted by Barn Light Electric here in America and can be customized with finish color, plus guard and glass options.
In the galley, the Industrial Loft Double Pendant Light provides a complementary look to the Wire Guard Sconce used on one wall as well as the Industrial Guard Pendant Light used over the sink.
"These Atomic pendants and sconces have an industrial vibe and a subtle nautical appeal that made them an obvious choice in the kitchen, bathroom, and mezzanine," Jeri notes.
By doing research in the initial stages of the project and listening carefully not only to her client but to the building itself, Jeri created a space that is not only functional for a very specific task, but is filled with the industrial and nautical detailing that makes it an outstanding example of design.
"I love the juxtaposition of old and new, raw and refined. I think contrasts give life and meaning to any space and, in this particular case, really convey a sense of tradition and history," she says. "I love that the light fixtures are so versatile. They really fit this project without making it cliché. And I seriously love that they are made in the good ole' U.S. of A. Just like the boats!"
Photos courtesy of Simply Sophisticated Spaces