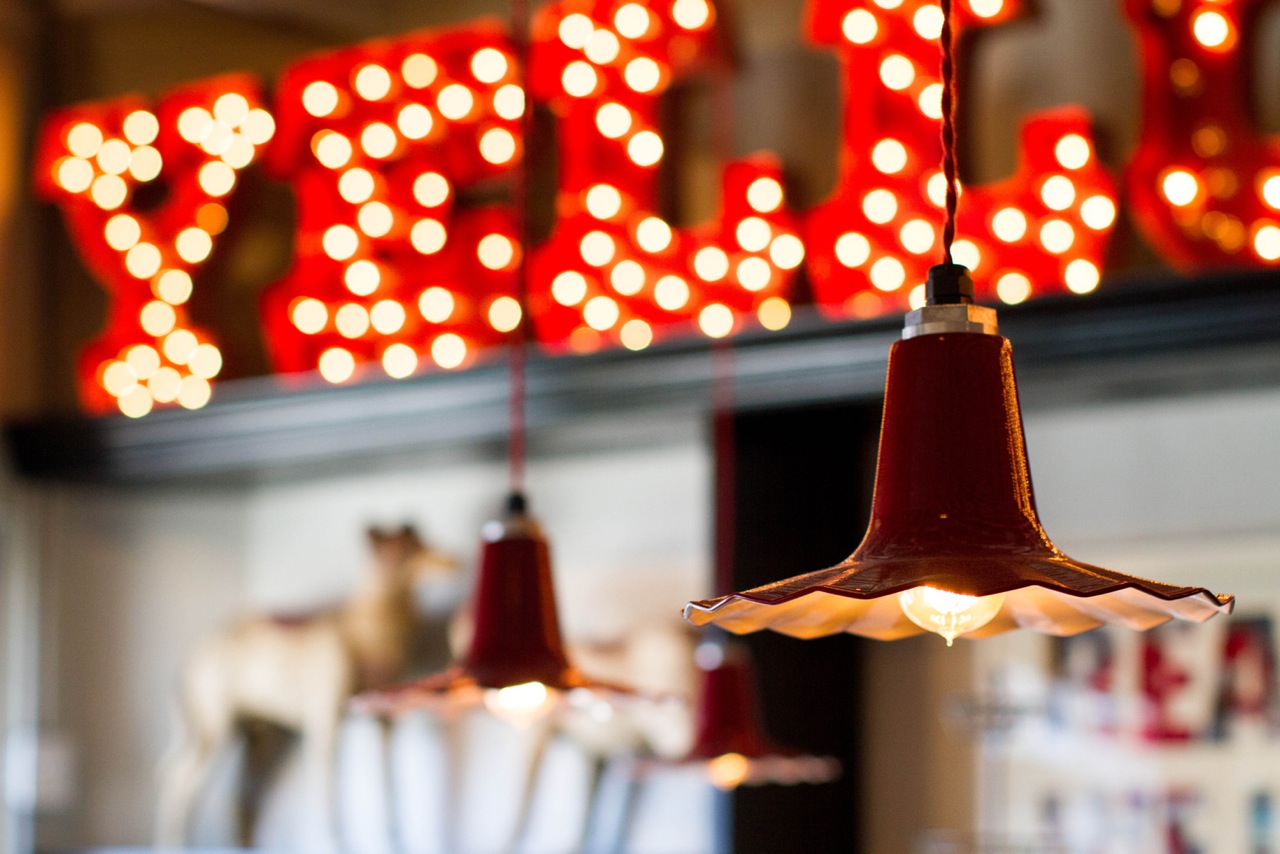 Radial Wave Lighting Gets Rave Reviews at Beach Restaurant
Something about being at the beach makes everything more relaxed. Even commercial businesses that set up shop near the sand and salt air have a laid-back vibe whether they're selling t-shirts or tires. The recently opened Yellow Dog Eats Kitchen & Bar in New Smyrna Beach, Florida, offers just such a casual place to enjoy a cold beer or glass of wine and a signature sandwich. And since it's right up the coast, our photographer took advantage and traveled up to Yellow Dog to check out their new digs.
The owner, Fish Morgan, trained at the Culinary Institute of America in New York, and while he knows his way around the kitchen, he turned to his mom for help in designing this second Yellow Dog Eats location.
"She worked with him on the exterior and interior design as well as the entertainment stage area," says Dale Morgan, Fish's dad. "They created an eclectic look and incorporated the bones of the structure that were already there." The bar features an open ceiling with exposed duct work for an industrial look and postcards encased into the bar top. The design duo chose the Seaside Pendant Light to bring a bit of wavy fun to the lighting plan.
The American-made Seaside Pendant is reminiscent of the old gas station lighting of the early 20th century but has been updated with commercial grade materials and a rainbow of finish colors. The Morgans customized their new pendant lights with a 12″ shade, Barn Red finish, and Red Cotton Twist cording.
"They chose the Barn Red color since the original store in Gotha, Florida, is themed on red and gold," Dale explains.
Outside, two complementary Seaside Wall Sconces flank the entrance and beckon passersby with its flirty shade and cast guard-and-glass body. These rugged wall sconces are customized with a 16″ shade, a Barn Red cast guard, and Clear glass. This option not only protects the bulb in this high-traffic spot, but gives a bit of vintage flair to the fixture as well.
Highlighting the new sign just above are two Elliptical Sign Lights also in Barn Red. Inspired by vintage clamshell shades, these commercial sign lights feature a tapered cone shade that casts direct light onto signs, building facades, and doorways. Available in four shade sizes including these 9″ versions, the Elliptical Sign Light is hand crafted and can be customized with your choice of finish color, gooseneck arm, plus a dusk-to-dawn photocell which automatically turns the lights on at dusk and off at dawn — a handy option that saves commercial businesses both time and money!