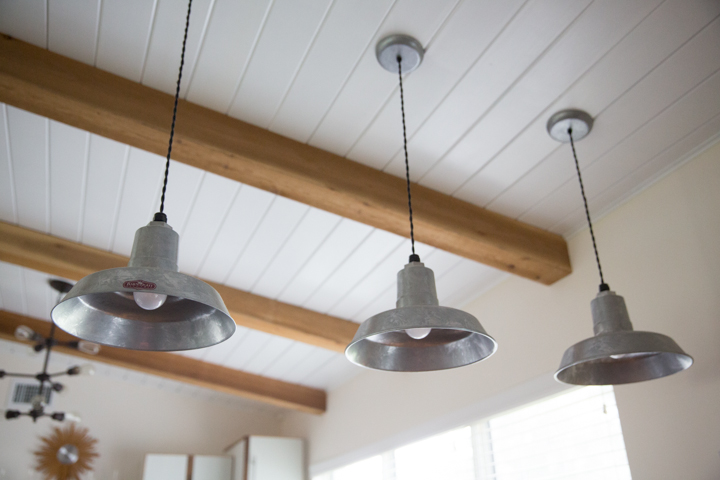 Industrial Pendants Ideal for Small, Rustic Kitchen
Relationships are tough. Initial euphoria coupled with high expectations often lead to misunderstandings and drama. We're talking here, of course, about the delicate dance between client and contractor — a short-term relationship that can be particularly fraught with personality clashes and simple differences in taste.
When professional photographer Kellie Warren, of Sanford, Florida, recently gutted her ranch-style home down to the studs, she chose her partner carefully. After much research, she chose to dance with Blair Sligar, designer and owner of Hog Eat Hog. This Winter Park custom furniture design studio is filled with personalities who happen to be incredibly talented with wood. The relationship was a match made in heaven.
"Our kitchen was the most important to us because it's where we spend a lot of our time," Kellie says. "We loved working with Blair. He took a great deal of care in helping us select just the right wood for the job, refining our ideas and drawings, and then completely blowing it out of the water."
"Kellie has a good eye for design and we have similar ideas about kitchen aesthetics, so it came out really well," Blair says. The size of the kitchen drove much of the design, but the space is blessed with plenty of natural light.
Kellie wanted a clean, minimalist look to her kitchen with added rustic detailing. Blair trimmed the new white cabinets in reclaimed barn oak and used a laurel oak slab to waterfall over the edge of the island. Kellie asked Blair if he thought industrial pendants would work for the space.
"I was taking measurements, and I casually looked up and said something like, 'Yeah, I really do' and she just went out and bought them," Blair says. "Kellie has a barn on the property that she uses for a studio, and the lighting ties in with that so she was making good choices all over the place." Kellie chose our Original™ Warehouse Pendant Light and customized these American-made lights with a 12″ shade, Galvanized finish and canopy, and a Black twist cord.
"Kellie has galvanized backsplashes and exposed duct work so the lamps fit right in with that," Blair notes. "It certainly looks great and definitely looks better than the orange extension cord my idiot brother Cory wanted to use." The Original™ is one of our most popular shades and has roots going back almost 100 years to the RLM Standard Dome produced in the early 1900s. Hand crafted from commercial grade materials, the Original™ can be customized with a variety of shade sizes, finish colors, cording options plus add-ons like a wire cage or cast guard and glass to create a truly unique pendant.
Kellie's dad, who happens to be an electrician, installed the lights, and Blair remembers talking with the gentleman about the quality of the Barn Light Electric fixtures.
"He kept saying things like, 'Feel the heft of that! You don't see that anymore!' and 'Look how this harness is wired up. You could swing from that!'" Blair recalls. "But don't worry, we didn't swing from it. Unlike my showboat brother Cory who never misses the chance to swing from almost anything."
Photos courtesy of Kellie Warren of Dynamite Studio