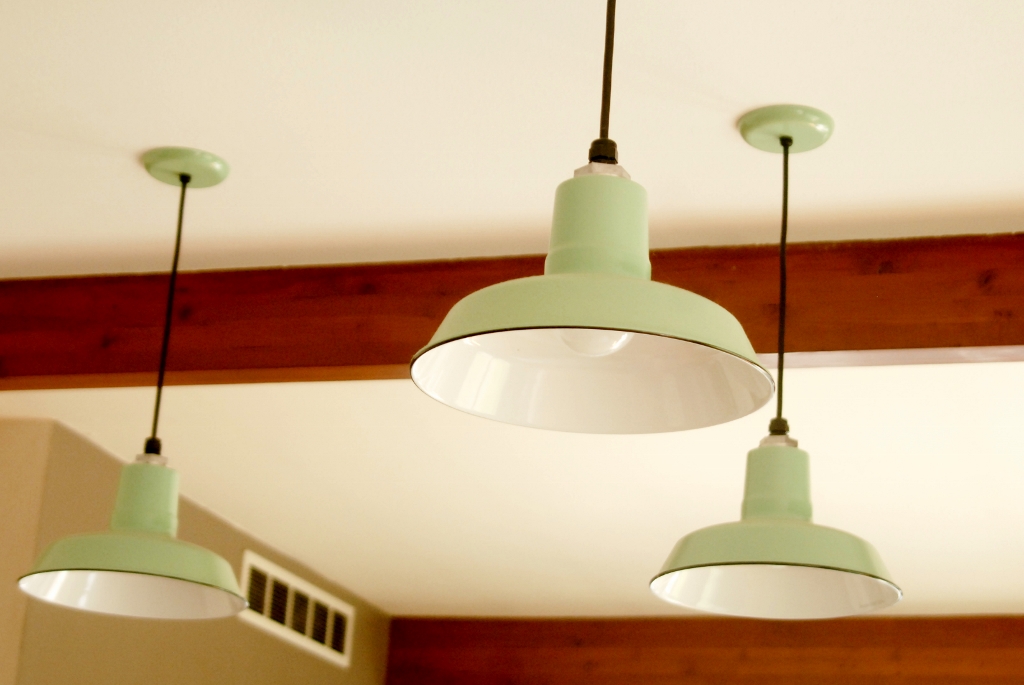 Porcelain Pendants Add Balance to Bold, Fun & Busy Kitchen
When you have six kids and two adults living in the same house, the kitchen is truly the heart of the home. For Ruthie, who writes the blog Fairy Wings and Dinosaurs from her Washington home near the border of Idaho, her kitchen buzzes with family activity.
"We spend a lot of time making these little humans of ours snacks and meals, and we also organize our mail there, go through school papers, you name it," Ruthie says. "Our kitchen was very dark and very much not us so it was in desperate need of an update!"
Ruthie wanted to keep the layout of the kitchen which includes a huge island with a range in the center. Working with designer Jessica Bean, they removed evidence of a 1970s-era remodel and expanded the storage space with more cabinets and a reconfigured pantry. To bring more of their personality into the space, Ruthie and her husband, who both love skateboarding, selected a recycled skateboard tiled backsplash from Art of Board, a company that recycles skateboards into home goods and apparel.
"Bold and fun is definitely our look and we wanted a statement kitchen," Ruthie explains. " The couple searched and searched for the perfect lighting that would provide a balance to the funky modern kitchen. And though she admits to looking at more than a dozen different companies, Ruthie kept coming back to Barn Light Electric's Original™ Warehouse Pendant Light for over the island. She customized the four pendants with 12″ shades, our popular Jadite finish, a matching Jadite canopy, and a standard black cord.
"We wanted something that reminded us of a farmhouse feel to balance out our modern kitchen," Ruthie explains. "The shape was perfect and we were very comfortable with the price. We pulled the jadite from a color that kept showing up on some of the skateboard tiles and we painted our breakfast nook hutch the same color. It looks incredible."
The American-made Original™ is a classic barn light with an updated porcelain enamel finish that will never fade and is easy to maintain. Hand spun from commercial grade steel, this RLM-inspired warehouse shade provides plenty of downlight which makes it a popular choice in kitchens such as Ruthie's.
"We were drawn to the porcelain because of the finishes that were available. We knew there would be so many options and we'd be able to pick any color we wanted," she says. "It also feels soft yet sturdy; exactly what we needed."
Porcelain enamel is the finish of choice for homeowners and business owners who want a light that will last for years with minimal maintenance. The Original™ is also available in LED for those who want to save money on their energy costs without sacrificing any style.
"The bright colors along with the backsplash are the first things people notice and we are always being asked about them," Ruthie says. "I'm in love with the color — it is unique without being over the top. The lights pull just enough of the colors from the backsplash to work perfectly without being overdone. We could not be more thrilled with how well they balance out the space."
Photos courtesy of Fairy Wings and Dinosaurs