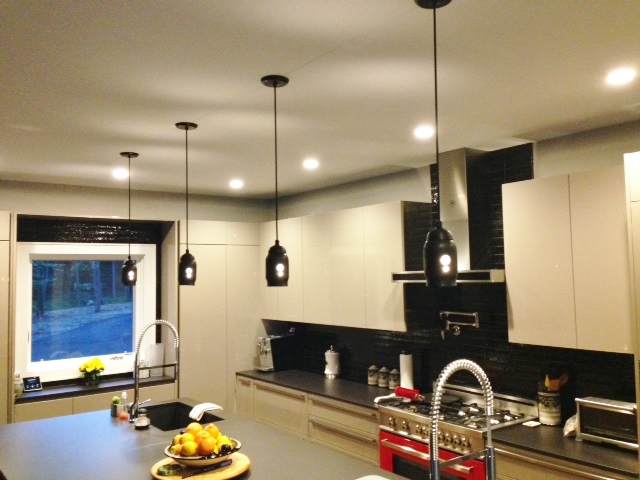 The Tour Continues of Cousins Undercover Home
In last Friday's post, we introduced you to John Colaneri, who just wrapped up his second season of Cousins Undercover on HGTV along with his cousin Anthony Carrino. John and his wife recently purchased a piece of land in northern New Jersey where John has put his years of construction expertise to work on his first ground-up building project. The couple are putting down roots in their new home that mixes old elements with new to create a contemporary design with a sense of history and timeless style.
"The house is truly nestled into the woods but we're only five minutes from downtown so it's easy for us to go out to dinner or even catch the train into New York City," John says of the location. "The house feels likes it is tucked away in the woods, but it's only 30 minutes from NYC." Last Friday's blog post featured the exterior of the couple's new home which included three different types of LED lighting that John chose to not only look beautiful and provide plenty of light to his exterior spaces, but that will save him both time and money for years to come.
Today we take a tour inside the home where John worked more of his magic to beautifully blend old and new elements. For example, John sourced some 200-year-old barn wood from a barn that was salvaged in Ohio. But when you turn into the kitchen, you see a contemporary Italian space with a 13-foot island and red Bertazzoni range.
"The juxtaposition of these two very different design elements is just breath taking and interesting," John says. "People always ask, 'Why did you do that and what material is this?' And I love telling the story!" When it came to choosing lighting for his new home, John chose Barn Light Electric because he wanted lights that looked traditional but had a contemporary edge.
"Lighting is so key in the home and I knew this was the area I had to make a statement," he notes. "I wanted people to think this could have been an old barn that was restored to look contemporary, not a ground-up home."
In the kitchen, which features an open layout with the dining and living rooms, John chose the Mig Pendant Light in Grey with a Black cloth cord. These repurposed acetylene tank tops have taken industrial lighting to a new level and are an instant conversation starter.
"I wanted pendants that did not block off the area and almost disappear into the kitchen," John explains. "But when you turn them on, they pop out at you and make you think, 'Wow! That's a light fixture I have never seen before!'"
For the guest bath, John browsed our vanity light options where he found the traditional Austin 2-Light Vanity Sconce. He customized the RLM-inspired fixture with 10″ shades and a Black finish to give it some industrial flair.
And if you follow The Cousins on Facebook, you probably saw John's recent post about the secret playroom he designed for the home. Complete with Abigail Edwards owl wallpaper and a Flush Mount Guard Sconce, this room will see plenty of action in the years to come.
"I needed a light that was simple and could take a beating since this will be a play area," he notes. All of the lighting that John chose for his new home is American-made in our own facility and hand crafted to each customer's specifications by our metal workers. Assembled, inspected and shipped with care, every barn light we sell is intended to provide years of service.
"The packaging was incredible and I could not believe how seamless the finish was on the lights," John says. "As soon as you pick up a Barn Light Electric fixture, you realize — wow, this is going to last me forever!"
Photos courtesy of John Colaneri, #CousinsAtHome