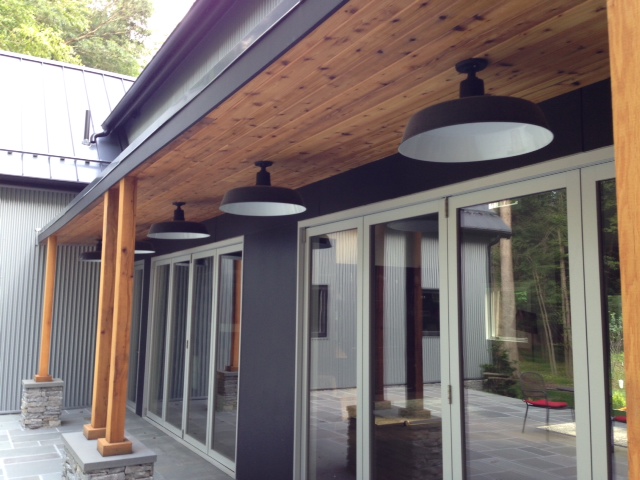 LED Barn Lights Blend Old & New in "Cousins Undercover" Home
If you're addicted to HGTV like we are, you no doubt have seen the wildly popular Cousins Undercover show starring Anthony Carrino and John Colaneri. The show just wrapped up its second season which features surprise renovation makeovers for local heroes in neighborhoods across the country.
In addition to his television commitment, John has spent the last six years working in the family business — Brunelleschi Construction — and looking for a place to put down his own roots. While driving to work one day, John's wife spotted a For Sale sign. She insisted that John come take a look at the property.
"It was very deceiving because the sign was on the main road and I didn't want to build our home on a main road," John explains. "But the property is actually more than two acres and surrounded by wetlands, so our home would be nestled in the woods with lots of privacy." John finally got the chance to turn his construction expertise closer to home. This project marked his first-ever, ground-up construction.
"I figured since it was my personal home, it was a good place to start," he says laughing.
Although this was new construction, John and his wife both wanted a mix of old and new. In addition to new materials, the couple sourced some 200-year-old barn wood from a barn that was salvaged from Ohio which is now spread throughout the house.
"My wife and I love barns, but we knew contemporary design would be a must when designing the house," John explains. "We love bringing the new and old together since it creates rich stories and unique elements to the home."  For lighting, they wanted to stay traditional yet find barn lighting that would also give a contemporary edge.
"It's a delicate balance when choosing lighting, and I made sure that I did not step over that line and do anything that looked out of place," he adds. They found the perfect blend for their exterior lighting with the Barn Light Electric collection of LED Barn Lights.
"This was a no-brainer to use LED and it's something every homeowner should transition to," John says. "The LED bulbs will last for so long, I will never have to change the bulbs out in my lifetime." On the side of the house, John chose the Dino LED Gooseneck Barn Light, a classic gooseneck light customized with a 12″ shade, traditional Black finish, and a G34 gooseneck arm in Brushed Aluminum.
"I wanted to have the traditional gooseneck for the exterior of the home to give the illusion that this was an original barn," John notes.
On the patio, the couple opted for another classic light — the Original™ Stem Mount LED Pendant in a generous 24″ shade. These six American-made pendants were hand crafted and customized with a Black finish and 6″ stem. The LED options include 1250 lumen LED and domed lens.
"These are beautiful here! I have two 15-foot openings of LaCantina bi-fold doors that open onto the back patio," John explains. "I wanted a light that made a statement and also would illuminate the area with beautiful light."
When it came to making a statement by the front door, John jumped into our Porcelain Enamel LED Collection and found the Dino LED Wall Sconce. This RLM-inspired warehouse shade has roots in early 20th century lighting and is crafted from commercial grade steel. Multiple coats of porcelain enamel glass are hand applied then baked to a high-gloss finish that will never fade. Add the energy-efficient and environmentally friendly LED element and you have an outdoor wall sconce that will truly last for years and years.
"There is no reason to use incandescent bulbs anymore, and I want to save as much energy as possible," John says. He customized this LED wall sconce with a 14″ shade, Black finish, 1250 lumen LED, and a domed lens.
"I love the uniqueness of the lights. Everyone that comes over always asks about the lights and wants to know where I got them," John says. "Of course I tell them, but deep down I want to keep it a secret!"
Be sure to come back Monday where we'll continue our tour of John's new home with a peek inside, and let me tell you, the kitchen is incredible! Check out even more photos of the construction by following John on Instagram and Twitter. And don't miss the Cousins on Facebook and Twitter!
Photos courtesy of John Colaneri, #CousinsAtHome