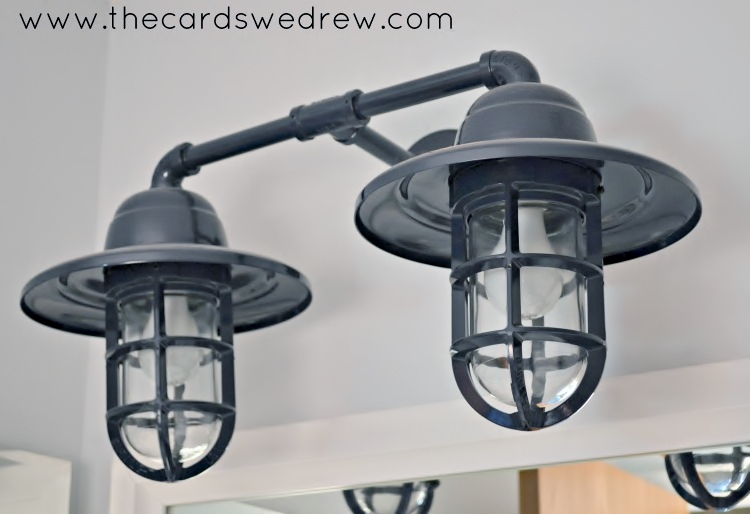 Rustic Wall Sconces Add Nautical Splash to Bathroom Makeover
"WOWZA!"
That is exactly what Abbey, of Columbus, Ohio, said when she unpacked the Barn Light Electric box that contained the new rustic wall sconce for her son's bathroom.
"It was stunning and so much more than I ever expected," Abbey says. "I was blown away." Abbey, who writes the blog The Cards We Drew, was working on a remodel of her son's bathroom and bedroom. The rooms were outdated and need a little flair, so Abbey decided to tackle both rooms at once and give them some character.
"We wanted to go for a nautical and preppy feel with an interesting and fun light fixture since it's a kid's bathroom," Abbey says. "We chose navy blue, kelly green, and a light gray wall for the overall colors. The shower curtain matches our son's duvet and the wall color is the same color as in his bedroom."
Abbey chose the Double Market Industrial Guard Sconce and customized this nautical wall light with a Navy Blue finish, thick cast guard, and clear glass.
"We wanted it to be nautical and this hit the nail on the head! I don't think it gets more nautical than this light fixture," Abbey notes. "Navy blue has long been my favorite color and this light gives the perfect pop of color without being too trendy or overwhelming. I think navy and nautical are pretty timeless options."
The Atomic Double Market Sconce is American made and hand crafted in the Barn Light Electric manufacturing facility to each customer's specifications. Featuring a flared shade over the cast guard-and-glass body, this wall sconce has a double arm that reaches 26″ across making it perfect for bathroom vanities, workshops, laundry room, or home office space. Customizing options include finish color, plus guard, glass, and socket options. It is also available with a single light as the Industrial Guard Sconce.
"I love the character it adds to the room and how unique it is. It's such a great conversation piece and everyone is really interested in knowing where we got it," Abbey says. "When we sell our house in a few years, it'll come down and go with us!"
Photos courtesy of The Cards We Drew