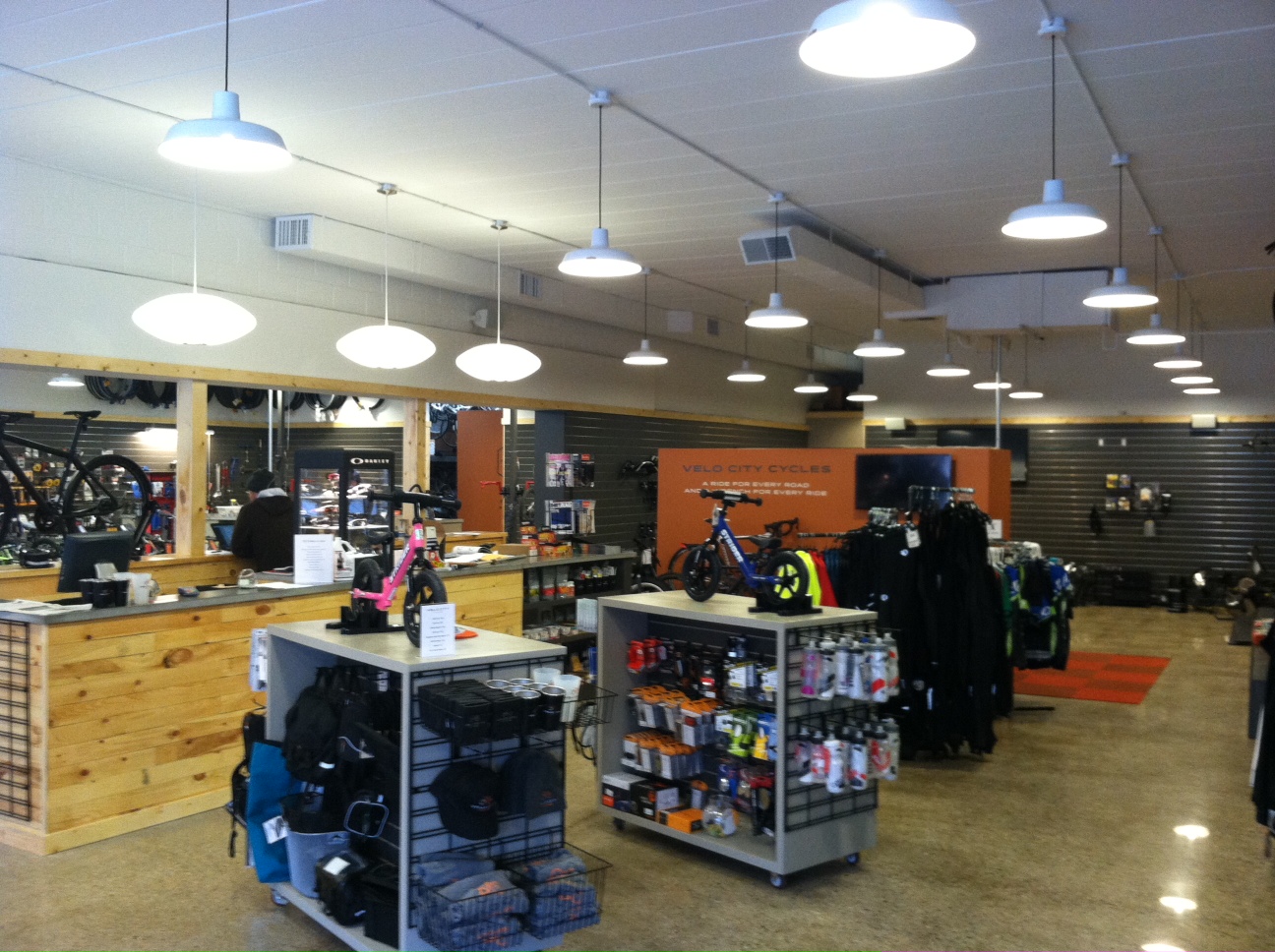 Porcelain Pendants Grace Michigan Bike Shop
Sometimes a space just cries out for the perfect light. But when interior designer Kyle Baker surveyed the space being remodeled for Velo City Cycles in Holland, Michigan, he wanted more than just one perfect light. He found Barn Light Electric's Original™ Warehouse Pendant Light — and bought 39 of them.
"I didn't want the ceiling to be heavy, and the white enamel finish looks more light and airy," Kyle says. "The pendants match the industrial aesthetic the client was looking for and they were on sale." Kyle selected the 16″ shade which was part of our selection of discounted porcelain enamel lighting. These fixtures come with a standard black cord and white canopy.
"Some of the pendants are hung on the retail floor and others are over the mechanic's area where they assemble and service bikes," Kyle explains. "I love how they look in repetition."
The Sky Chief is one of the most popular shades in our Porcelain Enamel Collection of lighting which includes cord hung pendants, stem mount pendants, chain hung pendants, wall sconces, and gooseneck lights. All are American made from commercial-grade materials and customized to each customer's specifications.
Our porcelain palette of colors includes eleven high-gloss finish colors including traditional Black, White, and Vintage Green as well as more modern hues of Jadite, Cherry Red, and Metallic Chrome. You can customize your porcelain enamel lighting with shade size, finish color, and mounting options. You can also add a wire cage or cast guard and glass to give your light a hint of vintage flavor.
Porcelain enamel was a staple of the lighting industry back in the early 20th century. Shades were hand-spun by metal artisans and coated with porcelain enamel glass to create a hard-as-nails finish that could stand up to harsh conditions in factories and warehouses.
That same durable, high-gloss finish is available today in our collection of porcelain enamel fixtures which are suitable for both residential and commercial lighting needs. This is one fixture that is truly crafted to last for years!
Photos courtesy of Kyle Baker and Velo City Cycles