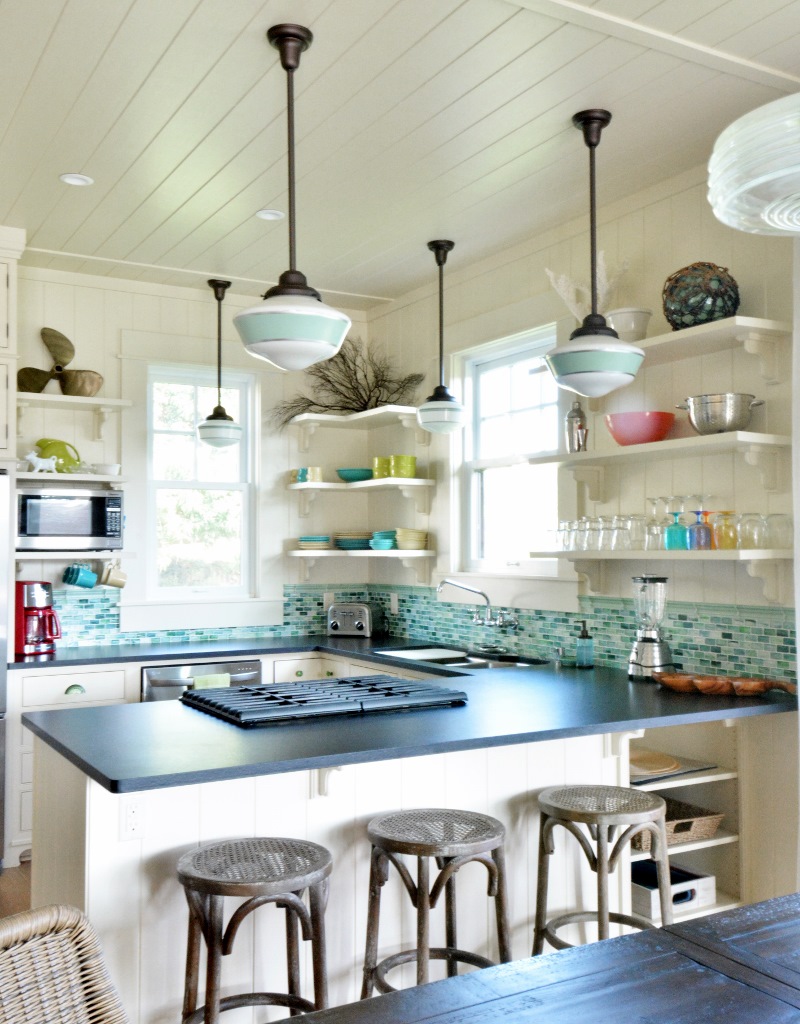 Schoolhouse Pendants Grace Kitchen of Idyllic Hawaiian Retreat
When Karen and her husband set out to build a vacation home in Hawaii, they wanted all the amenities of new construction but with the character and charm of "a beach cottage that had been in the same family for decades with each generation making updates, changes, and adding their own touches," Karen says. The result is a plantation-style home that caught my eye when I spotted a review on a blog called Centsational Girl written by Kate from northern California.
After seeing some familiar-looking schoolhouse lights in Kate's photos, I contacted Karen to find out the details behind this beautiful space. The cottage was built in 2013 and designed to be a vacation home.
"We tried to make it look like it had been there for 70 years," Karen says. "Our favorite compliment is when someone asks about the 'restoration.'" The couple was inspired by old advertisements, old Hawaiian plantation homes and surprisingly, old movies.
"My husband and I are always pausing a movie to point out a trim detail, a light fixture, a kitchen cabinet," Karen relates. "We are pathetic." In the kitchen, Karen chose our Primary Schoolhouse Stem Mount Pendant Light with a painted band of Jadite which blends perfectly with the sea glass palette in the room. Two large fixtures with a single painted band hang over the bar and cooktop area, while two smaller globes with a triple painted band of Jadite are positioned by the windows and sink.
"I picked the light fixtures because they are reminiscent of fixtures in old farmhouses where I grew up," Karen says. "Like the hundred-year-old house that had a modern kitchen put in after the war."  Karen chose the two different sizes and number of painted bands so everything wouldn't match too much which helps with the feeling of a restoration instead of new construction. Our Schoolhouse Lights are American made with glass globes just like the ones made in the early 20th century when these iconic shades first came into use in public buildings.
"As I get older, I appreciate things that have been around a long time, and these lights have that feeling," Karen notes. "Guests are always saying things like, 'my grandparents had that same light in their kitchen!' And that's what I want — for guests to feel a connection somehow, like they belong."
Photos courtesy of the homeowner and Centsational Girl