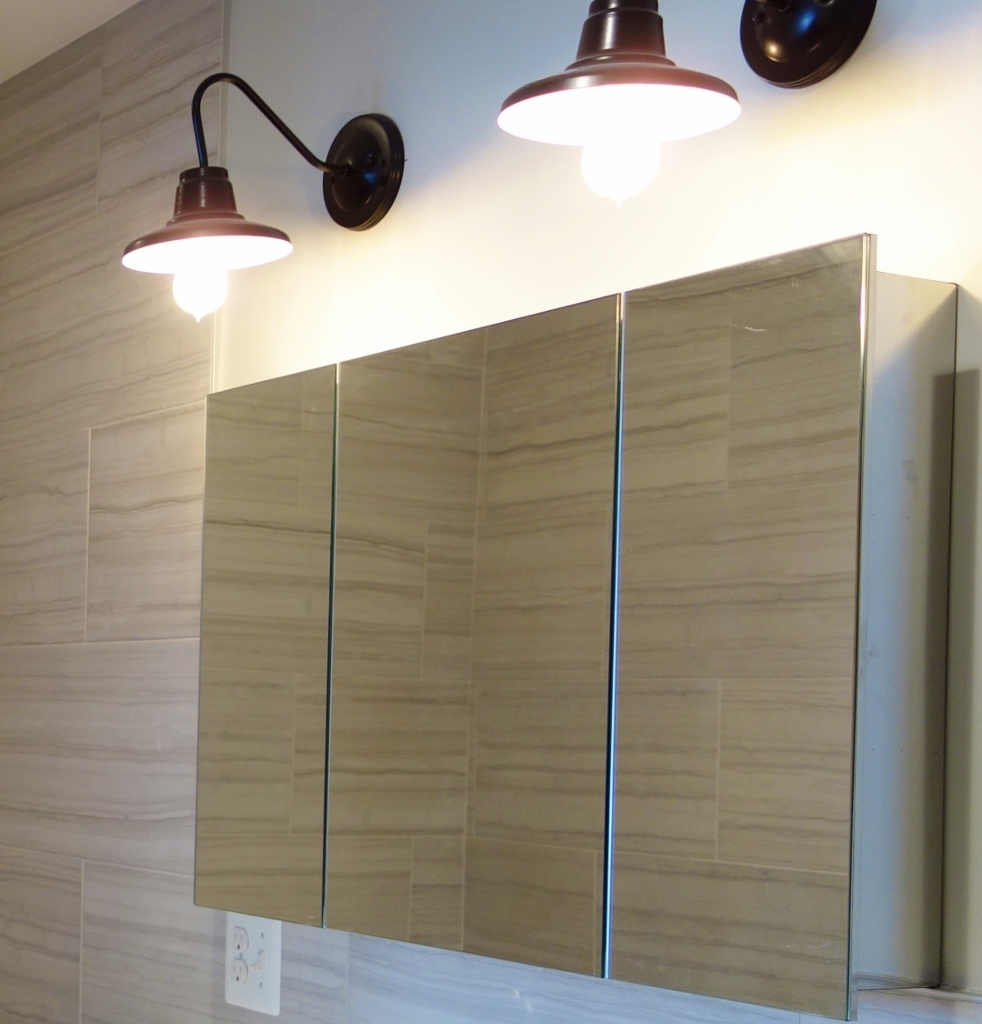 Modern Bath Softened by Vintage Look of Barn Wall Sconces
Bordered by the Blue Ridge Mountains and the Potomac River, Loudon County, Virginia, is an area known for its rich history and beautiful scenery. In the late 1990s, it was also home to a housing boom as condos and homes went up seemingly overnight.
Perhaps this is where the term "builder basic" first came into use as builders routinely used the most basic, bottom-line lights, fixtures, and materials to complete these homes. 
Angelee Marques, an interior decorator in Loudon County and owner of Nest Interior Decor, recently revamped one of the area's 20-year-old condos in a project featured on Houzz.
"This was a complete interior remodel," Angelee says. "We were unable to move walls, but by reconfiguring the kitchen and baths, we were able to make a huge impact in the flow and feeling of the spaces." She notes that while the condo, home to a bachelor, needed to be clean lined and easy to maintain, she didn't want the space to feel sterile. She used several vintage details, such as distressed wood flooring, subway tile, and industrial lighting fixtures to add vintage detailing.
"We chose barn style fixtures for the bathrooms two reasons," Angelee explains. "We wanted something vintage to add interest to the modern tile and vanities, plus, because of construction limitations, we could not recess the medicine cabinets so we needed fixtures with arms to extend beyond the cabinet depth. The barn lights were the perfect combination of both requirements."
Angelee and her client chose the Barn Light Mini Eclipse Wall Sconce for both the master and guest bathrooms. These industrial wall lights with mini warehouse shades were customized with a Black powder coat finish, G48 mini gooseneck arms, and 1910-Era Edison Bulbs.
"This Mini Eclipse was the right scale to do two lights over the vanities," she adds. "We chose the black finish to provide reflectivity and some classic color into the space." This gooseneck wall sconce is available in 20 finish colors and is offered with one of four different gooseneck arm styles.
"The lights are more fun in place than we expected!" Angelee says. "The lights are a nice accessory to the spaces and provide an interesting shape against all the angular pieces of the bathrooms."
Photos courtesy of Nest Interior Decor