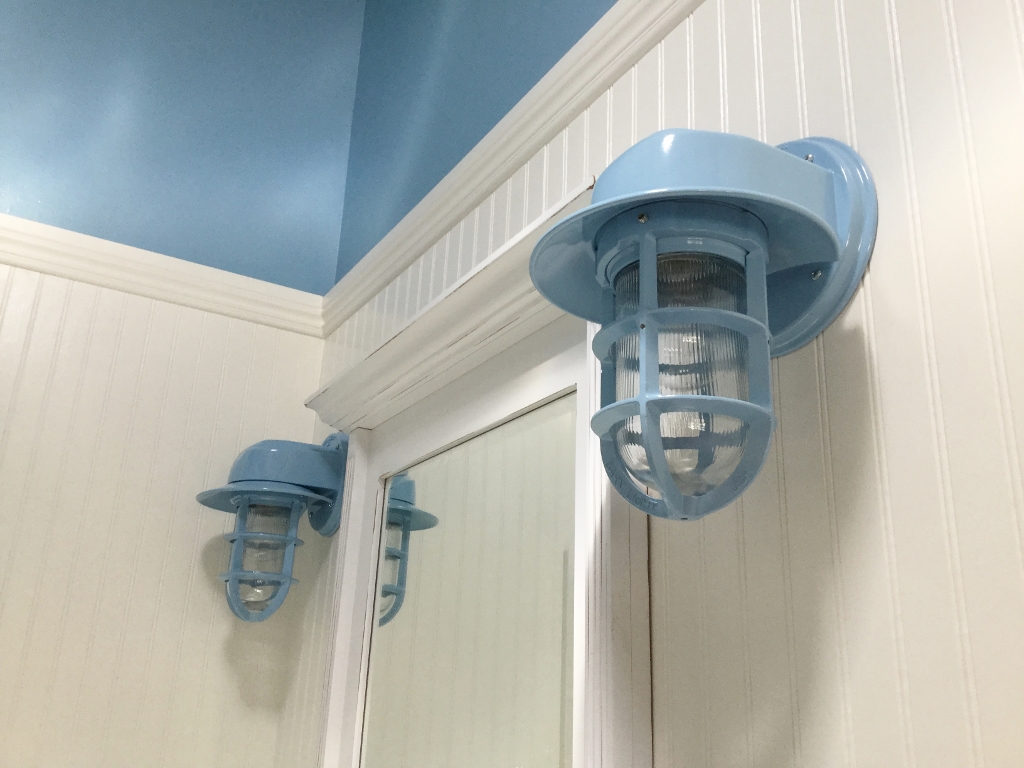 Nautical Wall Sconces for Coastal California Bath Reno
Home remodelers, especially the DIY types, are a special breed. Renovating one room is usually manageable and maybe even fun, but remodeling an entire house takes the patience of Job.
We found Job, actually named Judy, in Los Osos, a small coastal community in central California. Judy has set a steady pace remodeling almost every room in her home. Her latest target — the upstairs guest bath.
"We gutted this bathroom right down to the studs," Judy says. "Our home has a coastal design, and I wanted a light and bright coastal feel to this bathroom." Judy browsed our Wall Sconce Collection to find the perfect lighting for this space. She honed in on the Streamline Industrial Guard Sconce but admits that the word "industrial" scared her.
"I was skeptical because I thought it might be too commercial or industrial looking for a coastal theme bathroom," she explains. "However, looking at photos on your website and actually seeing those fixtures installed gave me the confidence that they would be perfect for my bathroom."
Judy customized her American-made wall lighting with a Delphite Blue finish, heavy duty cast guard, and ribbed glass. She notes that this particular sconce was just the right size for the small bath and not overpowering in the space.
"I picked the finish color because it blended with my recycled glass vanity top and my distressed tile flooring," she adds. "The color is amazing and the heavy duty guard looks very nautical."
Buying an American-made product was important to Judy, but she was also thrilled with the array of finish colors offered.
"First and foremost, I am so proud to buy products made in the USA!" she says. "That being said, Barn Light Electric offered not only a quality constructed product, but awesome colors that are difficult to find for my style of home. It's hard to decide what is best — American made, construction, color — I give it all a 10!"
Next up is Judy's master bath and, with sea foam green paint already selected, we're thinking something in our porcelain Jadite finish would look mighty fine! Stay tuned!
Photos courtesy of the homeowner