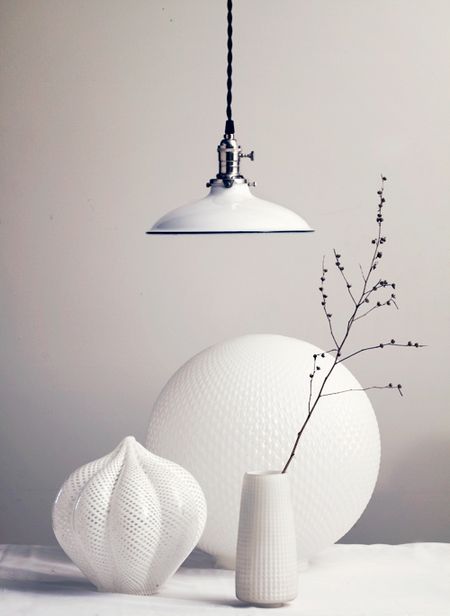 Guest Blogger | How To Decorate With White
Done well, white rooms are peerless. They're breezy and light, ethereal and welcoming, calming and utterly timeless. They forsake trends and transcend any period, style, or geography. Though for some, decorating with white can be daunting. We've all seen white gone wrong, resulting in boring, chilly, or downright sterile spaces. But with these simple guidelines and tips, you can achieve the white room of your dreams (even if you have children and pets!).
Not all whites are the same
Like every color, white comes in a multitude of shades, each with its own distinct look and feel. The temperature of the undertone you select will reflect in the way that paint or item appears in a room – whites with blue, green, or purple undertones read cooler than warm whites (undertones of red, yellow, or orange).
Tone-on-tone adds interest and warmth
Work with several different whites to created a varied, interesting look in your space. However, keep in mind that just because whites play well together, they don't necessarily all match. Cool whites usually go better with other cool whites, and the same goes for whites with warmer undertones. The most surefire way to find a match? Get them together in the space and see for yourself.
Texture is the name of the game
Texture is an important element in any space, but even more so in a white-centric room. To add depth and interest, create layers of textured white elements such as knits, wovens, tapestries, fringes, and laces, to name a few. For a pendant light, opt for a cotton twist cord instead of standard cord.
Go heavy on metals
White loves a good metal and it goes beautifully with all of them. Choose your favorite and run with it, or mix different metals for an eclectic, aged, or bohemian vibe.
Go easy on modern
White can quickly run cold when paired with overly modern lines. That doesn't mean white and modern don't mix – in fact, quite the opposite. But be sure to temper it with other aesthetics.
Outsmart stains
Decorating with white isn't just for adult-only households. If you have children and/or pets, use slipcovers, outdoor fabrics, and faux leathers and suedes for a dose of worry-free white.
Accessorize your heart out
If you're planning to go white on the walls or furniture, accessories are where you'll bring in all the excitement. Let your favorite pieces or pendant lights shine against this fresh canvas. And, since white goes with everything, you can change the entire look of your space simply by swapping out pillows, accents, wall décor, and textiles by season, mood, or occasion.
Meant to be: white and wood
Some of the most stunning white rooms also prominently feature wood, whether it's with exposed beams, butcher block counters, gorgeous flooring, or furniture and accents. Not only does wood add warmth, but it also adds movement and natural pattern.
White is the great unifier
White can make even the most disjointed home feel pulled together. Use it to connect spaces that may have been added to your home over time, soften architectural quirks (like exposed pipes and uneven walls), cover blemishes, lighten up a dark room, and make small spaces feel larger.
Photo #3 courtesy of Remodelista, #5 courtesy of Studio McGee, #7 courtesy of Ace & Whim and Rafterhouse
Guest blogger Melissa Andersen is a writer, editor, blogger, and social media manager/consultant for clients such as And North, Kaufmann Mercantile, and The Cousins from HGTV.