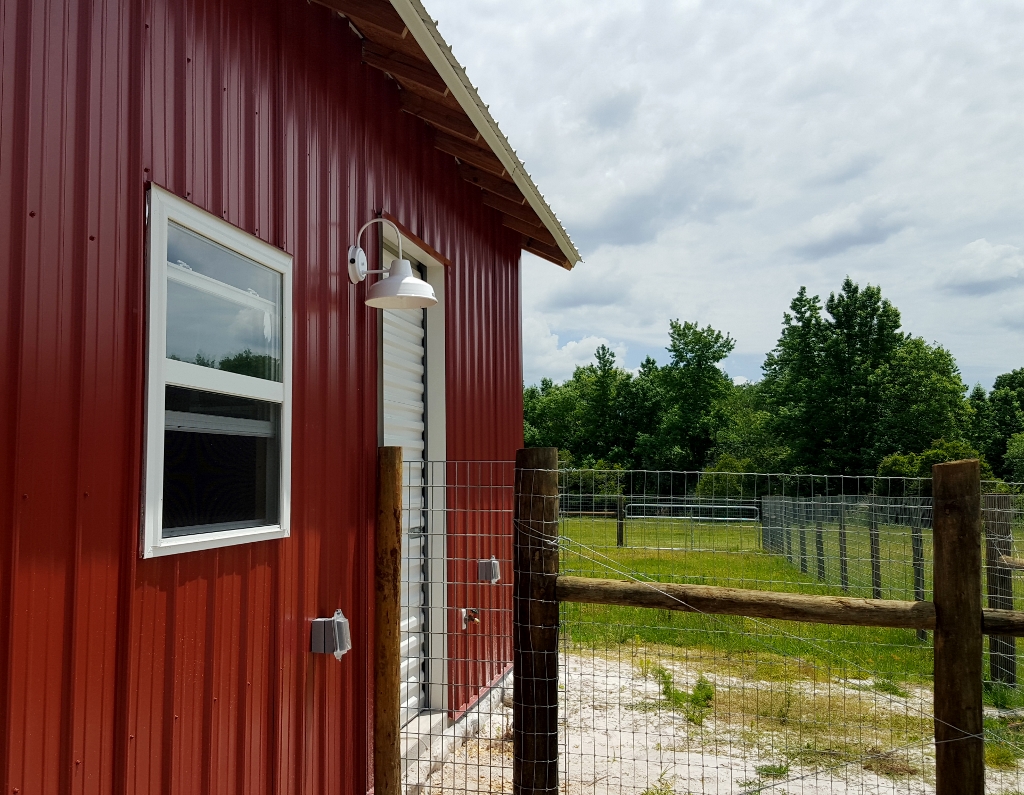 Farm Tour Part Two Features American-Made Wall Sconces
In Wednesday's post, we gave you a tour of Mary's new home in Hardee County, Florida. Mary and her husband, Bob, wanted a traditional farm house with deep porches, a large open kitchen, and plenty of room for family and friends. But they wanted modern touches as well.
Our American-made collection of barn lighting suited their tastes perfectly as you saw in her patriotic-themed kitchen that was featured Wednesday. Today, we venture outside where Mary chose three different Wall Sconces to highlight the exterior.
"Out of all the possible choices Barn Light Electric has, the Bomber fixture just fit this home the best," Mary says. "I used it from the front door right through to the kitchen and dining room. I like that the Bomber Wall Sconce by the front door has a different mounting so it has a slightly different look from the kitchen pendants. But it is similar to the Esso Wall Sconce above the sink. Lots of continuity, but also nothing exactly the same."
Mary customized the wall light by the front door with an 11″ shade and her favorite Barn Red finish.
On the screened porch, Mary chose a more compact wall sconce in the Bowie Wall Sconce. Although this was not a light Mary planned on purchasing, when she saw it, she knew it would add the perfect touch to the back porch.
"The Bowie gives me just the right amount of light to see the stairs off the back porch and it doesn't protrude too far out from the wall," Mary explains. "It's great if I have my hands full of vegetable peels for the chickens. I wanted something small but a good light, and this fills the need in a beautiful way."
The 8″ Bowie has the same Barn Red finish which complements the white metal roof, pale gray/blue exterior walls, and the red gable ends of the house.
For the barn, where the chickens stay busy, Mary chose red for the façade which is accented by a 12″ Avalon Wall Sconce in a brilliant White finish.
"I wanted a true barn light for the barn. The white looks great, is very distinctive, and we love the dusk-to-dawn feature so we don't have to remember to go turn it on at night," Mary says. "I love that is is a dark-sky light that doesn't light up a larger area than we need. It gives just the right amount of light without brightening up the whole yard."
Bob and Mary, both retired, are enjoying their second career as farmers at Mar-Cille Farm. They are expecting their first round of chicks to start appearing next spring. Mary found Barn Light Electric on Houzz during her many hours of searching for the perfect lights.
"After looking at a lot of different fixtures, I realized that there was nowhere else I would find the style, quality, and color choices of Barn Light Electric," she says. "Plus they are made in the USA!"
Photos courtesy of Mar-Cille Farm