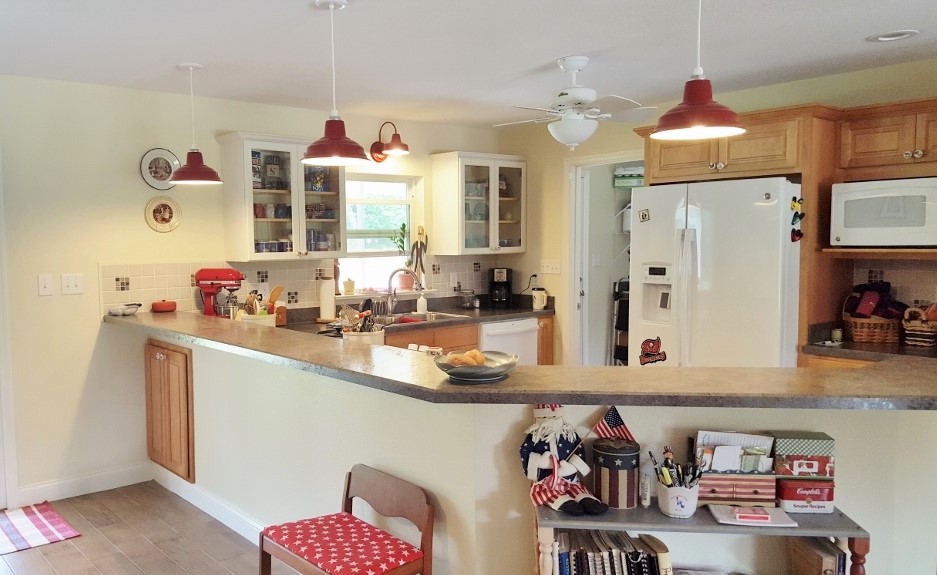 American-Made Lighting for Traditional American Farmhouse
When it comes to lighting, some people look strictly at style — does this particular light make the statement I want in my kitchen? Others search for the perfect finish color to complement the new paint in the bedroom.
For Mary, who recently built a new home and barn in Hardee County, Florida, having fixtures made in the USA was most important.
"My number one criteria was American made, and it was a bonus to find fixtures made in Florida as well," Mary says. "I was searching for fixtures that would complement a farmhouse style but with a modern twist, and Barn Light Electric fixtures are perfect. I love supporting the local economy as well as the U.S. economy."
Mary has collected patriotic memorabilia for more than 30 years and has a large collection of American eagles, flags, and Uncle Sams. Her favorite color combination is, as you might guess, red, white and blue. When it came time to design her new kitchen, she followed her heart.
"I wanted the main living area and the kitchen to have the patriotic color scheme, and it was important to me to have good lighting over all the work spaces," she notes. Mary chose the classic Bomber Pendant Light for over the kitchen bar. She customized these three pendants with 11″ shades, Barn Red finish, and standard white cord.
Mary adds that while she chose these lights initially for the design, they were a great choice for quality lighting in the whole space.
"The Bomber design was just the look I wanted for my kitchen — a true farmhouse barn light!" she says. "I loved them so much in the small size over the bar that I ordered a larger one for the dining room table." The fixture over the dining room table features the same Barn Red finish in a 17″ shade.
"These lights go well with the white appliances and the predominantly blue counter tops," Mary says. "They are the red 'pop' in my color scheme!"
Nearby, over the sink, Mary chose a classic barn wall sconce to light up that work area. This Esso Wall Sconce is customized with an 8″ shade and the matching Barn Red finish. Mary initially chose a can light over the sink but when she spotted the Esso, she knew it would work well in the space.
"It complements the Bomber pendants perfectly without looking too matched," she explains. "I also like that it is a smaller version of the light at the front door which brings a continuity from the front door all the way through the main living area."
Friday, we'll take a look at what Mary chose for her front doorway and also check out the barn where Mary and her husband have created the Mar-Cille Farm featuring dairy goats and chickens!
Photos courtesy of Mar-Cille Farm