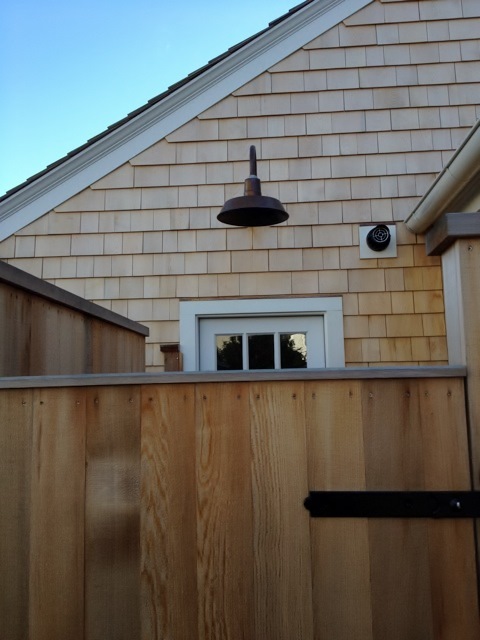 Copper Gooseneck Light Brightens Outdoor Shower
No doubt many people passed by the shuttered home on Long Island Sound and thought, "Nice location, but that house…" But when Charlotte passed by looking for a summer home in the area, she fell in love with the character of the place knowing full well it needed major work. She purchased the home and brought in friend and interior designer Hannah Childs to help update and transform the structure.
"Charlotte has a very California aesthetic and wanted clean, tight and uncluttered spaces that were also comfortable and airy," Hannah says. "Though she wanted it to feel new, she wanted to keep the historic integrity of the house intact." Typical of old New England homes, the house was built flat on the ground so the first order of business was to raise the structure six feet in order to pour a reinforced concrete foundation.
With the close proximity to the ocean and three kids in tow, the homeowner insisted on adding an outdoor shower. Hannah chose an Original™ Warehouse Gooseneck Light finished in Raw Copper to highlight the new space.
"The gooseneck fit well above the space over the shower and the changing area," Hannah explains. "I liked the old barn aesthetic for the exterior as we had used mostly marine style exterior lighting elsewhere." The copper was an easy choice for the Connecticut-based designer who notes that "the fixture will weather beautifully and match the flashing on the roof as well as the other verde gris sconces outside." Hannah's Original™ Gooseneck features a 14″ shade with a matching copper backing plate. This American-made RLM shade is hand spun from solid copper and will age gracefully over time.
"Though it's a large fixture, it does not jump out at you," Hannah says. "It really blends in well with the house." You can read all about the transformation of this beautiful home on Remodelista and we will revisit this space again soon as Hannah has a few more lighting surprises to share with us!
Photos courtesy Hannah Childs Interior Design