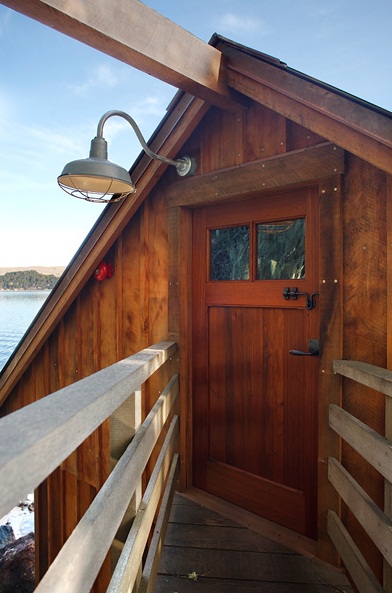 Professional Projects | Barn Lights for A Renovated Boathouse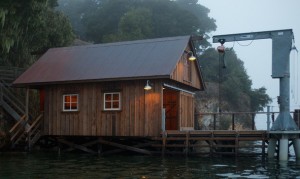 The problem many people in coastal areas face when they renovate a structure are the myriad regulations regarding how you can rebuild. Architect Tom Hardy, of San Francisco, California, became very familiar with the laws in his state when his firm was selected to renovate a crumbling boat house on Tomales Bay.

"It took five years to get the permits," Tom says. "It was essentially a shack that needed to be rebuilt before it fell down." The boat house is located in a sensitive area next to a national park. When the permits came through, Tom and his staff quickly began their work which essentially had to match the footprint of the existing structure. Using beautiful, deep-colored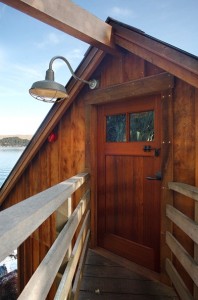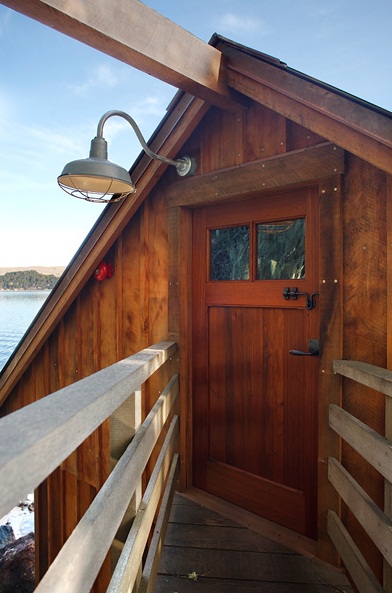 redwood, the new building, dock, and boat lift were installed. For the crowning touch on the new structure, Tom and James Lino, of Lino Construction, chose barn style lighting both inside and out.
"The lighting is very appropriate for the rustic style out there on the water, and the galvanized finish is perfect for that," Tom explains. For the exterior, Tom chose the Barn Light Original Warehouse Shade in a galvanized finish to light the dock, doorways, and stairs. Inside the boat house where space is tighter, Tom selected the Wall Mount Double CGU Sconce for the walls and the Neptune Wall Mount Light Fixture for the ceiling.
"With the dark redwood, low ceilings, and small windows, we needed plenty of light in there," Tom says. "The cage is nice and the low profile of the fixtures is good when you have people walking around with paddles and other equipment. These were the perfect solution for the interior."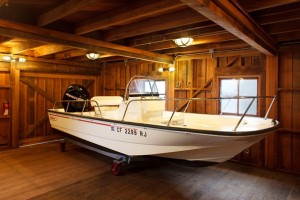 With the wide variety of options available on our website, Tom nailed the perfect rustic look his client was seeking.
"You have a number of sizes and styles in the same design of light so I could select the right scale for the interior," Tom notes. "It's a nice range of products. They are handsome fixtures and fit in so well."
Photos courtesy of Eric Rorer Photography