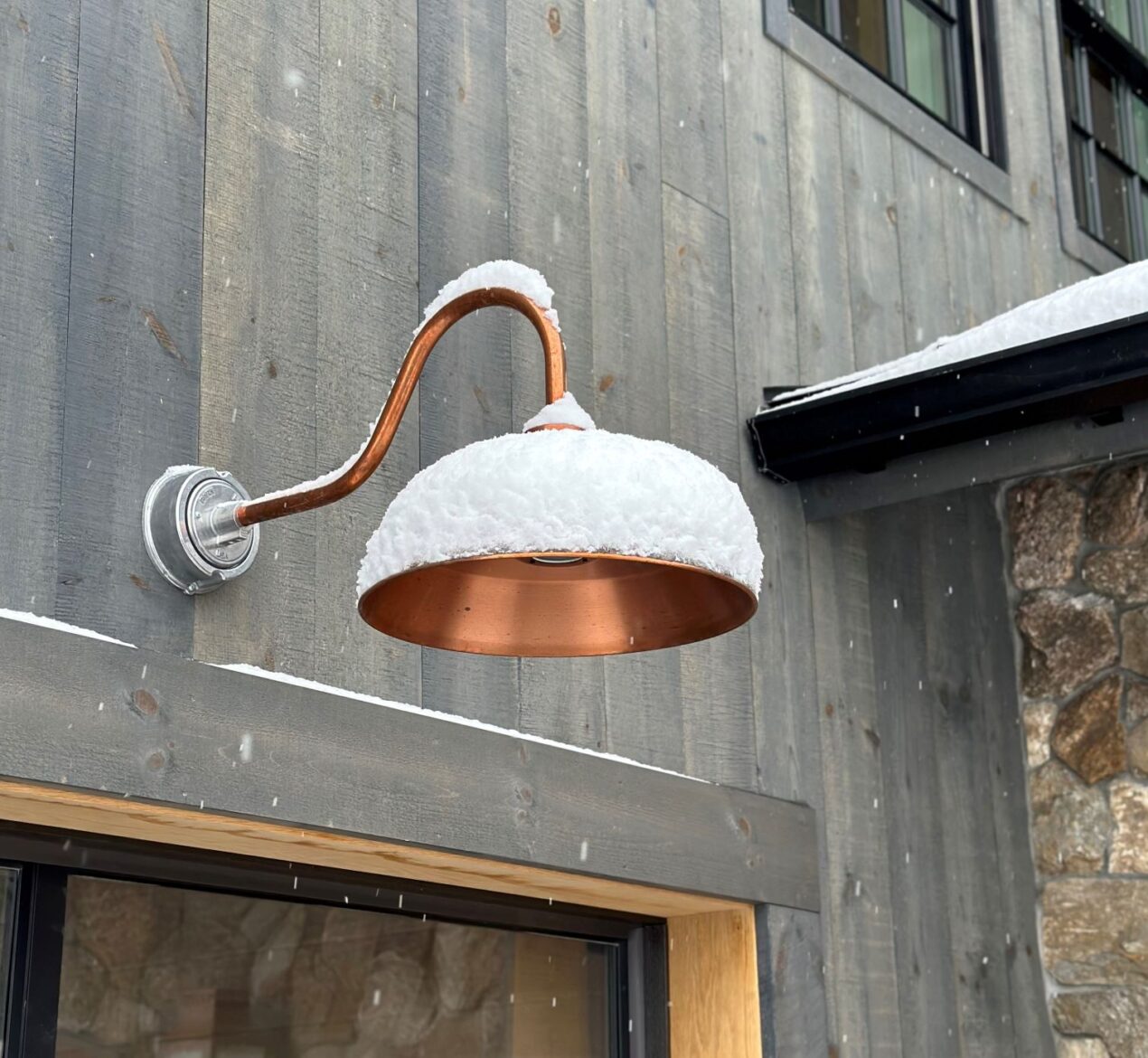 Copper Barn Lights Create Timeless Vibe for New Barn
Back in 2020 during the midst of the Covid crisis, Ryan and his wife Kate purchased five acres of land in Warren, Vermont. They lived in Massachusetts with their four kids who are avid ski racers, and the family would travel every weekend to nearby Sugarbush in the Green Mountains for competitions. The homestead included a mid-1800s farmhouse and two barns.
"We liked living here so much that we decided to stay," Ryan says. " It is a better pace of life rather than driving up and back every weekend from Massachusetts."
The farmhouse needed extensive renovations, and the barns were, unfortunately, beyond repair. The couple enlisted the help of Louisa Smith from Grapevine Interiors, Ward Joyce Design Architect, and Normerica Timber Homes to transform their home and build a new barn and chicken coop.
"We knew we wanted a copper theme throughout the property," Ryan says. "Louisa turned us on to Barn Light Electric plus we researched copper barn lights. The reviews for Barn Light Electric were unmatched."
The exterior of the new chicken coop is dressed up with a Bomber LED Gooseneck Light. This rugged fixture is customized with a 15″ shade, Raw Copper finish, and a G1 straight arm in a contrasting Galvanized finish.
Inside the coop, lucky chickens relax in the light of a matching Bomber LED Stem Mount Pendant. Ryan and Kate chose a 15″ shade for this pendant light, the matching Raw Copper finish, and 18″ Galvanized stem.
"We like the 15″ shade because it seems appropriately oversized for the small coop without being too big," Ryan explains. "These serve as a great light source for the hens and allow us to keep an eye on them when it is dark."
"The copper lighting finishes off the design," adds Louisa, "and elevates the coop to be a little more special."
The next project was to replace the two old barns with one post-and-beam structure to house ski equipment and horses. Ryan and Kate found numerous inspiration pictures online. Their main goal was for the barn to look as if it had been there as long as the house. They turned again to Barn Light for classic copper lighting.
"American-made lighting is certainly a plus," Ryan explains. "We were interested in rugged lighting that could stand up to the elements of our severe Vermont weather." Louisa adds that while the barn's color palette is more restrained than the main house, it has plenty of visual interest.
"The barn has some pops of color, but gets its interest from the architectural scale and mix of materials such as wood, copper, huge glass windows, and stone," she notes.
Ryan and Kate chose The Original™ LED Warehouse Gooseneck Light for the new barn which features a dark stain. Along the side of the building, four Dutch stall doors are highlighted with 12″ Raw Copper shades on G17 gooseneck arms in matching Raw Copper.
"I personally love the line of copper lights running down the side of the barn," Louisa says. "They help the new structure look classic. I love how they look with the mountain views in the background." Ryan agrees.
"They needed to be small enough to terminate inside the roofline, but large enough to not appear undersized," Ryan says. "We are very happy with the look these give us."
Over the barn's large glass door and underneath the deck, they decided to go with a larger 18″ shade of The Original™ LED Gooseneck. These are mounted with longer G22 gooseneck arms. After installation, Ryan decided to add a Matte Black support arm for extra protection against the elements.
"Since these lights are on the gable end with no snow coming off the standing seam roof, we could go bigger and make more of a statement with the gooseneck arms," Ryan explains. "The support arms look good and act as a belt and suspenders for the lights. It gives us peace of mind on those windy, winter nights."
Inside the barn, the horses also bask in the glow of handspun copper lighting. The Original™ LED Stem Mount Pendants are customized with 18″ shades and Raw Copper finish. Most have 18″ stems but two fixtures near the glass doors are crafted with shorter, 12″ stems to allow the doors to operate safely.
And thanks to Barn Light's endless customizing options, Ryan could choose a matching Original™ Nautical LED Flush Mount Light for a narrow hallway leading to a stairwell. This handcrafted fixture features a 12″ shade, Raw Copper finish, heavy-duty cast guard with a Galvanized finish, and clear glass.
"The size seemed appropriate for the space," Ryan notes. "And since there are no other light fixtures in this immediate area, we chose a slightly different look. We are really happy with the way it turned out."
Ryan and Kate completed their lighting plan with a dimmer system controlled through an app. They can create various scenes from inside the house depending on the lighting scenario they want to achieve.
"We love the way the copper gives the classic Vermont look that we wanted," Ryan says. "We know they will patina over time which, again, adds to the look of the barn having been around a long time. We experienced the quality of the lights we bought for the chicken coop and knew Barn Light would be the perfect lighting to use on the barn as well."
Photos courtesy of the homeowner