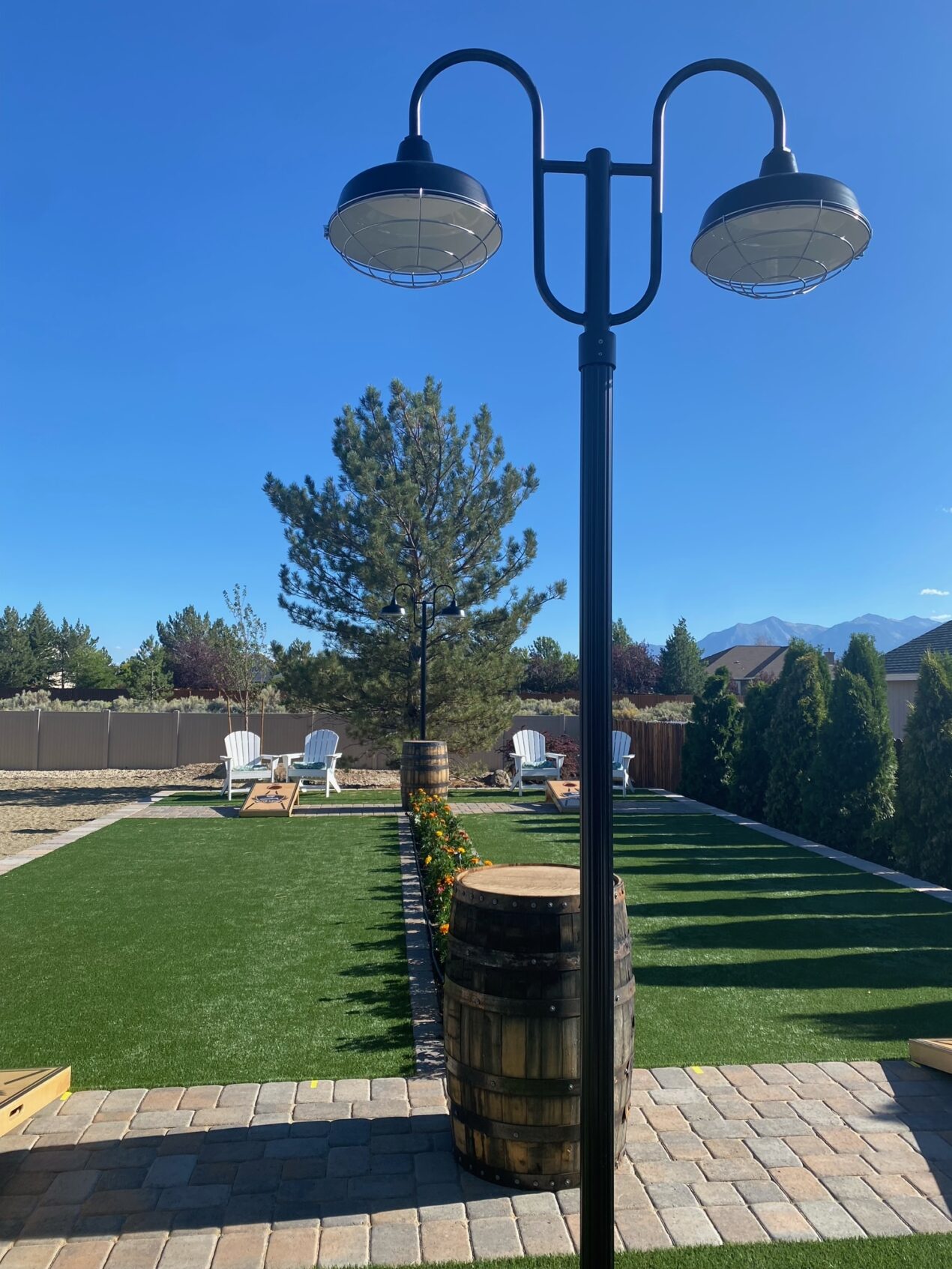 Post Mount Lights Bring Safety, Style to Residential Settings
Post mount lighting is often viewed as strictly functional, utilitarian, and relegated to commercial installations such as sidewalks and parking lots. Today, we're here to show you why many homeowners also choose these rugged fixtures to bring both illumination and a certain joie de vivre to their driveways and landscaping.
William's backyard cornhole games are legend in his neighborhood, but he needed adequate lighting to keep the games going well after dark. He selected the Avalon LED Double Post Mount Light to add energy-efficient lighting to the yard as well as plenty of style.
William customized these fixtures with 16″ shades, a powder coat Black finish, and a wire cage to deflect any off-target bags. He also chose the double decorative post mounting and a 10-foot fluted pole. The LED options include 3000 lumens and a flat lens.
Lauryn added a touch of elegance to the landscaping at her home in New Hope, Pennsylvania. This Aero Single Post Mount Light features a 16″ shade hand spun from solid Raw Copper. The 8-foot smooth pole has a contrasting Rust finish. This American-made fixture provides Lauryn with a lovely glow for evening strolls through the yard.
Linda's home sits on two acres set back from the road, so she selected Original™ Double Post Mount Lights to provide adequate lighting along the driveway. She customized these three post mounts with 12″ solid steel shades, a porcelain enamel Black finish, and 10-foot direct burial poles also in Black.
"The porcelain black is beautiful, and the shades had to be large enough for the front of the house," she explains. "At night, the lighting from the double shades is great."
After hurricanes Irma and Maria roared through the US Virgin Islands in 2017, Tim and Andrea's home was completely destroyed. But thanks to Andrew Hadley Architect and Chipman Design Services, they recreated their island paradise which includes extensive outdoor living spaces.
When perusing lighting options for their new outdoor kitchen, the couple liked the design of the Bomber Single Post Mount Light. This handcrafted fixture provides plenty of downlighting onto the work space without a lot of glare. Barn Light's extensive array of customizing options also allowed them to choose the perfect Royal Blue finish color that mimics the waters of the Caribbean in the distance.
Our Post Mount Lights come in a wide range of styles from the deep bowl look of the Wilcox to the playful, wavy shade of the Seaside. Choose from porcelain enamel, powder coat, and natural finishes to best suit your space and aesthetic. Single, double and triple post mounts are available!