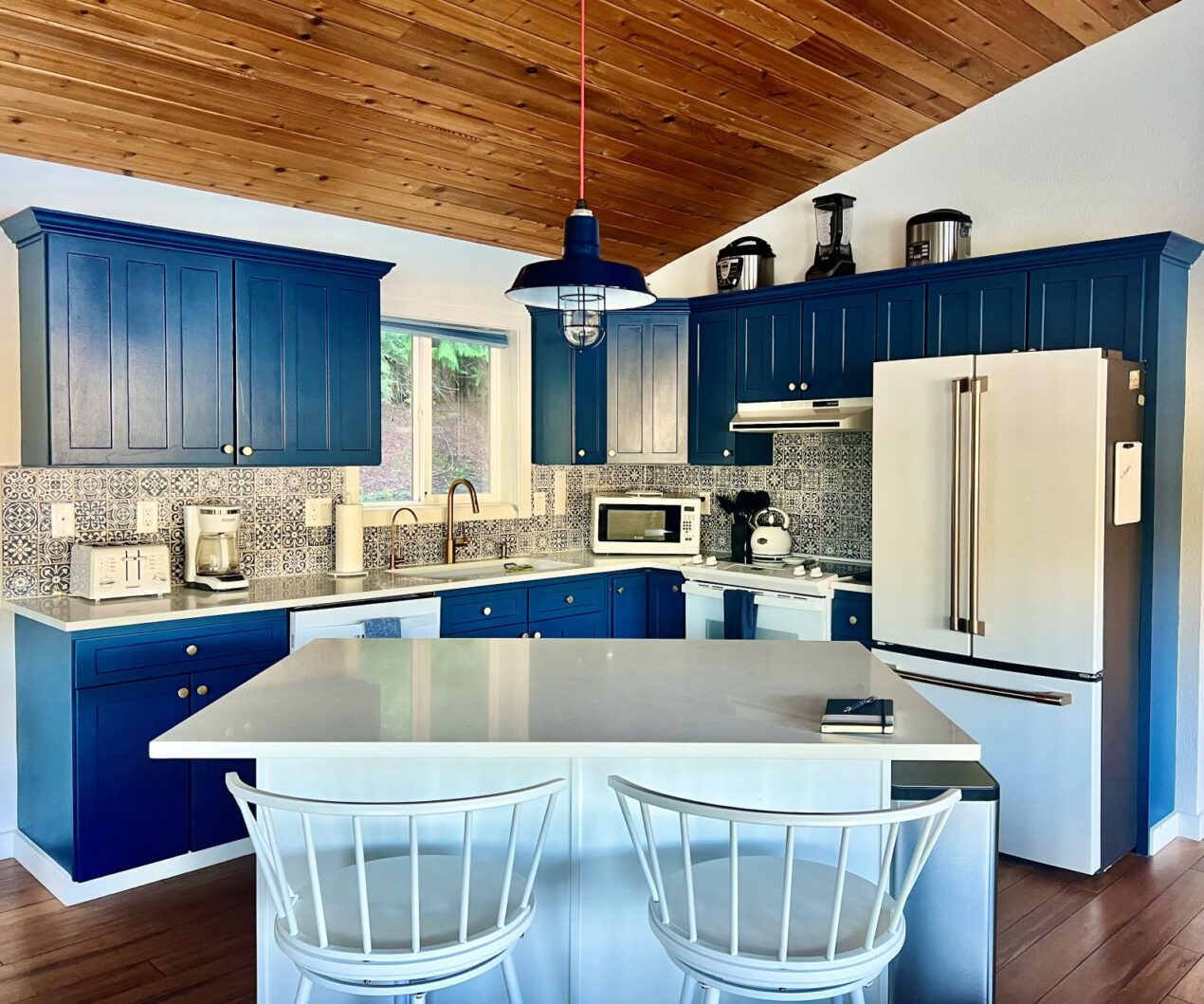 Navy LED Lighting Lends Nautical Flair to Lake House
When the home on Coeur D'Alene Lake came on the market in northern Idaho, Leah and her husband jumped at the chance to add it to their vacation rental company. The exterior of the home was in decent condition, but the interior needed exhaustive renovations.
"Our design direction was to create a space to reflect the feeling of being on the water," Leah says. "I wanted a modern space built off classic lake house elements, so I focused on wide plank woods, a blue-and-white theme, and nautical fixtures."
For the small kitchen, Leah needed a centerpiece to not only anchor the space but to provide an eye-catching focal point over the island.
"I care about using American-made materials as much as I can and that extended to my lighting choices," she explains. "I wanted bold, colorful lighting. Finding a lot of blue metal lights and being able to customize them with multiple pops of color in one fixture was important." Leah found her heart's desire of customizing choices at Barn Light Electric.
She selected The Original™ Nautical LED Pendant Light to accent the island. Leah customized this handcrafted pendant with a 14″ shade, Navy powder coat finish, and a contrasting red cloth cord. She also chose a wire guard and clear glass for plenty of illumination.
"I love the shape, material, and color options for this pendant. It hits the balance between classic and modern perfectly," Leah notes. "I love that I could get the perfect blue for the shade and guard then get a bright red cord. The red cord is what really sold me. It provides such a fantastic contrast in the otherwise blue-and-white kitchen and really pushes the nautical narrative in the space overall."
The nearby guest bathroom provided a challenge with its narrow and deep footprint and low ceiling. Leah found it difficult to fit furnishings in the space while still keeping an open feel.
"I went with The Original™ Nautical LED Flush Mount Light to continue the nautical theme and provide a focal point that would not overpower the space," she says. "The 16″ shade gives a lot of light like having a glamorous chandelier but in a much more laid-back style and without making the room feel smaller."
Leah chose to customize this flush mount light with a Matte Black finish, heavy-duty cast guard, and clear glass.
"I love how these lights complete the room around them and tie the overall house together. They are not only quality fixtures and pragmatic, they're just beautiful. We get so many compliments on them since they truly stand out," Leah says. "All of the styles, colors, and customizing options at Barn Light are a dream. I can't wait to do another nautical or barn-style home as I'm ready to include new colors and styles from Barn Light in my renovations!"
Photos courtesy of the homeowner