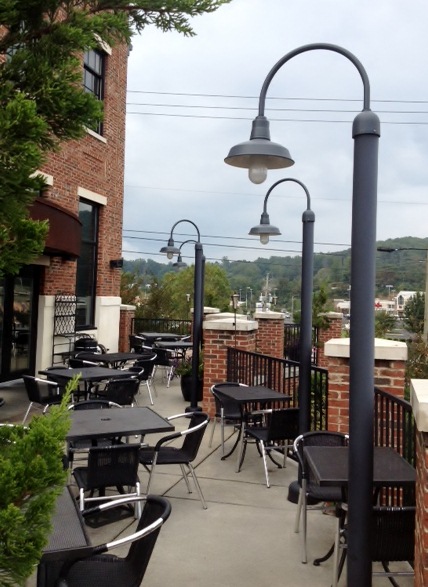 Post Mount Lights Brighten Outdoor Patio, Parks with Style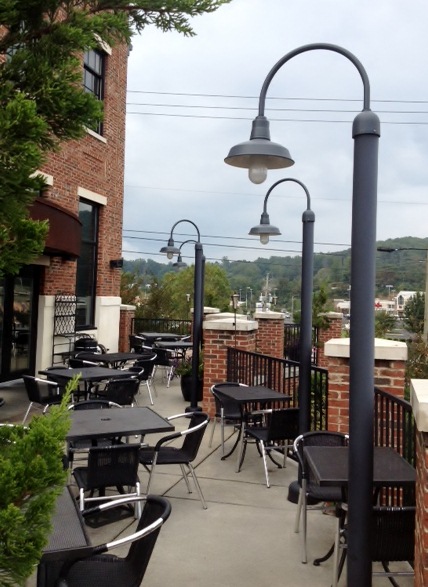 Nothing makes dining al fresco better than a cool fall evening so you can linger over your meal and some good lighting so you can actually see what you're eating! Commercial lighting, especially restaurant lighting, poses unique challenges, and outdoor seating such as this must not only be comfortable for patrons, but well lit for aesthetics and safety.

With no outer walls for wall sconces on this patio, the management opted for post mount lighting on the perimeter to highlight the fencing and provide plenty of diffused light over the tables. These lights are much like our Warehouse Single Post Mount which is a very affordable and adaptable fixture for commercial venues.
The post itself is available in six traditional finish colors and you may choose from three different styles of warehouse shades — the standard Warehouse Shade, the wavy and more modern looking Radial Wave Shade, or the rustic Railroad Shade. The shade can be finished to match the post plus a copper finish is also available. If you already have shades, you can order just the post which starts at less than $100. For commercial and high traffic areas like this, consider adding a wire cage to your light to provide protection to the bulb.
For broader areas such as parks and venues with walking paths, consider the larger Warehouse Double Post Mount light. With two shades on either side of the post, this fixture will double the amount of lighting in the same space. With two shade styles and seven beautiful finish colors to choose from, this fixture will make your commercial lighting plan a winner!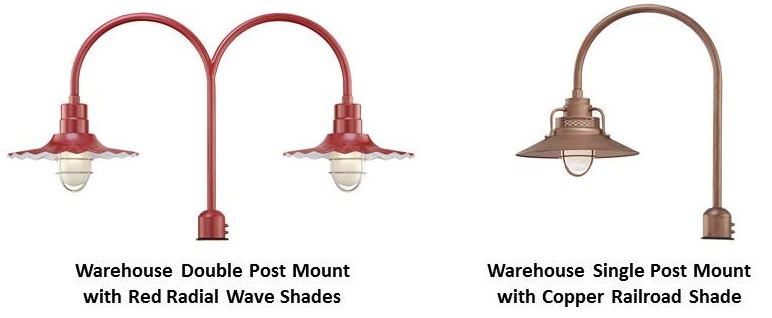 And don't forget to vote for Barn Light Electric in the Martha Stewart American Made Awards! We are in the Top 20 finalists for this award that honors American manufacturing and American-made goods. You can vote once a day from now until September 24th. Thank you for your support!