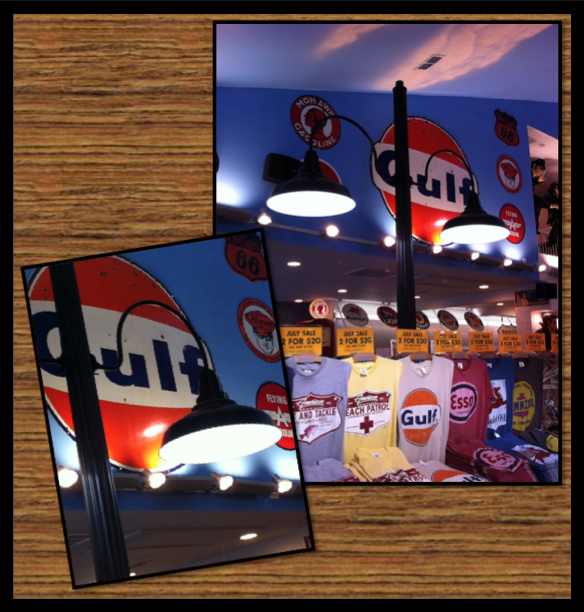 Post Mount Lighting | The Inside Scoop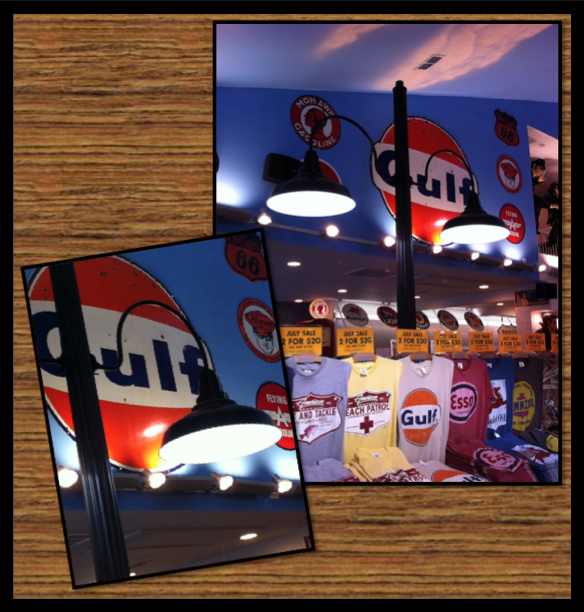 Gooseneck barn lights are traditionally reserved for use as outdoor light fixtures. Naturally, they can be seen on the exteriors of barns but they are also viewed as garage lighting and commercial sign lighting for some businesses. We've grown accustomed to finding gooseneck lighting outdoors, so when we stumble across an unorthodox use, it seems to catch our eye in all the right ways.
Stylish post mount lamps are no exception to this statement. No, not all post mount lights are kerosene-fueled lanterns or even vintage and gothic in style. Warehouse shades and funky Radial Wave shades can also be used as post mount lighting. Our P-1 Post Mount Light is a customer favorite for mounting alongside a lengthy residential driveway. You could also get really creative by using a post mount light fixture, indoors. This store above in North Carolina used gooseneck post mount lighting as a stylish approach to showcase their vintage gas station t-shirts.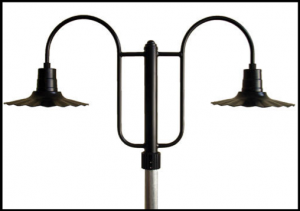 To get this look, indoors or out, check out the P-4 Post Mount Light. The P-4 incorporates a dual mount with unconventional gooseneck arms for your choice of a traditional warehouse shade or an eye catching radial wave shade. For the warehouse shades, you can even choose to add an industrial wire cage – not only stylish, but also works to protect the light bulb. If you're more interested in the radial option, you can add on a cast guard and glass for a post-modern, atomic touch. The cast guard and glass can also be added onto the warehouse shade – between tons of finish options and accessories, our lighting combinations are nearly endless!
If you don't already have a pre-existing light pole, we do offer those as well. If at any time you're unsure about your choices, feel free to give us a call; one of our knowledgeable sales reps will be glad to help you out with your post mount lighting needs, 1-800-407-8784.