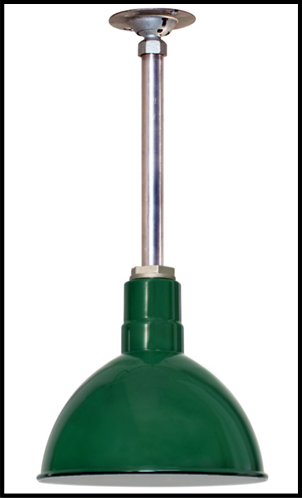 Porcelain RLM Barn Lighting for Every Season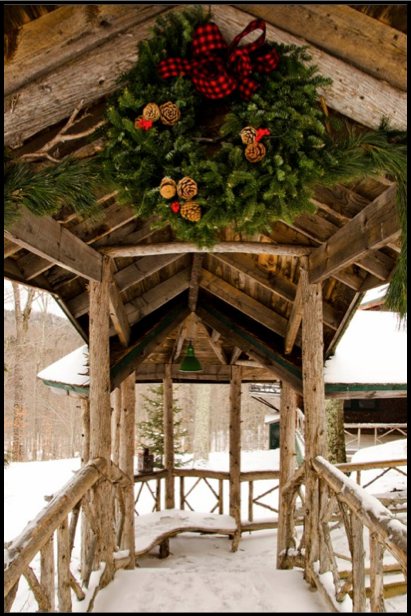 Even though we're still seeing sunny, 75˚ weather on a daily basis in Florida, winter snowscapes are gradually starting to appear throughout the Northern and central United States. That fresh white powder layering the frozen tundra is the spot of some the most beautiful landscapes, even if you hate that frozen feeling.

As you know, an expansive outdoor porch is an absolute necessity in the industrial farmhouse. In the warmer months, it's home to iced tea and barbeques, but as soon as the mercury drops, it's about the steaming hot cocoa and supervising snowman construction. No matter the temperature, a country veranda is like your own personal slice of heaven.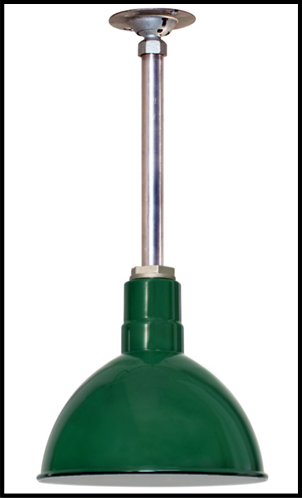 It's no doubt that the featured photo today is in a provincial part of town – those rolling hills and barren trees are a clear give away. A wooden walkway constructed of logs leads guests up toward the cabin too. That walkway is home to a vintage RLM barn light, as you can see over the snow-covered bench. Nearly all of the lights this style were completed with an authentic porcelain enamel finish over a steel shade. This could be attributed to the ability of the baked-on enamel which helps it to maintain a rich color all while distributing a warm glow below.
While you may not be able to find the perfect vintage barn light like this one, the Benjamin® Wilcox Deep Bowl Pendant is almost identical. The Benjamin® Wilcox incorporates the same enameled finish, along with a raw brushed aluminum stem mount and canopy, which helps it stay true to the authentic factory light look. Take your vintage pendant to the level with a stem mount the same color as your shade. Under the light of the Wilcox Pendant, winter wonderlands come to life while the summertime sunset dances across the treetops.
Top Photo Courtesy of That Inspirational Girl