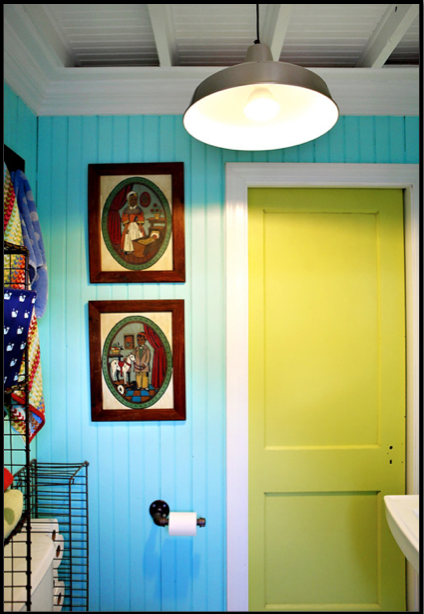 Enameled Warehouse Lighting for a Bright Half Bath
In a design world full of dull neutrals (like a scene from a black and white film), punches of bright color is more than refreshing, not only to the eye, but also to our design files. You know, that online Rolodex of images filled with rooms and spaces we want to recreate? While in a large room, such as a kitchen or dining room, too much color can become overpowering, but a smaller room can easily handle a few vibrant hues.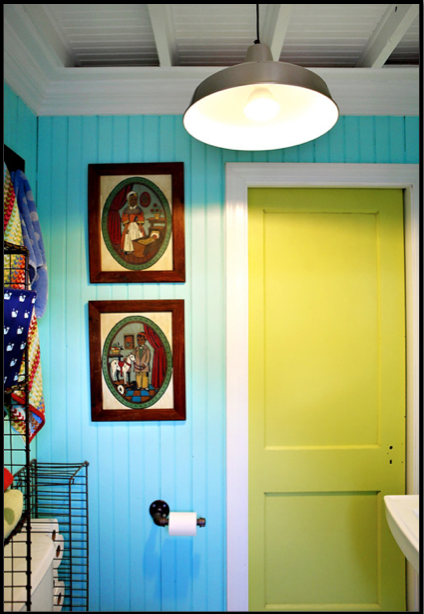 This particular half bath was not terrible before, but definitely needed a pick me up. Previous cobalt blue walls with white wainscoting were traded for bright cyan painted bead board. Other rich hues were used throughout the room, such as the lime green sliding door and the vintage chevron towels hanging off the industrial shelving.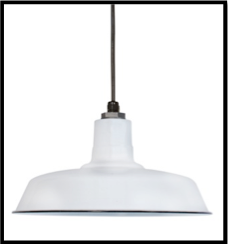 All of this color is balanced out with simple warehouse lighting. Sure, you could compromise for an imported big box store light, or you could opt for the American made Ivanhoe® Sky Chief Porcelain Warehouse Pendant. Sure, the Sky Chief is a bit pricier, but you're receiving the tried and true quality of an authentic porcelain enamel factory light – a legend when it comes to the history of lighting. In such a bright space, you could really hang the Sky Chief in any of our rich finishes, but here, a simple and crisp white shade will stand out against the unique color palette below.
It's a big risk to take a chance on such a drastic bathroom update, but with the amount of inspiration available in our online Photo Gallery, there is no need to doubt your choices. A good rule of thumb is to always remember the difference between your quality lighting, and that found at lesser prices.
Top Photo Courtesy of Design*Sponge