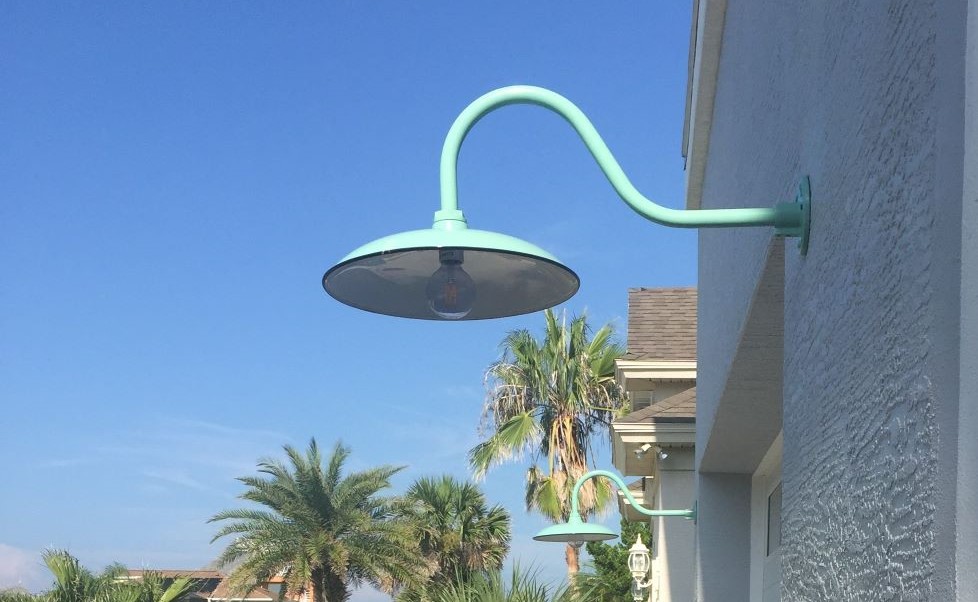 Porcelain Lighting Offers Style, Durability in the Sunshine State
When the time came to convert her Palm Coast, Florida, vacation home into a permanent residence, Brenda had a long list of improvements to make.
"We built the house in 2001 but decided to make it our permanent home when we retired," she says. "We gutted and rebuilt the kitchen, put in all new windows and sliders, and extended both decks with new roofing and tiling." An extra garage was also added with new garage doors and modern windows.
"We wanted a modern tropical design that flowed from the outside in," Brenda explains. "Being just off the ocean, we spend a lot of time outside."
Being close to the ocean also limited Brenda's choices for exterior lighting. She searched for fixtures that could stand up to Florida's famous sun, salt, and winds.
"I have a friend who had renovated her home using Barn Light Electric lights," Brenda notes. "When I complimented them, she handed me a catalog." The porcelain enamel collection of lighting caught Brenda's eye and, in particular, the Jadite color offered in that palette of finishes.
She chose the Sinclair Gooseneck Light to adorn her two garages. She customized these handspun lights with 16″ shades, the Jadite finish, and G22 gooseneck arms.
"It was love at first sight when I saw those lights in your catalog," she says. "I met with our electrician for his input on the size of shade and arm style. Then I worked with my daughter in California who did yacht interiors for years and has a true design sense. I couldn't have gotten through the project without her."
The Sinclair Gooseneck Light is easy to customize and comes in four shade sizes. The shades are hand spun from commercial grade metals, including copper and brass. Twenty-nine different gooseneck arm styles are also offered.
"As soon as I saw the Jadite finish, I knew I would match the trim on our home to it," Brenda says. "Our lights are the statement pieces."
Photos courtesy of the homeowner