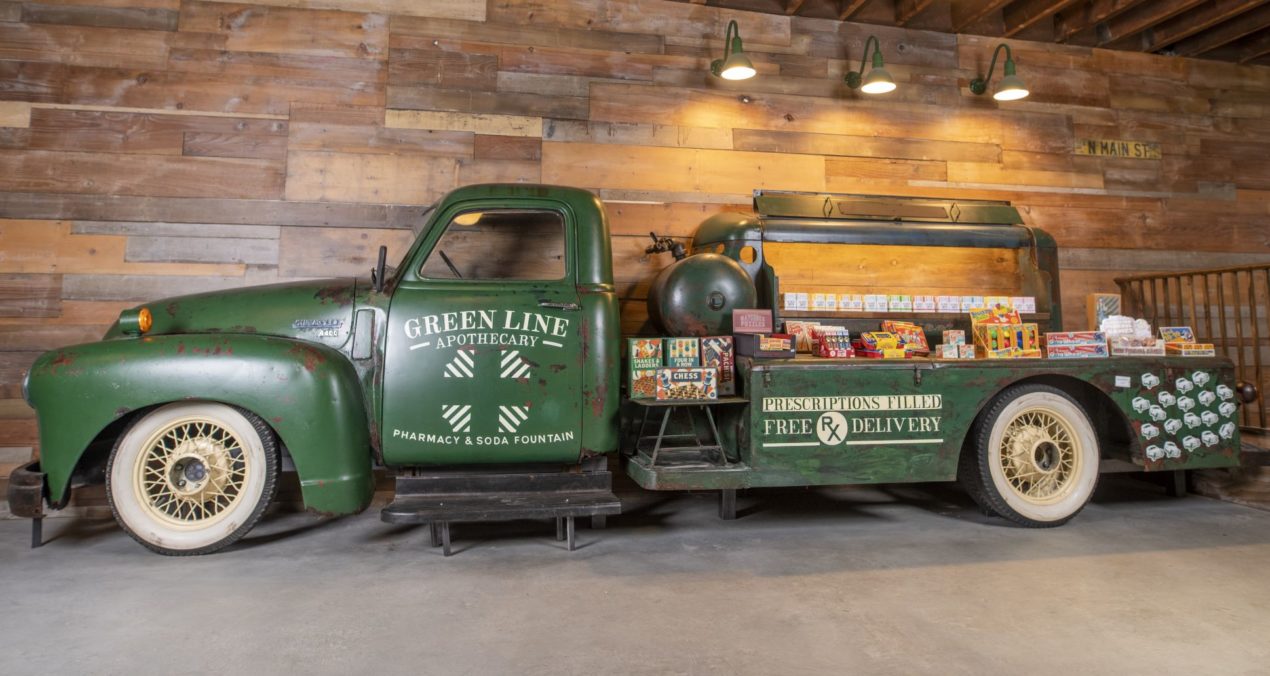 Handspun Barn Lights Lend Midcentury Vibe to Pharmacy
Back in the mid 20th century, your friendly neighborhood drugstore was much more than a place to get a prescription filled. With a soda fountain for sweet treats and aisles filled with sundries, the drugstore served as a community gathering spot. And if you were too sick to visit, the pharmacist would even deliver medicines right to your door.
Recreating the quintessential feel of a vintage pharmacy was the design goal of Lineage Corporation as they developed the brand identity for the Green Line Apothecary in Providence, Rhode Island.
"Green Line Apothecary is a modern interpretation of the classic American drugstore," says Ken Procaccianti, owner of Lineage Corporation. "The design philosophy centered on creating a unique, experiential retail environment combined with the efficiency to operate the fast-paced pharmacy and the food-service functionality of the soda fountain." And yes, they deliver!
Working with his wife Christina, who is also the owner and pharmacist of Green Line, Ken renovated an historic Providence building that has always housed family-owned businesses. No detail was overlooked from the restored soda fountain and ice box to the authentic tin ceiling, stained wood fixtures, and the 1949 truck adorning one wall.
"We sought out American-made lighting to help tell our story — vintage, yet modern," Ken explains. "We wanted our space to feel like it could belong on any American main street from 100 years ago just as much as it fits in today."
Welcoming neighbors at the front door are four Wilcox Deep Bowl Gooseneck Lights. Ken customized these exterior lights with 10″ shades spun from Raw Brass. For contrast, he added Black G15 gooseneck arms and cast guards with clear glass.
"The building's exterior was transformed to create an inviting retail storefront while evoking the charm and nostalgia of earlier-era drugstores," Ken explains. "The color palette of black and gold was carried throughout the finish materials including custom signage, windows, and the light fixtures." The photo above shows the natural weathering that takes place when brass fixtures are exposed to the elements. For those who prefer the original shiny finish, regular cleaning and polishing is recommended.
Inside, Ken used the same Wilcox Goosenecks to highlight the antique truck. These porcelain enamel lights feature 8″ shades, a Vintage Green finish, and G26 gooseneck arms.
"The gooseneck lights, along with the salvaged wood wall, help create a feeling like the vehicle could be parked outside against a barn or warehouse wall," he notes. "It makes for a one-of-a-kind retail fixture."
In the parking area, complementary Bantam Wilcox Deep Bowl Wall Sconces brighten the area and add a punch of on-brand color. These handcrafted wall sconces have 8″ shades, the Vintage Green finish, and White wire cages to protect the bulbs in the outdoor environment.
Matching Wilcox Stem Mount Pendant Lights, with 10″ shades and a flush mount, provide additional illumination under the breezeway.
"Being able to customize the color, size, and arm shape were all important elements," Ken says. "The lights are classy, well made, and offer the right look. They help tell the Green Line story and create our unique retail experience."
Photos courtesy of Lineage Corporation and Green Line Apothecary