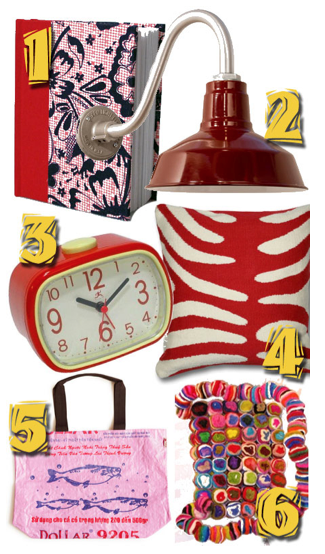 Porcelain Gooseneck Light Featured on Cactus Creek Daily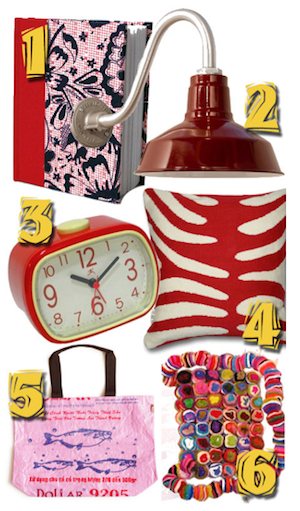 One of our hottest porcelain barn lights, the Goodrich® Dino, was featured in a recent post on Cactus Creek Daily – a fabulous online blog!
Designing with red is no easy feat, but when it's done right, you're going to have an amazing space. Fancy, who runs Cactus Creek Daily, paired red hued items together in honor of Valentine's Day 2011. What she came up with is the perfect amount of red accessories to create a work space that's alive and ready to get the job done! The gooseneck light lights up your work area, while the alarm clock lets you know when it's time to go – and don't forget to grab your handmade notebook and throw it in your pop art felt bag (found on Etsy), before you leave!

Like all of the porcelain barn lights sold at Barn Light Electric, the Dino pays homage to the original light manufacturers from America's industrial era during the 1930's through the pre-atomic era of the 1950's. The shape of the shade was inspired by the first RLM Warehouse Shades. The Dino is made with an interior steel shade with an exterior coating of porcelain enamel that's thin enough to ensure high quality reflection, yet thick enough for total protection against rust and corrosion. As a result, the Dino is one of the longest lasting lasting selections on the market today.
Homeowners utilize its vintage industrial style and focused lighting projection for busy areas of the home such as kitchen counters, bathroom sinks or office areas; ideal outdoor settings include garages, sheds and front porches. Many different finishes are available to match the light with your home's decor.
CactusCreekDaily.com was launched by in 2008. The owners maintain a 6,000 square foot store located in an old barn. They specialize in rustic furniture, Western style and everything vintage! Their vision for the website/ online magazine was to connect consumers with the rustic, Western and vintage marketplace. To see more light fixtures like the Dino, visit the porcelain lights section of Barn Light Electric.