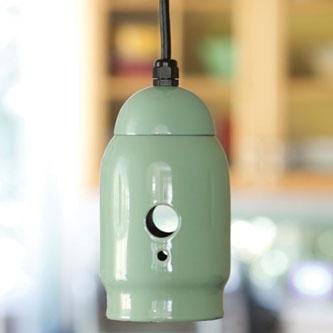 Porcelain Enamel Lighting with Vibrant Finish Options
When porcelain enamel lights first came onto the scene, manufacturers like Crouse-Hinds, Appleton, and Abolite kept their finish choices simple. After all, these pendants and gooseneck lamps were meant to be durable and industrious, so there wasn't much of a need to have various colors. Aside from other galvanized metal warehouse shades, white, black, and dark green were the primary colors of factory porcelain lights. The porcelain enamel coating was just as hard, if not harder, than the interior steel shade which helped them to survive the every day hazards of factory use.

While a great deal of these vintage barn lights are being rediscovered and given a second chance at life, modern porcelain lights from Barn Light Electric maintain the same quality as old industrial lighting and oftentimes come at a fraction of the price. Today, vibrant finishes such as jadite, cobalt blue and yellow are available for purchase. For a contemporary atmosphere, like this open kitchen and dining room, the Ivanhoe® Mig Industrial Porcelain Pendant makes a fun breakfast bar light. You can choose to use a single pendant to define each place setting, or hang just one within an entryway.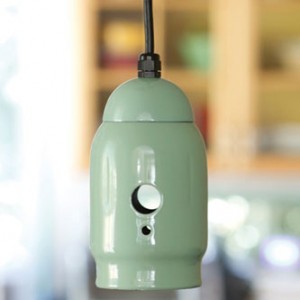 Industrial modern pendants, such as the Ivanhoe® Mig, are relatively petite compared to other warehouse light fixtures, providing a clear line of sight in open areas. This free, unobstructed view is a necessity for open floor plans, careful not to exclude anyone from all the action. Utilizing the pendants over the bar does assist in defining the separate spaces while still leaving the rooms open and fluid, however, if you're looking for a period-style porcelain light, any of our Ivanhoe® or Benjamin® Pendant Lights are quality reproduction lamps. The durable, glossy finishes bring a little something extra to the table that other lights cannot.
Top Photo Courtesy of HGTV