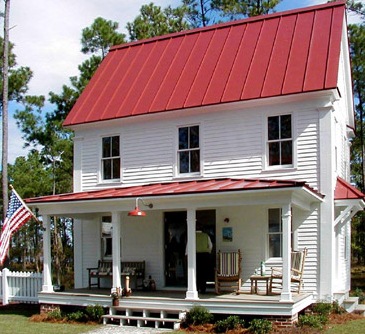 Porcelain Barn Lights Stand Strong Against Sun, Wind, Rain
If you've been looking for the perfect outdoor light, you might wonder why some people spend the extra money to get a porcelain finish. Porcelain is definitely more costly than other finishes and you could always find a "bargain" at the big box store on an imported fixture. But if you had a crystal ball and could see even six months into the future, you'd discover rusting, chipping, and fading on those cheap lights, especially those that endure sizzling summers, the windy Plains, or harsh New England winters.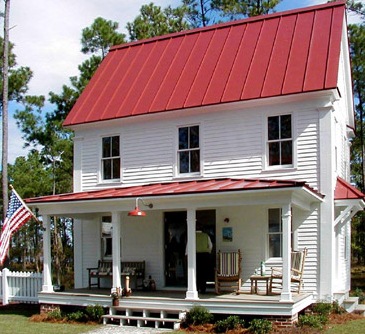 Nothing lasts as long as a baked-on, glass enamel finish much like the one found on these lights at the River Dunes community in coastal North Carolina. Southern sunshine and salt spray are no match for these RLM-inspired warehouse shades. These fixtures are similar to our very own Goodrich® Sky Chief 16″ Porcelain Gooseneck Light, part of our extensive collection of classic gooseneck lighting. This handsome gooseneck provides plenty of light directly over the front porch steps and we love how it matches the red tin roof!
Barn Light Electric is proud to be America's exclusive manufacturer of porcelain enamel lighting fixtures. Each shade is hand spun by our craftsmen from commercial grade steel then the glass enamel coating is hand applied and baked on at extremely high temperatures to create one of the most durable, long lasting finishes on the market today. Due to this hands-on technique, no two fixtures are exactly the same and slight blemishes and character are common.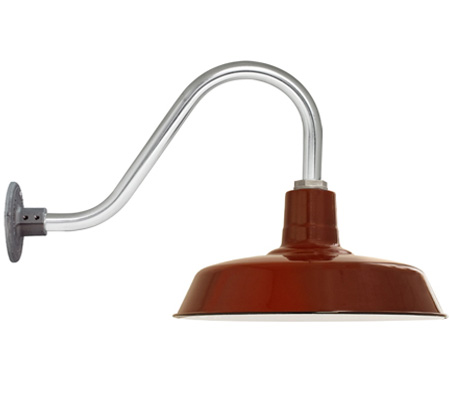 A variety of enamel finish colors are available for our porcelain barn lights including traditional black or white, dark vintage green, bright yellow, and cobalt blue. For our Goodrich® collection of goosenecks, we also offer a number of different gooseneck arm sizes so you can choose exactly the projection you need for your fixture.
Quality manufacturing, brilliant finishes, strength and durability — that's why people choose porcelain!
Top photo courtesy of River Dunes