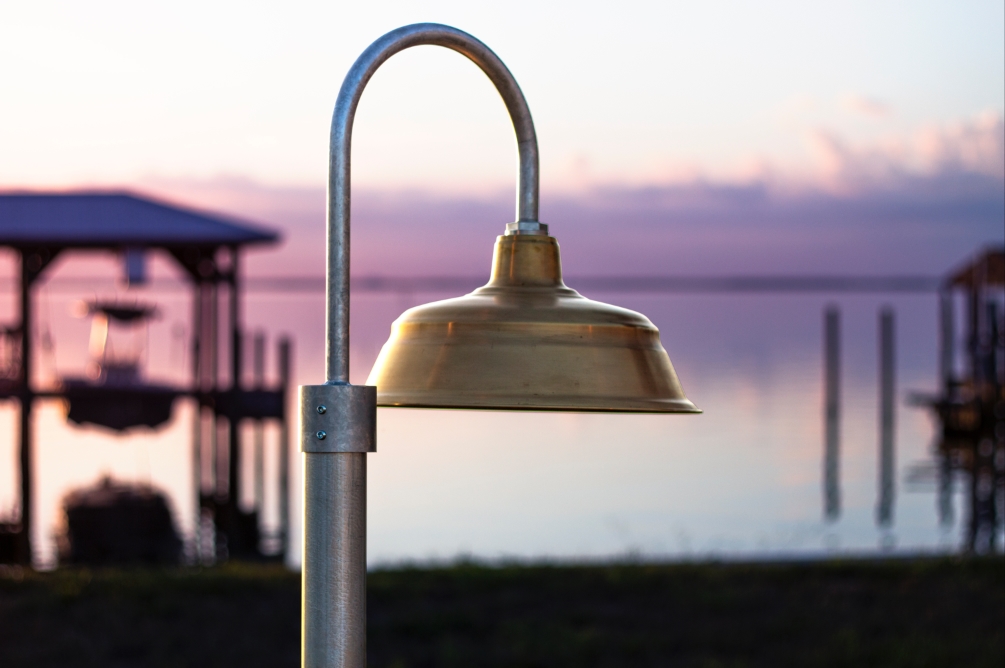 Outdoor Lighting Dilemma Solved with Brass, Copper Post Lights
If you're on the hunt for indoor lighting, your focus is likely on color and style. But when it comes to outdoor lighting, most people think about durability first. How long will a fixture last when exposed to the sun, wind, rain, snow, and whatever else Mother Nature might dish out?
The front line of defense against the elements is the type of metal used for your lighting. While aluminum and steel are often used in crafting outdoor lighting, you should also consider both copper and brass lighting. Not only do they offer a timeless look, but they require minimal maintenance as they age naturally over time.
Our collection of Post Mount Lights come in dozens of styles from single post mount lights to two- and three-light fixtures that brighten up larger spaces. All are American made, available in copper and brass, and rugged enough for both commercial and residential applications.
Single post mount fixtures offer downward directed light on mailboxes, driveways, and stairways. If you want a dark-sky friendly fixture, choose a deeper shade such as this The Original™ Single Post Mount Light. The Bomber, shown in our stunning sunrise photo above, is also a great choice for a more focused beam of light.
For a wider spread, consider a shallow shade like the Aero Brass Post Mount or the fun, wavy style of the Seaside Radial Wave Brass Post Mount shown above.
Barn Light Electric's copper outdoor lighting is hand spun from raw copper, a natural finish that will age to a rich patina over time. The Union Post Mount Light above is shown in a Raw Copper finish mounted on a galvanized Decorative Post Mount. You can customize this gorgeous outdoor light with two shade sizes and three copper finishes including Weathered and Oil-Rubbed Copper.
The copper finish will age naturally or if you prefer the shiny look, just clean occasionally with copper cleaner and buff to a beautiful shine! And the best news is that all of these copper and brass post mount lights are available with energy-saving LEDs!
If you have questions about any of our outdoor lights, our award-winning sales staff is available toll free at 800-407-8784, via email at sales@barnlight.com, or via Live Chat from our home page during regular business hours.